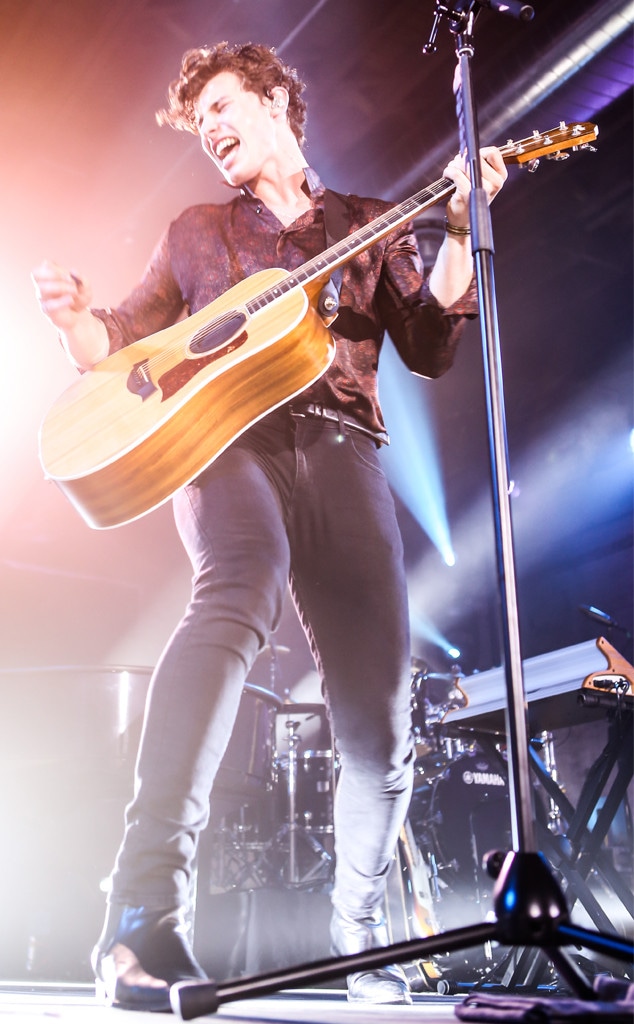 Patrick MacLeod
Shawn Mendes is an anomaly. 
The pop star is only just celebrating his 20th birthday, and already he's seen three consecutive albums debut at No. 1, found himself on Time's list of 100 most influential people in the world, and performed for the freaking Queen of England. His list of accomplishments in just a few shorts years is more impressive than most other artists' CVs will be in their entire lifetime. And to think—if it were just 10 years earlier, the way it all happened for Mendes wouldn't have even been thinkable, let alone possible. 
But that was then, and this is now. And in this post-Justin Bieber world, where social media has leveled the playing field and democratized the discovery process, Mendes is officially our new prince of pop. Here's how he did it.
Mendes' story begins in 2012 when, at the tender age of 13, the Pickering, Ontario native began teaching himself how to play the guitar with the help of YouTube. "I would type in things like, 'How to play beginner songs on guitar,' and one of the first I learnt was 'Hey, Soul Sister' by Train," he revealed in a 2015 interview with The Telegraph. "I taught myself these chords I didn't know the name of and slowly started to get the hang. I was obsessed with it. Every day I'd play and think, I'm not good enough yet; I need to get better. Then I'd play for hours and hours."
That same year, in June to be exact, the now-defunct social media app Vine launched, quickly gaining popularity thanks to its format that allowed users to share six-second long looping video clips. Like most kids his age, Mendes joined the social network within its first year of existence, populating his feed with typical peeks into teenage life. But by July of 2013, an upload of Mendes singing—who else?—Justin Bieber's "As Long As You Love Me" (or, six seconds of it, at least) would come to change his life completely.
Within a day, the clip had earned over 10,000 likes and driven his follower count through the roof. "I thought it was lagging [failing to load properly] or something," he told The Telegraph. "But I was freaking out a little bit at the time...I wasn't doing it because I wanted anything to come of it. I was just doing it for fun. But then I realized that actually no one else was using Vine like that, so I thought, I'm going to take advantage of this and try to make something of it."
As his follower count grew and grew and he began uploading performance clips longer than six seconds on YouTube, one such video—a cover of A Great Big World's "Say Something"—caught the eye of former Warner Music Group employee Andrew Gertler, who passed it along to close friend and head of A&R at Island Records, Ziggy Chareton. 
"I got a minute and 30 seconds into the song and I pressed pause," Chareton told Billboard that year. "I had to call him. I was like, 'Are you out of your mind? This kid is a superstar!' Andrew was totally taken aback. He was like, 'What do you mean?' And I said, 'I think we need to move really quickly. His social presence is huge.'"
And move quickly they did. Mendes and his family were brought to New York City, where everyone involved quickly realized they were working with something special. "He had written a bunch of songs on his own," Gertler, who now runs AG Artists and serves as Mendes' manager, told Rolling Stone in 2016. "From the very beginning, he was set on the fact that he was going to write his own music and that he was a songwriter. When we heard some of these songs, everyone's ears perked up. He was so naturally talented." 
By May of 2014, Mendes was officially signed to the label and his first single, "Life of the Party," was released a month later. An EP, appropriately entitled The Shawn Mendes EP, was released that July, reaching No. 1 on iTunes in just 37 minutes. Not bad for a kid a month out of his 16th birthday.
"Oh dude, I was so lucky," Mendes said in a 2017 interview with Clash, reminiscing about his immediate success. "That doesn't happen. Artists don't come across having a fan base before releasing a song. I had immediate support from the first single I released… And that confidence boost off the top gets you kick started like nothing else."
By the time his first full-length album, Handwritten, was ready for release in April of 2015, Mendes' platform was also so massive that it earned him a spot on Time's list of the 25 most influential teens of 2014. As such, the album debuted at No. 1 on the Billboard 200 chart, making him the youngest artist to do so since Bieber in 2010. Comparisons between the two became unavoidable, and it's not hard to see why. Here was another fresh-faced Canadian kid plucked from complete obscurity thanks to the internet. The story practically wrote itself. But while everyone was busy labeling him "the next Justin Bieber," Mendes was busy studying another male pop star's career.
"Ed Sheeran wrote his songs, so I wanted to write my own songs," he told Rolling Stone in 2016. "He's just like an average guy and a very approachable person. I've actually gotten the chance to meet him, and he's just like a very sweet guy. He is just so normal, and that's the best part about him." 
Following the release of Handwritten, things began to happen very quickly for Mendes. (As if they weren't already.) He was chosen to open for Taylor Swift during the North America leg of her 1989 World Tour, he made his acting debut in the third season premiere of the CW's The 100, he signed with modeling agency Wilhelmina Models, he appeared on Forbes' annual 30 Under 30 list. And then it came time to return to the studio to try and make lightning strike twice.
"I think the biggest challenge has been showing the world that he's more than a teenage artist," Gertler told Rolling Stone that April. "People are expecting a teen artist to make a certain kind of music, and Shawn wants to make great songwriter music. Even in people's minds and perceptions, they're like, 'He's a teenager so he can't do that.'"
"Even to this point, I don't feel like I'm caught up talent-wise to my career," Mendes told the magazine. "There is such a hype and a big build up to me, and it's very hard to meet those expectations. That's been a big stress in my life. I never felt like I was good enough and, only nowadays, am I starting to feel like I deserve [all this]. I felt like there were so many talented people who should be getting what I have."
He needn't have worried. When Illuminate was released that September, it gave Mendes his second No. 1 debut of his young career. Forget about opening for other artists. Now he was playing to sold-out crowds in arenas worldwide all on his own.
Brian Ziff/Island Records
Though his rapid rise had been especially blemish-free when compared to others who'd come before him, that doesn't mean the sudden pressures of fame weren't getting to Mendes. By mid-2017, he'd amassed over 20 million followers on Instagram and another 10 million on Twitter. "I was in such a bad head space," he recalled earlier this year in an interview with Vulture. "It's so overwhelming to be successful. And that sounds like such a s--tty thing to say. But it's like, how do you keep it going? How do you sustain success when you don't even really know why you're successful? Dude, it was the worst. I'd break down in tears once a week. I used to think everybody was out to get me."
While he wouldn't publicly disclose his battle with anxiety until the 2018 release of his song "In My Blood," which tackles the subject head-on, he began therapy to help him deal with it all. "I spoke to a therapist a couple of times," he told The Sun's Dan Wootton earlier this year. "Therapy is what works for you - climbing a mountain, listening to music and running on the treadmill, going to dinner with your friends - it's something that distracts you, that helps you heal and so it just depends on what you think therapy is."
As he was working on his mental health, he continued to make history. Following the release of his single "There's Nothing Holdin' Me Back" in 2017, he became the first artist under 20 to have three No. 1 songs on the Billboard Adult Pop Songs chart. And yet, as he got to work on his third album, he still felt he had something to prove and an image to overcome.
"Shawn Mendes the good boy. The kid who's super-sweet," he told Vulture. "That's not a bad thing, but I also wanted people to understand that I'm human, too. I just wanted to write about things that I've gone through."
Out of that, lead single "In My Blood" was born. "It was absolutely terrifying. I was thinking, what if people say, 'Why is he making sad songs? We like his songs about love.' I was terrified, then I realized it's not about that," he told Wonderland about the song's March release and its immediate impact. "The day after it came out, I started getting messages from fans, friends and family about how important it was to them. You know, I couldn't be happier."
If the new music was about "putting a stamp on who he is," as Gertler asserted to Vulture, it was working. By the time the self-titled album was released in May, he'd performed for the Queen, was one of only five musicians to earn a spot on the Time 100 list, and been lauded for the material's newfound maturity. The album earned him his third No. 1 debut, making him the third-youngest artist to achieve that sort of triple play, just behind Bieber and Miley Cyrus.
Neilson Barnard/Getty Images
With his career undeniably on fire, interest in his personal life began to multiply. Suddenly, he found himself the subject of tabloid stories thanks to his undefined relationship with Bieber's now-fiancee Hailey Baldwin. Miraculously, he took it all in stride. "I get it. I understand when people talk about it and why people want to talk about it and I think that I'm just really honest with people," he told Rolling Stone. "If I was dating somebody, it would be super clear and I would say it. I have nothing against hiding that stuff. It is what it is to me. It just is. Let people talk about it."
(For the record, despite attending the Met Gala with her, Mendes asserted that he and Baldwin were purely friends. "I met her through some friends and she's just super calm, super down to earth, and somebody who really kind of understands people and works really hard at keeping relationships with people in a really inspiring way," he told the publication.)
As he closes the door on these first two decades of his life and ventures into the future, he does so with a startling amount of accomplishments and obviously unparalleled opportunity.
"I was stuck as a Viner in people's minds for a long time," he admitted to Rolling Stone. "I feel like I've finally broken free from that."
And now? The sky's the limit.