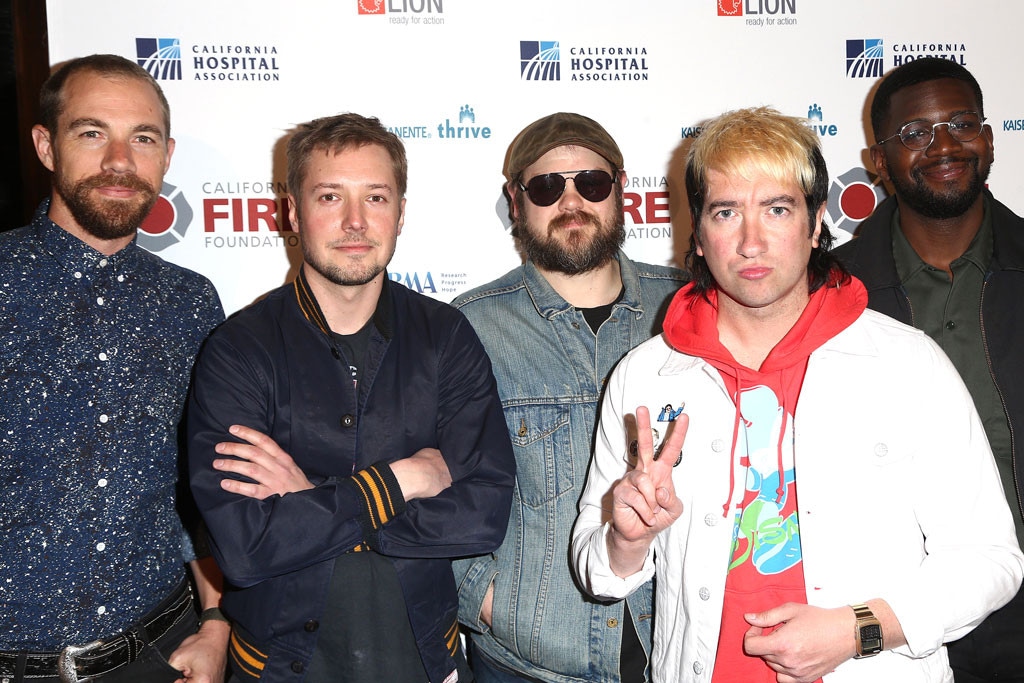 Tommaso Boddi/Getty Images
Hey there Delilah, what's it like being on TV?
The Plain White T's front man is turning the hit song into a TV show, over ten years after its release. Tom Higgenson told Entertainment Weekly that "people young and old, to this day, still come up to me and ask about the story behind the song. I'm excited to reimagine the story I've told a million times, and make something fun and fresh that people can fall in love with all over again."
In the catchy song, Higgenson sings about a struggling singer/songwriter who promises his girlfriend that their long-distance relationship is only temporary and soon "I'll pay the bills with this guitar/We'll have it good."
While "Hey There Delilah," was definitely one of the most iconic songs to come out of the 'oughts, there are dozens of other tunes that will take pop music fans back to the early '00s.
Avril Lavigne, "Skater Boi"
"He was a skater boy/She said see you later boy/He wasn't good enough for her," and that's just how the cookie crumbles. Or, at least, that's just how Avril Lavigne said the story goes. Apparently, that same girl later regretted turning down the bad boy now that he's a "superstar," but it was just too late. Moral of the story is don't judge a book by it's cover cause it could end up rich.
Yellowcard, "Ocean Avenue"
This fan-favorite was basically everyone's #summergoals. The Yellowcard song describes a summer fling on the streets of the band's hometown of Jacksonville, Florida. The only relatable part is the "sleeping all day, staying up all night" part, but a girl can dream.
The Fray, "How to Save a Life"
This song has been in nearly every hospital drama since its release in 2005, but it turns out the tearjerker isn't even about an ill-fated visit to the emergency room. Lead singer Isaac Slade wrote the song after mentoring students at a camp for troubled teens. It was there that he met a young boy who had a lot of "problems" and Slade realized "no one could write a manual on how to save him."
All-American Rejects, "Dirty Little Secret"
The "Dirty Little Secret" behind this song actually doesn't exist. The band comes from a small town, "so, you know, sometimes there's not enough drama or turmoil to write about, so he simply writes stories," Nick Wheeler said in one interview. Turns out band members Wheeler and Tyson Ritter are just good at coming up with song lyrics.
Evanescence, "Bring Me to Life"
This ballad would likely inspire a romantic-drama reminiscent of Twilight with it's over the top pleas for love. Evanescence singer Amy Lee said that she wrote the song after meeting her husband. "I felt like he could just see straight into my soul," Lee said. Maybe that's what Edward felt like when he met Bella?
Fountains of Wayne, "Stacy's Mom"
"Stacy's Mom" is the modern day version of The Graduate. The reimagining of the hit song would be a rom-com about Stacy and the teen that is in love with her mom, minus the cringe-worthy fashion trends from the early 2000s.
Vanessa Carlton, "A Thousand Miles"
Vanessa Carlton's romantic-drama would follow one person's thousand-mile journey across the country, as they try to convince their significant other of their undying love. Or something along those lines. Until this bop gets turned into a movie, people can always watch Terry Crews belt out the song like a pro in White Chicks.
The Killers, "Mr. Brightside"
This classic would easily be an Indie drama that follows the life of Brandon Flowers and the events that led to the creation of "Mr. Brightside." A little known fact about the hit song is that Flowers and guitarist Dave Keuning wrote it after Flowers walked in on his girlfriend with another man. He said, "I was asleep and I knew something was wrong. I have these instincts. I went to the Crown and Anchor and my girlfriend was there with another guy." Oof, that must've hurt. 
Let's just hope these songs don't get stuck in our heads.