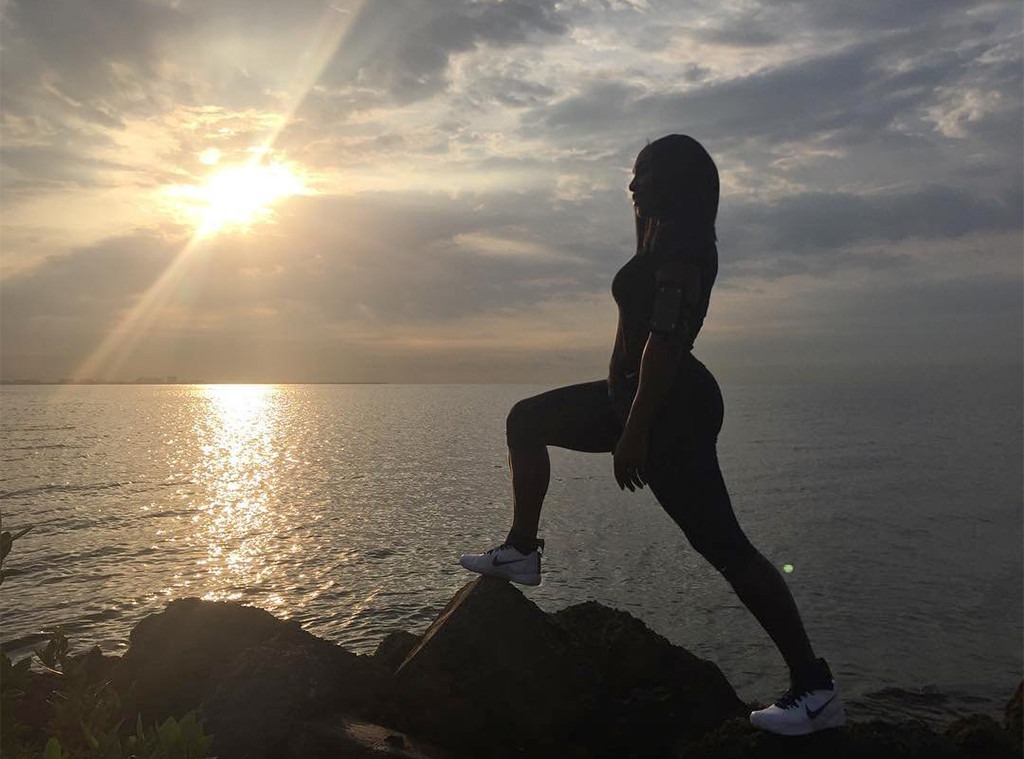 Instagram
Serena Williams  took to Instagram to send a special message to fellow moms out there.
The tennis champion posted a lengthy caption on a photo that showed her with one foot perched on a rock as the sun sets above the ocean in the background. The photo itself embodies Serena's many feats and her perseverance. 
Serena's caption begins, "Last week was not easy for me. Not only was I accepting some tough personal stuff, but I just was in a funk." The "funk" had a specific purpose: "Mostly, I felt like I was not a good mom." 
The Grand Slam winner expressed her preferred method of dealing with her "postpartum emotions": talking to her family. The fellow Williams women provide Serena with validation "that my feelings are totally normal. It's totally normal to feel like I'm not doing enough for my baby."
Then there's Serena's other baby: tennis. "I work a lot, I train, and I'm trying to be the best athlete I can be," she wrote. 
Serena lost in the Wimbledon finals to Angelique Kerber, but she got to that point less than a year after giving birth to her daughter Alexis Olympia Ohanian, Jr. She shared a message with fellow working moms and how she relates to them. "I'm not around as much as I would like to be. Most of you moms deal with the same thing," she admitted.
The clothing designer continued praising parenting champions: "Whether stay-at-home or working, finding that balance with kids is a true art. You are the true heroes."
Serena wants everyone out there to know, "if you are having a rough day or week--it's ok--I am, too!!!" 
Alexis Olympia's mom has been transparent since the start about all of her struggles, including her needing an emergency C-section. She said she was "lucky to have survived." In one post-birth interview, Serena shed light on her near-death experience in the hospital: "First my C-section wound popped open due to the intense coughing I endured as a result of the embolism. I returned to surgery, where the doctors found a large hematoma, a swelling of clotted blood, in my abdomen. And then I returned to the operating room for a procedure that prevents clots from traveling to my lungs."
Serena and Alexis Olympia graced Vogue's February cover together and disclosed her difficulties with motherhood. "Sometimes I get really down and feel like, 'Man, I can't do this,'" she said.
But in the words of the tennis G.O.A.T. herself, "There's always tomm!"