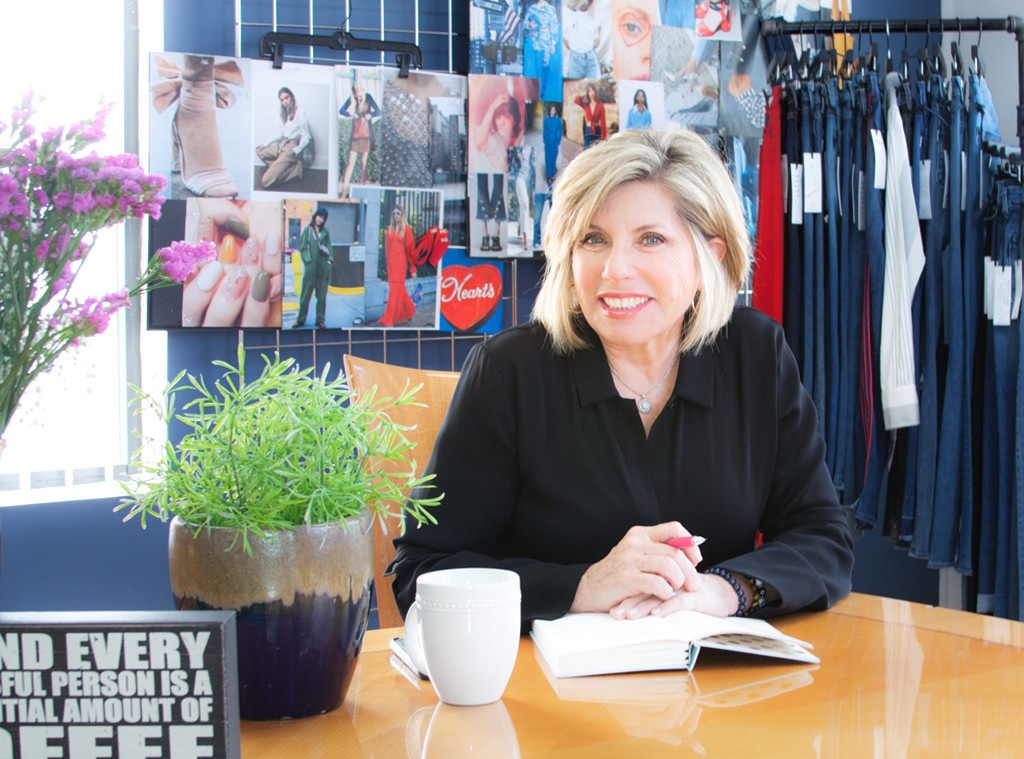 Jacqueline Lee/E!
When it comes to denim, one size doesn't fit all, but one brand may. 
Anne Hathaway, Gigi Hadid, Cindy Crawford, Mindy Kaling, Jessica Biel, Lucy Hale, Kris Jenner—the list of celebrities wearing Parker Smith denim is endless. It seems like everyone, no matter their age or body type, loves these jeans. And, when most people cringe at the thought of shopping for denim, a brand with a customer base that proves its universal fit is a safe bet.
How did founder and owner, Mary Ellen, discover a fit that works for all? Now, she's revealing to E! News what's behind the success of her brand.
"I felt there was void in the market for women over 35 whose bodies had changed due to having children, menopause and just the natural aging process," she told us. "My beautiful friends were asking for jeans that were slightly higher in the front and back and didn't pinch in the waist. I wanted a sexy, smart and contemporary look that fit a modern woman's body. As we get older, we start to feel invisible and I want women of all ages to feel relevant."
Describe your customer in three words.
Sophisticated. Sexy. Powerful.
Who was the first celeb to wear one of your designs?
Sharon Stone!
Tell us more about the fit of Parker Smith denim.
The fit is universal yet sexy, stylish, contemporary and comfortable. We are always wear testing fabrics, making sure that they hold their shape and have developed a hook that gives your backside a nice lift. Most celebs have been seen wearing our jeans at the airport—that's how comfy they are!
Which pair do you wear most?
I prefer a cropped straight such as the Shark Bite Straight.
What's a typical day like for you?
Most days are not very typical in the apparel business, but I usually look at selling and shipping reports, sit in on fittings and work with my showroom and sales people.
Tell us about your office décor.
I work on the second floor of our warehouse in a room with three others surrounded by racks of jeans. I guess my décor is denim, denim and more denim!
What's the best part about your career? 
I work with people of all ages and I love their spirits and opinions.  It's always good to be up on the latest trends, but probably the best part about Parker Smith is getting women in jeans that fit.  Nothing is worse than going into a dressing room with 15 pair of jeans and coming out with nothing to buy. 
What's the most daring career risk you've taken? 
Parker Smith is the most daring career risk.  I came from a totally different industry and along with the financial commitment, it certainly tested my resolve.
What's the best piece of advice you've ever received? 
To follow my gut and intuition.  It is important to back these up with business facts, but if your heart, soul and the ability to make it happen isn't there, then your chance of success is minimal. 
Who are your career heroes?
I have a few: Michael Bloomberg because he stepped away from his business to give back to his community as Mayor of New York; George Rudes of NYDJ; Martha Stewart because she had the strength to reinvent herself and come back stronger than ever; Meg Whitman, who started at eBay with 30 employees and grew it to over 15,000 employees and $8 billion in revenue; and my attorney, Jeff Kapor, because he treats his clients with such kindness, grace and professionalism.
Finish the below sentences.
Today for lunch I had… vegetable fried brown rice, half of an avocado, a cucumber and a peach that I grew in my garden. 
The first website I log onto every day is… Google News
The last thing I Googled was… Delta Airline flights
My usual coffee order is… regular coffee with cream or milk
If I wasn't doing this job, I'd be… I would probably be traveling and living between California and Michigan with family…but truthfully, I LOVE working. Work is my hobby. I might just become an organizational specialist and help people clear out their clutter.
The book I'm reading is… News of the World by Paulette Jiles