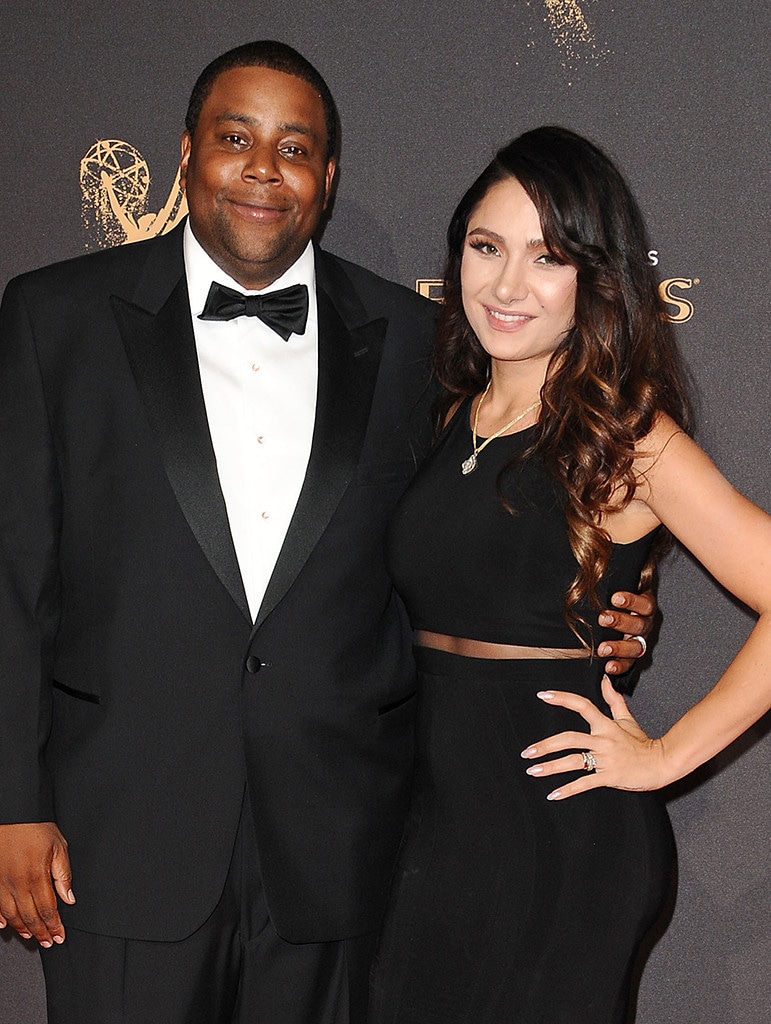 Jason LaVeris/FilmMagic
Kenan Thompson is now the proud father of two little girls.
The Saturday Night Live star's wife, Christina Evangeline, gave birth to daughter Gianna Michelle Thompson Tuesday night in Florida. The newborn weighed 6 lbs., 6 oz., TMZ first reported. The couple has another daughter, Georgia Marie Thompson, who turns 4 this month.
E! News has reached out to Thompson's rep for further comment.
Before welcoming his first daughter, Thompson joked to Late Night host Seth Meyers in 2014, "I am terrified. I don't know what to do with babies. Like, do you feed it and, like, put it away or something?" He was nervous for Evangeline to go into labor, too. "I plan to be, like, at the casino or something when she's giving birth," he said. "Just kind of like old-school it a little bit."
Thompson was kidding, of course, and when he appeared on Today three months later, he told Kathie Lee Gifford and Hoda Kotb just how much fatherhood had already changed him. "It's unbelievable. It's the best thing in the world. It's like witnessing a for real miracle. I know that sounds like a cliché, but it's the miracle of life," Thompson explained. "It's unbelievable." His elder daughter inherited his sense of humor, as she "thinks it's funny when she poops on me."
The older his firstborn got, the funnier she became.
"She makes us laugh, really," he told People three months ago. "She's the funny one. I try to make them laugh but I think they've heard enough from me, just from watching the show." In general, he added, "Kids are hilarious. They say the darnedest things, but that's just because they don't really know what they're saying, and that just makes much more funniness happen."
Thompson, SNL's longest-running cast member, will return for Season 44 this fall. He recently received his first Primetime Emmy Award nomination for Outstanding Supporting Actor in Comedy Series, where he'll go up against Louie Anderson (Louie), Alec Baldwin (Saturday Night Live), Tituss Burgess (Unbreakable Kimmy Schmidt), Brian Tyree Henry (Atlanta), Tony Shalhoub (The Marvelous Mrs. Maisel) and Henry Winkler (Barry). Saturday Night Live's Michael Che and Colin Jost will be co-hosting the 70th Emmy Awards, airing live from the Microsoft Theater in L.A. Monday, Sept. 17, at 8 p.m. ET/5 p.m. PT on NBC, E!'s sister network.