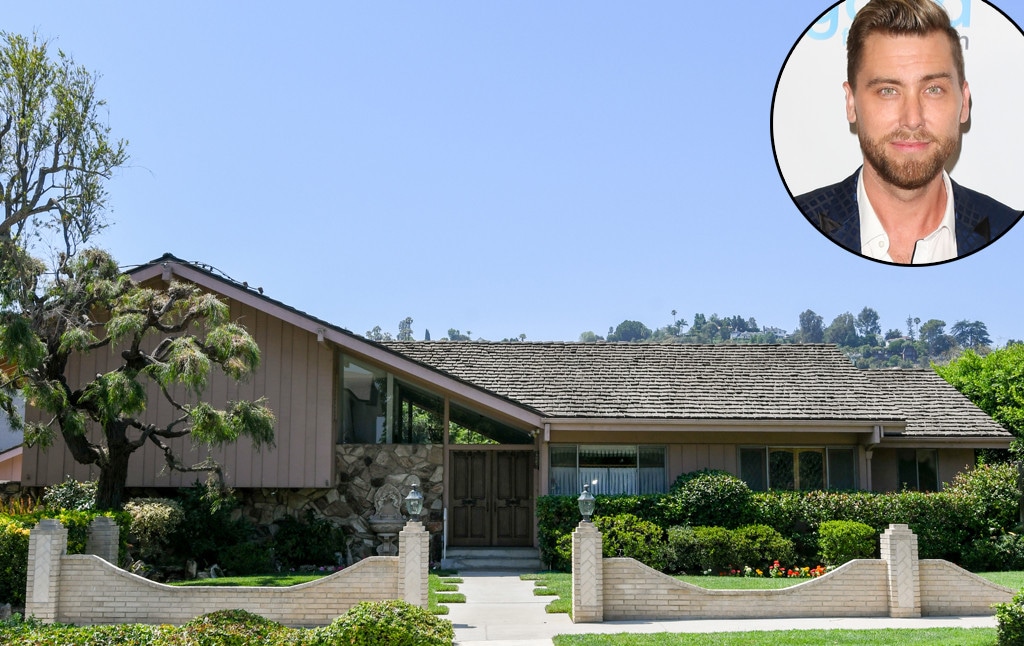 PG/Bauer-Griffin/GC Images; Getty Images
UPDATE: In an unfortunate turn of events, Lance Bass is no longer the proud owner of The Brady Bunch house. He said he was "feeling heartbroken" after learning he was outbid by an apparent Hollywood studio. 
"How is this fair or legal??" Bass wrote in a lengthy social media post. "How can I compete with a billion dollar corporate entity? I truly believe I was used to drive up the price of the home knowing very well that this corporation intended on making their offer and it's not a good feeling. I feel used but most importantly I'm hurt and saddened by this highly questionable outcome." 
Read his entire statement below. 
______
When The Brady Bunch house was put on the market last month in search of buyers, Lance Bass was like, It's gotta be me.
The former 'N Sync singer was one of a few people who had submitted an offer to purchase the 2,400-square-foot, 3-bedroom, 3-bathroom Studio City, California property, which had an asking price of more than $1.88 million, E! News has learned.
"Super excited to announce they accepted my offer on the #BradyBunch house last night!!!" he tweeted on Friday. "This is going to be a fun project!"
Bass did not disclose the amount he had offered or say when the sale would be finalized. The owners' real estate agent told E! News that Bass had submitted an offer but did not confirm that the home was sold to the singer. 
Maureen McCormick, who played Marcia Brady on The Brady Bunch series, wrote in response to Bass' tweet, "Congratulations! ❤️❤️❤️" and joked, "May all your problems from here on out always be solved in a half hour!"
"Thanks! You will most certainly be the first dinner guest!! I'm honored you approve," Bass tweeted back on Saturday.
Jonathan Scott from HGTV's Property Brothers wrote, "I'm a little bummed that you out bid me (seriously) as I really wanted that house, but I'm very excited you're taking on this project. Let me know if you want any help :) @hgtv #bradybunchhome #IconicDreamHome."
"The door will always be open to you and your family! ❤️" Bass replied.
Only the exterior of the split-level home was shown on the iconic '60s and '70s show, as well as on a short-lived 1990 spinoff. Scenes of the family inside the house were filmed on a sound stage. Over the years, it has become a minor tourist attraction.
The house was built in 1959. A married couple had bought the property for $61,000 in 1973 and were the second and most recent owners and residents.
The home was put on the market a month after the surviving owner passed away. Her family and their real estate agents have not commented on Bass' announcement.
The family of late producer Sherwood_Schwartz, who created The Brady Bunch as well as Gilligan's Island, were among the bidders.
"This house has been a part of my life and my family for so long," his granddaughter, singer-songwriter Ilsey Juber, told E! News exclusively. "We would have loved the opportunity to do something that my grandfather and Brady Bunch fans would have enjoyed. If anyone was going to outbid us I'm just glad it was someone who will cherish it. Maybe Lance would be open to collaborating. Hopefully his vision is 'in sync' with ours."
The home is largely unrenovated and it has been speculated that its new owner would demolish it and build a new structure. Bass has signaled that he will not.
"Congrats," user @Swizzlestick8 tweeted to the singer. "Please don't touch the outside and please make the inside EXACTLY like the Brady house was on air."
"That's the plan! " he replied.
"I was one of the other offers on the house," tweeted screenwriter and director Gregory Storm. "I was planning to remodel the inside to match the #BradyBunch TV Show interior. If that's what you also plan to do instead of tear it down, I'll feel a little better about not having the highest offer. You're not tearing it down right?"
"That's the plan!" Bass responded.
The singer had expressed interest in buying the property soon after it was put on the market.
"I'm obviously obsessed with The Brady Bunch. I mean, I grew up watching that show. Reruns! Reruns," he said on Ross Mathews and Marissa Jaret Winokur's show Off the Block. "I'm going to go look at it, because I want to buy this house."
—Reporting by Spencer Lubitz