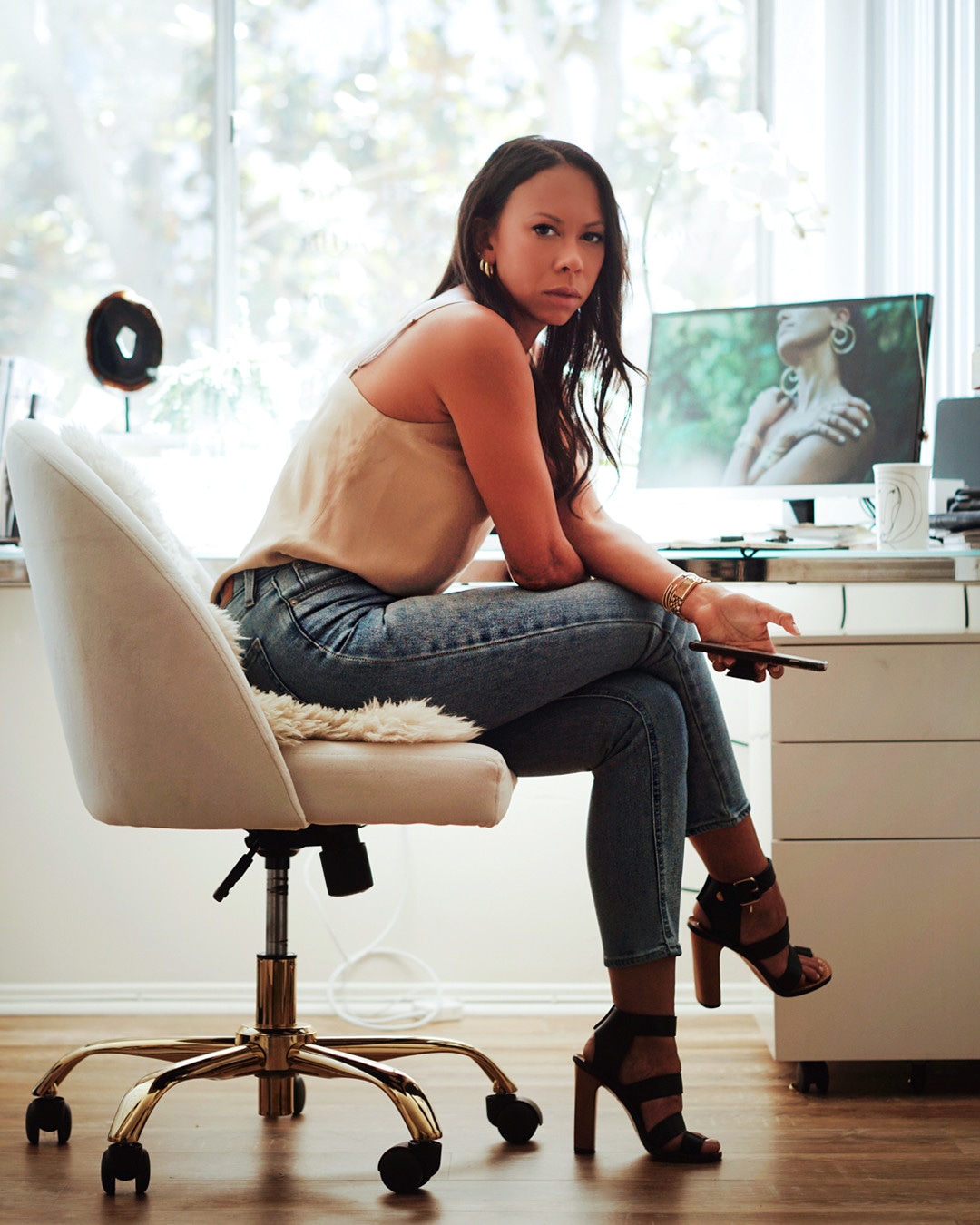 Miki Ash
As Kate Hudson's character in How to Lose a Guy in 10 Days would say: Frost yourself. 
Thanks to jewelry brand BYCHARI, that's exactly what she, other celebs, influencers and even you can do...in the most practical, everyday way. Kate has worn the Los Angeles-based brand founded by Chari Cuthbert a few times now, as well as has Rosie Huntington-Whiteley and notable fashion names likes Aimee Song and Chiara Ferragni. But Cuthbert didn't have a Hollywood following right out of the gate. It took dedication, creativity and advice from industry veterans. 
Keep reading to get to know the woman making moves among Hollywood's trendsetters. 
What inspired you to start a jewelry brand?
I wanted to create a line of pieces that were luxurious, yet at an approachable price point. My grandmother was always a jewelry aficionado, and that is probably where my obsession came from. But, I have no formal training in jewelry—it was a self-taught journey that was fueled by my passion.
Describe your customer in three words.
Sophisticated, timeless, global.
Who was the first celeb to swear by one of your products?
One of the first celebrities to wear our pieces was Kate Hudson. Initially, I saw she was rocking our custom name piece necklace through paparazzi pictures and afterwards it was worn in a campaign with Michael Kors, and she's been showing us SO much love since!
How does it feel when you see famous trendsetters wearing one of your creations?
PROUD. Celebrities and influencers wear BYCHARI because they truly love the pieces and have organically incorporated them into their everyday essential pieces. That overwhelming sense of pride is what makes all the hard work worth it.
What product do you use the most?
Caudalie Vinosource SOS Thirst Quenching Serum and Elta MD Skincare Broad Spectrum SPF.
What was your first job?
My first real job out of college was a photographer's assistant and retoucher. When I started the line, I shot all of our campaigns and product images.
What's the best part about your career?
The travel has taken me all over the world and even inspired me to create our Traveler. The inspiration and people I've met along the way have truly influenced the evolution of the brand.
What's the most daring career risk you've taken?
Investing in myself. I started BYCHARI with only $100 and had no business starting a company. Yet, I was determined to work for myself and build a brand I could be proud of and in return, empowered other women.
Who are your career heroes?
Oprah, Sarah Gibson Tuttle, founder of Olive & June, and Sophia Amoruso just to name a few.
What's the best piece of advice you've ever received?
I met Jennifer Fisher at Coachella last year, and she told me never take no as an answer and keep dreaming. That encouragement from a jewelry designer I admire has been engraved in my daily grind.
What's a typical day like for you?
Every day varies, but a typical West Hollywood day starts with coffee, Pilates and a barrage of emails.
Tell us about your office décor.
Island Minimal. Clean fresh most recently described as having an "indoor-outdoor" vibe. The neutral space and furniture reminds me of a blank canvas and lends to a space where we can be creative yet feel comfortable.
List five things on your desk right now…
A sh*t load of gold chain, gold stapler, The Edition Hotel Le Labo candle, Porter magazine and an orchid…always an orchid.