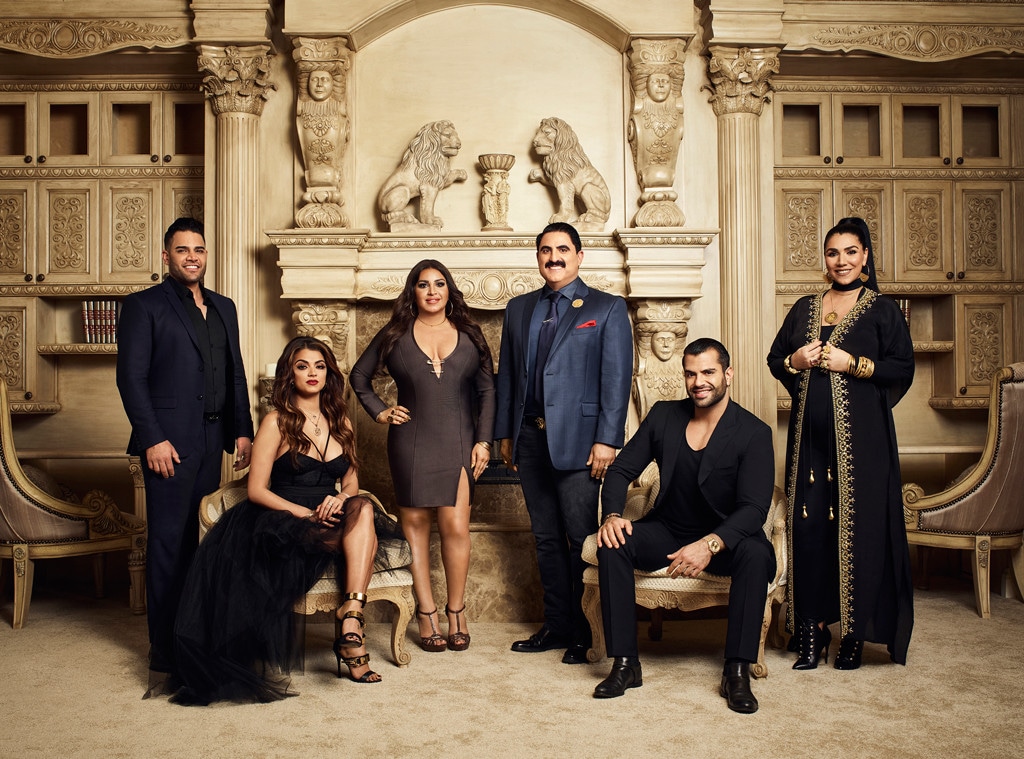 Bravo
From the moment Bravo introduced fans to a certain group of Los Angeles-based Persian power players otherwise known as the Shahs of Sunset back in 2012, the drama has never been far behind.
With the show's core four stars Reza Farahan, Mercedes "MJ" Javid, Mike Shouhed, and Golnesa "GG" Gharachedaghi finally back for season seven, alongside relative newcomers Destiney Rose and Nema Vand, the drunken antics and jaw-dropping arguments that have kept Bravoholics coming back are certainly just around the corner following the premiere's relatively tame Big Bear trip, with its focus on introducing Nema and his sister Mona into the mix.
And as with most reality shows of a certain age, when those moments come, they can't help but be infused with a deep history that it sometimes takes a little bit of research to decipher. That's where we come in. Welcome to our definitive guide to Shahs of Sunset's most explosive moments.
From the jump, viewers were keyed in to the short-fuse temper lurking just beneath GG's surface when, in the show's very first episode of its very first season, her former co-star Asa Soltan Rahmati dared accuse her pal of wearing something from H&M. As everyone watching at home wondered what, exactly, was so wrong with that, GG lost her damn mind. After all, as she explained, she was wearing a Diane von Furstenberg dress and Christian Loubouton shoes. "You're looking dead at me, saying something about H&M, so if you have something to say to me, speak up right here, right now," GG demanded before calling Asa "ghetto."
"What's ghetto to you," Asa wondered. "What, because my daddy doesn't bankroll my life?"
From there, GG got dead serious. "If you ever mention any member of my family in a conversation between you and I ever again, we're gonna have a problem," she warned. Episode one, folks!
With GG's short temper clearly established, much of season one's remaining five episodes were dedicated to each of her latest explosions, making the scene in episode four where she introduced Reza to her knives, which she'd named Africa (for cutting someone's head off) and Madagascar (for stabbing into the heart), and Crispy, her taser gun, as he looked on both stunned and a bit worried. "We don't joke about GG and knives," he admitted in his confessional. "If you look up GG in the dictionary, there's a picture of that bitch with a machete." Yikes. This won't be the last we hear about GG and her knives, by the way. Not by a long shot.
But while season one was quickly establishing GG as the central maelstrom in her friends' lives, it was also laying the groundwork for one of the show's most enduring (and heartbreaking) dysfunctional dynamics. We're talking, of course, about the never-ending tension between MJ and her domineering mother Vida.
In the season one finale, after seeing Reza confront his own painful family history just days prior, MJ sat down her controlling mother for lunch and attempted to lay the groundwork for a new normal, one that might stop the steamrolling she felt she received at every turn. What she got in return? Vida telling her that everything wrong in her life is her fault and her's alone, that if she only listened to her mother, she'd be a better person, and that she's not marriage material and shouldn't even consider getting married. "Now eat your lunch," Vida told her daughter, as though it would be possible to still have an appetite after that.
When the show returned later that year for season two, the feud between GG and Asa that kicked off in the series premiere was still going strong and in the season's second episode, GG literally had to be physically restrained several times as she attempted to flat-out attack Asa after the former believed the latter had insulted her pal Omid's nose. "This is what you do every time, GG," Asa said to her sparring partner over her threats to "f--k" Asa up. Eventually, GG had to be carried out of the party over someone's shoulder as Asa taunted her further: "You gotta change it up, dude. You gotta change it up."
So change it up GG did when, in the following episode, she told her older sister Leila (who we'd met in season one and who, surprise, also has a difficult dynamic with GG) that she wanted to cut her face while they argued in front of their father. Did we mention that Leila was pregnant at the time? 
In the season's penultimate episode, its ninth overall, tensions between Omid and Mike, largely there because of GG's behavior and the way it was impacting the entire group boiled over during Reza's peacemaking dinner (wishful thinking, Rez) when the two leaped to their feet and began threatening each other with bodily harm. "I'm out," Omid said after much back-and-forth. "I'm gonna stab this motherf--ker. I'm not gonna do this. GG, I am leaving."
GG's response? "I'm the only person that's going to stab someone. I'm going to get the sharpest f--king knife out of the kitchen. If someone's gonna stab someone, it'll be me." And then she grabbed a knife. That's one way to diffuse the tension.
The show's next massively explosive moment wouldn't come until the fifth episode of season three, when the usually level-headed Reza lost his s--t not once, but twice during run-ins with fellow openly gay Persian Sasha. When boyfriend Adam brought Sasha into their home expecting Reza to see a kindred spirit in the younger man, he was shocked to see Reza instead find Sasha's flamboyant personality distasteful and disrespectful towards older gay Persians who couldn't live as openly as Sasha had. Reza called Sasha an "FOB" (fresh off the boat), Sasha called Reza fat, and then Reza kicked him out of their house.
It could've ended there, but later in the episode, while at a gay club with Adam, Mike, and MJ, Reza was forced to contend with Sasha yet again. As Mike tried to referee, admitting that he felt bad for Sasha, Reza went on the attack, using a gay slur to refer to Sasha's brother, who was also present and apparently not out of the closet. Before Reza would storm out, with Adam and MJ in tow, Mike would challenge his friend's behavior, creating a splinter in the BFFs-turned-business partner's relationship that would dominate the rest of the season.
In episode nine, long after Reza sought therapy to address the lasting damage growing up gay in a country where his only available options were suicide or living a fake life, as he explained, had done before also apologizing to Sasha, he and Mike had it out at Asa's Diamond Water launch party when a belligerent Mike went for the jugular. "You're getting dealt with, bitch," Mike told Reza as his then-girlfriend (now ex-wife) Jessica tried to escort him out of the party without further incident. 
"You need to check yourself," Reza replied. "I don't ever want to have anything to do with you ever again. I will never speak to you as long as you live." Spoiler alert: They spoke again.
Not to be outdone, GG returned to the explosive foreground in episode ten when a season of simmering tension with MJ boiled over during a day at the races. What were they fighting about? Earlier in the season, MJ had revealed to GG's boyfriend Sean that she'd kissed someone else while also getting cozy with her somewhat estranged sister Leila and GG was not happy about any of it. As the two went at it over who was more drunk and who needed to "shut the f--k up" more, GG smacked the giant red hat off of MJ's head.
In the next episode, GG showed up at Leila's house to help her move. When one of MJ's dogs walked out of the kitchen, where its owner was hiding with Reza, and into the living room, alerting GG to MJ's presence, she lost it. As Leila sided with MJ, GG declared she was done with her sister for good. "Enjoy your time with that fat tub of lard in there," GG told her sister as her niece begged her to stay. "Enjoy that. I'm done with you."
By the time season four rolled around, the group had mended most of their fences thanks to an emotional trip to Turkey at the end of season three. But in episode two of the new season, GG would get the drama rolling as she dropped a bomb about Mike's behavior on the aforementioned group trip. As she alleged to MJ, Asa, and Reza, during one drunken night after Mike was caught on camera grabbing her underwear through her clothes, he called her to his room and attempted to have sex with her. While his girlfriend Jessica was back at home.
With Mike telling the group that he planned on proposing to Jessica, GG couldn't sit quiet on his behavior and in episode five, she exploded on him in front of everyone, Jessica included, and revealed what he'd done. As Jessica sat there stunned, Mike challenged GG's accusations, which now included proof that he'd  tried to cheat with other women as well. "Bring it," he said as she stormed off. "Bulls--t. All hearsay."
With the group severely fractured thanks to Mike and GG's war of words—and GG subjecting herself to multiple lie detector tests to prove that she wasn't lying about what went down in Turkey—a trip to Thailand for Reza and Adam's destination wedding loomed heavily. The only problem? Reza wasn't so sure the wedding should happen after all. And in episode 12, a trip to therapy for the struggling couple delivered an explosive moment of a different kind. 
"I mean, the whole Thailand thing is beautiful. We're going regardless. Tickets have been bought, people have made arrangements," Reza said. "But getting married? That's not happening. That needs to happen when we're both at a place where we feel like we're moving in the right direction."
"I really don't know what I want right now," Adam replied, on the verge of tears, when his fiancé asked what he thought. "I felt like I put my world into his world and everything just kind of conjoined, so now with things being the way they are, I just feel like of lost and I don't know exactly where to go."
As the two sat there quietly pondering their future, we learned that not all Shahs explosions are loud and in your face. (For those worried about these two, Reza would go on to surprise Adam with a new wedding in Palm Springs the next season and the two are currently happily married. Phew.)
Before the gang could embark on their season-ending trip to Thailand, Mike and GG sat down for a conversation in episode 13 where Mike admitted that he truly couldn't remember what happened that night in Turkey because he'd been taking pills and drinking. All he knew was that GG was in his room. After that? A blur. 
"I'm apologizing for anything that you say happened," Mike offered. But that wasn't good enough for GG.
"That's not an apology," she told him. "I would rather you say, 'I apologize if I did try to have sex with you because I really don't remember if I did or not.'"
Mike left the sit down with no real resolution to their issue, but would go on to say in a confessional, "So what if I did try to have sex with her? So what? OK, now let's move on to the next thing."
As the show moved into season five, Mike attempted to regain his place in the group as his marriage to Jessica slowly began to crumble, while GG's health woes led to some erratic behavior that yet again threatened her standing with her friends. The tension between GG and Reza especially would come to a head in the season's 12 episode, during a group trip to Belize, when the pair went at it while visiting some Mayan ruins. 
Reza had begun openly questioning whether or not GG was even actually suffering from rheumatoid arthritis and undergoing chemotherapy, as she'd asserted. Naturally that didn't sit well with GG. So, when Reza chimed in on a conversation between her and Asa about posing for a photo in her art show about couples despite not being in a couple, she took her opportunity to lash out. 
"I don't understand why you want to chime in all the time," she told him.
"It's none of your f--king business," he exploded. "I'll chime in when I want to chime in." From there, he accused her of being "fake as f--k" and began mocking her earlier admissions about her health. "Why are there stories out that you've had chemotherapy," he demanded. "You're nothing."
Later that night, seething with anger and definitely slurring her words while in a cab with MJ and her boyfriend Tommy, GG decided to exact her revenge. "I know this guy at the gym he goes to," she started. "He has a video of Reza and him f--king. It has an actual date. So if I have fake stories, let's see how fake they are and how far that I'll go with my fakeness."
The tension between the feuding friends would finally boil over in the season finale at Asa's art show with the whole group present, when Reza finally confronted GG about the cheating rumor, demanding she reveal the tape if she actually had one before saying she could be "a disgusting person sometimes."
"You are a disgrace of a human being," Reza shouted as Adam dragged him out of the party.
And that was all it took for GG to kick her shoes off and chase after him, screaming obscenities and lunging into Adam in the process, scratching his neck before former co-star Shervin Roohparvar and her sister Leila could hold her back.
"From now on, Golnesa is a person that exists independent of me," Reza declared. "She will do her thing. I don't wish her any harm and I hope that her life becomes better and she finds her way. But that does not include me at all moving forward." Spoiler alert: It would come to include him again.
As season six kicked off, it would be MJ's turn to step into the drama spotlight in the season premiere when, after getting engaged to Tommy at the end of season five to Vida's startling disapproval, Mommie Dearest visits their new condo and lets the happy couple know her thoughts on their humble abode. 
"Why you guys have all these boxes in the middle? What are you doing? You don't have a coffee table," she ranted to the couple, who were still in the process of moving in. "If I want to have a glass of water, where am I going to put it. On my knees or on this? You two didn't want to put 30 minutes effort and get rid of the boxes!"
With MJ's father Shams in the hospital after suffering a stroke, Vida's myopic focus was all too much for Tommy and he exploded on his future mother-in-law, prompting Vida to declare she'd never return to the condo as long as he was there. "You cannot control him. He has no respect, no manners," she told her daughter. "I will never come to this apartment if he's there and shouting. Why should I come somewhere that he shouts?" Maybe that's not such a bad thing?
By mid-season, GG had rehabilitated herself and her standing her in the group, so naturally it was time for yet another blow up with her estranged sister Leila. At Thanksgiving dinner, GG overheard Leila complaining to their father that it took her younger sister 11 days to thank her for picking her up from rehab. 
"You want to go there with me, Leila?" GG shouted as she shoved off MJ, who was trying to hold her back. "I will bust you out. I came here in f--king peace. I try to be peaceful with you. Why are you doing this?"
"This is the rehabbed Golnesa, everybody," Leila announced to the visibly uncomfortable room.
"Yeah, this is the rehabbed Golnesa, bitch. And the rehabbed Golnesa is not taking any more bulls--t." So festive!
In episode 10, after a season of issues stemming from Vida's disapproval over their upcoming marriage and questions over whether either of them would ever be ready to become parents, it was finally all too much for Tommy and he told MJ as much. And that didn't sit well with her.
"I'm gonna be the most amazing mother, so the fact that you're sitting here to f--king humiliate me while you're not doing a god damn f--king thing," she shouted. "You smoke 100 cigarettes. You, right now, need to be about your truth that says, 'You know what Mercedes Javid, even though I f--king hit you up on Tinder and we f--ked and moved in together and I bent down on one knee, I'm actually full of s--t.'"
While it seemed like it might be the end of the road for these two, MJ and Tommy did make it down the aisle in April of this year. Look for the wedding to be a focal point in the new season.
The Shahs are never short on fireworks and, while they've all done some much-needed growing up and mellowing out over the previous six seasons, season seven should prove to be no exception. As Reza explained to E! News ahead of the premiere, "This season is so lit! We deal with weddings, death, building houses, starting businesses, hookups, threeways, trying to hook up when you have someone in your life already—literally it's the most insane season." 
With GG still in the mix, was there every any doubt?
Shahs of Sunset airs Thursdays at 9 p.m on Bravo.
(E! and Bravo are both part of the NBCUniversal family.)