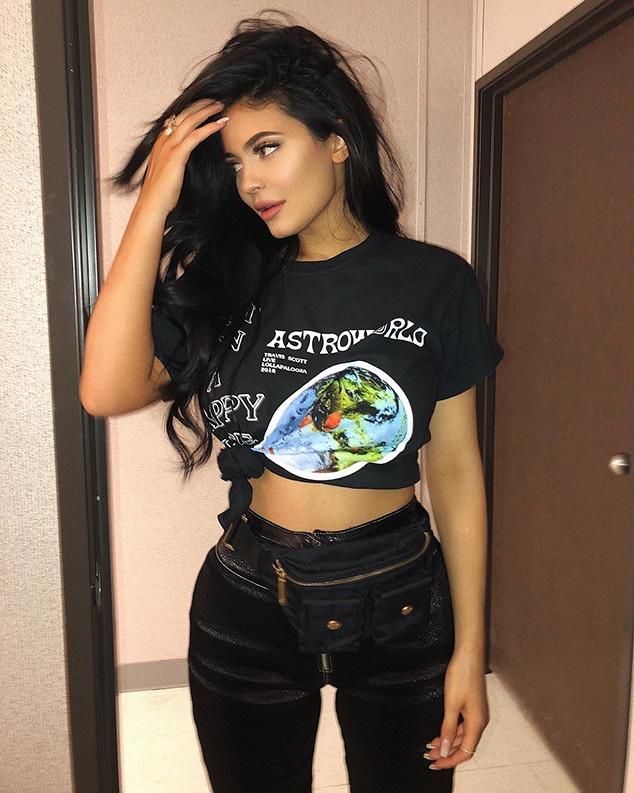 Instagram
No one is a bigger fan of Travis Scott than Kylie Jenner.
To show her support for the release of his third studio album, Astroworld, the makeup mogul modeled some of his merch on Instagram Thursday. "You didn't have to go this hard baby," the E! reality star wrote on Instagram. "Astroworld just dropped and it's the craziest ride of my life."
Jenner joined Scott to celebrate the launch at Lollapalooza in Chicago. The album's artwork—a twisted carnival, from the mind of photographer David LaChapelle—inspired the venue's ghoulish décor. Fans were given wristbands during his performance at the festival, granting them access to attend his secret listening party. After his set ended, a giant balloon head was inflated—the same one that appears on Scott's album cover—and fans were invited to enter. Celebrity guests included Virgil Abloh, Chase B, Rayscorruptedmind, Shek Wes and White Trash Tyler. Members from Scott's team gave out free swag, as well as food from Shake Shack.
"Whoo!" Jenner's BFF Jordyn Woods squealed. "Straight through the head!"
The event was live-streamed on YouTube, courtesy of Red Bull Music. Jenner and Scott, who welcomed daughter Stormi Webster in February, swayed to the music as fans snapped photos.
Naturally, Jenner was Scott's muse for several songs on Astroworld.
In the track "SICKO MODE," featuring Drake, Scott raps, "Passes to my daughter, Imma show her what it took / Baby mama cover Forbes, got these other bitches shook." And, in the track "SKELETONS," Scott seemingly references the beginning of his relationship with the Keeping Up With the Kardashians star. "We just rocked Coachella, I gave her of half of the check / It was good sex, I didn't mention to the 'net," he raps. "Didn't pass the loud, that was out of respect."
Jenner recently spoke about the origin of their romance in GQ's August issue. "I really jumped on the bus. And then we rode off into the sunset," she recalled. "I did the whole tour with him."
The whirlwind romance makes perfects sense to the couple. "My whole family knows that I do whatever I'm going to do. I've been that way my whole life. I don't really answer to anybody. I live on my own, and so I just rode off into the sunset. We had a lot of downtime. It was organic. And we would just go to these random cities. We got to not be who we really were. Like, if we were in L.A., I feel like it would've been way different. Everything happened for a reason," Jenner told the magazine. "We weren't going out as 'Kylie and Trav.' We would just be in Cleveland, walking the street for hours. We would go on walks, and no one would bother us."