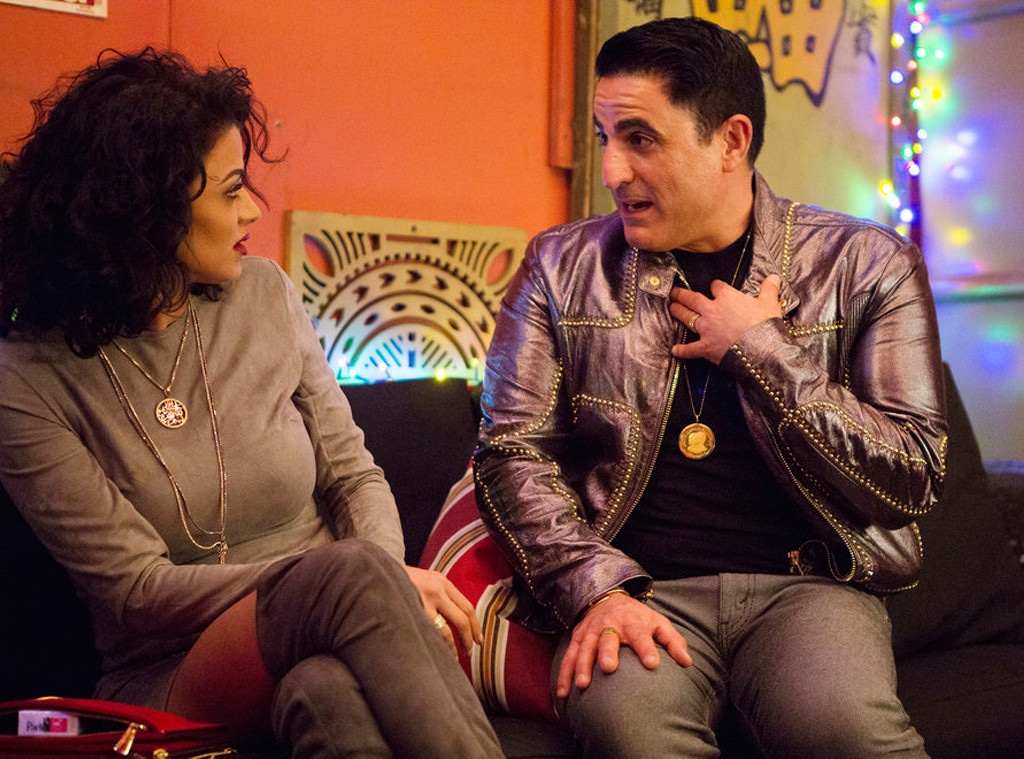 Isabella Vosmikova/Bravo
The mustache may be gone, but the drama remains.
After much anticipation, Shahs of Sunset returns to Bravo this evening where Reza Farahan and his friends will open up their lives for the camera once again.
Time and time again, the cast including Golnesa "GG" Gharachedaghi, Mercedes "MJ" Javid and Mike Shouhed have provided OMG moments for viewers at home. And guess what? Season seven is no different.
"This season is so lit! We deal with weddings, death, building houses, starting businesses, hookups, threeways, trying to hook up when you have someone in your life already—literally it's the most insane season," Reza teased to E! News ahead of tonight's season premiere. "I can't believe it just keeps getting better so I can't wait for the fans to experience what we lived and I'm really proud of it."
Throughout the new season, fans will watch Reza and his husband Adam Neely begin the process of starting a family. And while loyal viewers remember some hesitation on Reza's behalf in past seasons, he's ultimately turned a corner.
"Ultimately, at a certain point, life becomes all about family especially if you're Persian. We're all about our families and getting together," he explained to us. "It's cute to be running around when you're 30, it's ok to still be running around at 40, it's questionable to be running around at 45, but I think at 50 and older there's someone that shows up at the club and says listen queen, thanks for coming but please don't come back here again. At some point, you have to transition into having something when you're older and if you don't have any kids, what are you going to do?"
Another cast member hoping to expand their family is close friend MJ. In addition to watching her fairytale wedding to Tommy Feight this season, fans will witness her go through IVF in hopes of getting pregnant.
"It's amazing to have her and the prospect of us doing this together and having our kids at the same time warms my heart," Reza shared. "If I saw our kids playing together, the thought of it just makes me want to cry. It's amazing."
Perhaps what has some fans really pumped about the new season is whether or not GG has been able to maintain friendships with the group. According to Reza, who recently launched a new haircare line titled Reza Be Obsessed, viewers may see a different side of the longtime cast member.
"As she's getting older, she's working on herself so it's nice to see a milder GG at times," he joked with us. "In California, there are certain things that have been legalized and whether they smoke it or ingest it, from what I understand, GG partakes and I think that helps."
And in regards to those rumors that Mike and Destiney Rose could be dating—have you seen some of those Instagrams?!—Reza said it's just not the case.
"I can confirm 1000 percent that there is nothing going on between the two of them. Unless pigs started to fly in California since I got to New York," he joked. "The last person I texted with was Destiney, completely unrelated to Mike. But, Mike is very charming and very seductive and his private parts are very active so, you never know?"
New episodes of Shahs of Sunset air Thursday nights at 9 p.m. only on Bravo.
(E! and Bravo are part of the NBCUniversal family)