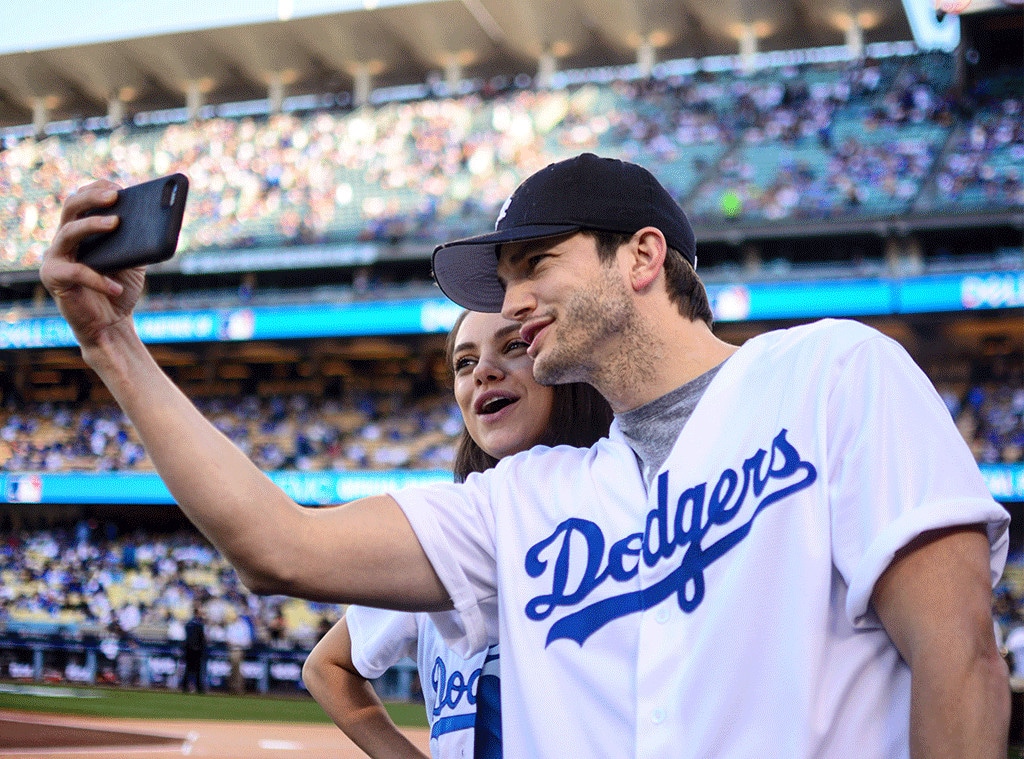 Courtesy of Los Angeles Dodgers
In the immortal words of Taylor Swift, Ashton Kutcher's reputation couldn't have been worse. 
When former costar Mila Kunis first spied her old costar (and some time AOL chat buddy) at the 2012 Golden Globes, he was fresh off a let's call it a less-than-harmonious split from wife Demi Moore. And the incendiary headlines that followed the end of their union had painted the actor as the type of guy who would spend the evening of his sixth wedding anniversary cavorting with college coeds in hotel hot tubs rather than wining and dining his wife. 
So Kunis must have liked him for him when she agreed to take a chance on a relationship. 
Okay, well, not a relationship exactly. As the actors have explained on countless talk show couches since, they were both feeling a little wary about romance, having just ended longterm unions so they took a cue from their just-wrapped respective rom-coms. In a scene that could have been lifted straight from No Strings Attached (Kutcher's 2011 comedy with Natalie Portman) or Friends With Benefits (her flick with Justin Timberlake), they shook hands, agreed to suppress any emotions and embarked on a no-strings-attached friends with benefits situation. 
And that lasted all of about three months, Kunis recalled. Because soon enough she realized she didn't love the idea of him squiring other young ladies. Maybe she did want to be exclusive with her onetime That '70s Show costar and, heck no, that didn't scare her. At least not for the reasons one might assume. "I think there were a lot of misconceptions about the divorce," The Spy Who Dumped Me actress, 34, revealed on a July edition of Armchair Expert with Dax Shepard. (For instance the timing: On a recent appearance of on the WTF with Marc Maron podcast she revealed Kutcher, 40, had been single roughly a year, year and a half when they started hooking up in early 2012—in other words many months before he and Moore announced their split.)
"And because he's very private and respectful he wasn't going to go and say anything and so he kind of just let rumors be rumors. And so people believed the rumors," she told Shepard. "He ate it." As a result, "People had a weird perception of who he was," she noted. "It didn't matter to me because I knew the truth." 
Actually, she knows all of his truths. "We went into this relationship super transparent with one another," she told pal Shepard. "So we knew 100 percent each other's faults, we knew exactly who we were, we knew exactly who we used to be and we were like, I accept you for who you are. And it doesn't make a difference what Joe Blow down the street thinks. It's never the way I lived my life."
Their honesty-first strategy started from the night of their first hookup—a momentous and in Kunis' own words "weird" occasion that took place some 14 years after they first kissed as teenage lovers Jackie and Kelso on their Fox hit. Having crossed paths backstage at the Golden Globes, after a decade of only sporadic communication, ("I was like, 'Ohh, he's kind of hot,'" she revealed to Maron of her initial impression, "and then he turned around and I was like, 'Oh my god, it's Kutch!'"), The Ranch star invited her to a housewarming party for his five-bedroom Hollywood Hills spread in the hopes of setting her up with a pal.
As the story goes, the friend didn't show ("The person got delayed at a wedding," Kunis explained), they grew closer and closer as the night wore on. (Oddly enough, her desire to inhale a bit of his secondhand cigarette smoke played a role.) Soon enough, she was sleeping over. "It was pretty mutual," Kutcher said last year on The Howard Stern Show. "It was kind of obvious that things were happening." 
Thearon W. Henderson/Getty Images
Though Kunis has since admitted actually spending the night was an anomaly for her—something she hadn't done with any man in the two years since she'd ended her seven-year romance with Macauley Culkin—they agreed to keep things light. "Like, we literally shook hands," Kunis recalled during a 2016 appearance on The Late Late Show with James Corden, "we're like, 'We're going to have fun because we're both single and young.'"
But first, in the interest of that aforementioned candor, they established clear, unquestionable boundaries. There was the obvious, she told Maron, "We're going to have fun, we're going to respect each other." And then there was the question of what to do if any jealousy arose. "Once one of us starts having any sort of attachment feelings we have to start talking about it," she said of the policy. "Not quash it, you have to talk about it. Because that way if the other person by any chance shares those feelings or not, we don't become resentful towards one another."
It was Kunis who cracked first, admitting, that when the venture capitalist casually made mention of another paramour, "I felt like I got punched in the gut," she told Maron. And rather than try to subtly shift the nature of their relationship, or stew in the fact that he hadn't reached the same place, she was upfront. "I was like, 'Oh my god, I'm in love with this man and I have to walk away because this is not the agreement that we had and so I'm going to speak up."
Eric Charbonneau/Invision for Netflix/AP Images
She made good on that vow, driving over to his place the very next day to launch into a confession: "I was like, 'I'm just going to let you know, when a, b and c happened, I know that I had all of a sudden a very different reaction to it and I respect us and I respect you, and so I'm going to bail," she recalled. "And I left the house.'" 
Her decision to be frank was unquestionably painful ("I left and I bawled my eyes out,") but she had no regrets. "I f--ked up enough in my previous relationships enough to know that, like, just f--k it, be honest," she explained to Maron of her rationale. "I don't want to become resentful and I don't want to get into a place where I do something dumb again. And so I was like, f--k this s--t, I'm just going to completely, fully transparent and he was the same exact way. And so it was easier for me to tell him that I was having feelings than to get to a place where I was resentful of the fact that he, in my mind, wasn't."
Except, of course he was. Because, spoiler alert, this story has a happy ending. 
By 8 a.m. the very next day, Kutcher was at Kunis door with an offer. "He showed up at my house and he was like, 'Let's move in together.'" And despite her protests that he wasn't ready for such a big move, just a year or so removed from a six-year marriage, he laid down his trump card. Remembered Kunis, "He goes, 'I'm not going to lose you.' And that was it." 
No wavering, no games (unless you count the masks and beat up car they enlisted to hide their burgeoning romance from the public because, as Kunis noted, they were "crazy neurotic" about keeping it secret). "There's no version of our relationship that's not transparent," Kunis raved to Maron. "There's nothing that either one of us doesn't know about the other person. I am telling you, it was like the person that I was at 20 and the person that I was when he and I started dating at 27, 28 were two completely different people, completely different people. And I am so much more proud of the person that I am today than I have every been of any other version of myself."
That assuredness made it even easier to ignore any faulty public opinions. Kunis admitted to Shepard that even mom Elvira was stunned when she confessed to dating Kutcher during a drive through Laurel Canyon: "She literally was like, 'Shut the f--k up,' in Russian. And I was like, 'No, I'm serious. I also may be in love with him.'"
With feelings deepening quickly, thanks to their decades-long back story, they set about the process of buidling a family. Or, as Kunis told Corden, "Three months later we're living together. Six months later we're, like, married and have a kid." Daughter Wyatt arrived in October 2014 and after a Fourth of July wedding on a ranch outside of L.A. and a slightly disastrous RV honeymoon, son Dimitri joined the team in November 2016. 
Their candor has remained in place since—a policy that allows Kunis to readily admit she has no complaints. "My husband does not annoy me," she told E! News in an interview with her Bad Moms Christmas costars last fall. "He really doesn't. I don't know if this happens later, we've only been married a handful of years." For now, she noted, "It's very much in the honeymoon phase of things. We still really love and like each other daily."
As for disagreements, they're rare and dealt with immediate. There was the time the Sound Ventures confounder had to plead with Kunis to stop calling him Kutch, a holdover from their buddy days, and the moment they realized their spirituality didn't quite line up. 
"So, Ashton when we started dating, very religious, very religious, very Jewish," Kunis explained to Shepard of the actor, who was raised Catholic but became infatuated with Judaism as an adult. "I, not religious whatsoever. I was like, 'Listen, buddy, I love you so very much, let's find a happy medium here, because that's, I can't, that's not me." 
Frazer Harrison/Getty Images for Stagecoach
Their middle ground saw them forming their own ritual to recognize Shabbat, the Jewish day of rest, every Friday night. "Normal Shabbats are hours long and require a lot of work," noted Kunis, but theirs involves a simple dinner and a moment "regardless of where we are in the world" to acknowledge their family and share the love. 
"Ultimately I was like, our kids are going to get older, they're not going to want to spend time with us," she acquiesced to Shepard. "Just what happens." But from here on out, family Fridays are mandatory. "My boy is probably going to want to play video games. My girl is going to shun me," she said of her now 21-month-old and 3-year-old kids. "But on Friday night, we're all going to sit down and we're going to look each other in the eye and say, 'I love you,' and 'What did you do this week?' 'What did you do this week?' Just reconnect for a minute."  
Noting that at this point, the tots have "the attention span of gnats" they keep the ritual to five minutes, lighting two candles, saying a couple of blessings in Hebrew (that both preschoolers have already memorized) and then asking forgiveness. 
"We just apologize for whatever we did that week that upset one another," she explained to Shepard, "and then you're just done." 
The custom means issues never get the chance to linger and fester and mutate into animosity. Unlike with past unions, Kunis doesn't expect Kutcher to read her mind or sense any growing annoyance, she just tells him if, for instance, he's "making me f--king crazy" by driving too close to the curb. 
As a result, Kunis isn't putting on airs when she says things like, "I have the world's greatest husband," as she told E! News in April. And Kutcher really means it when he says his wife is "the most valuable person in the world to me." As cliché as it may sound, they truly are best friends eager to grow old together. 
In their union, stresses Kunis, "in however many years we've been together, there's been no resentment."  
No misunderstandings, either. Just pure, unadulterated honesty.