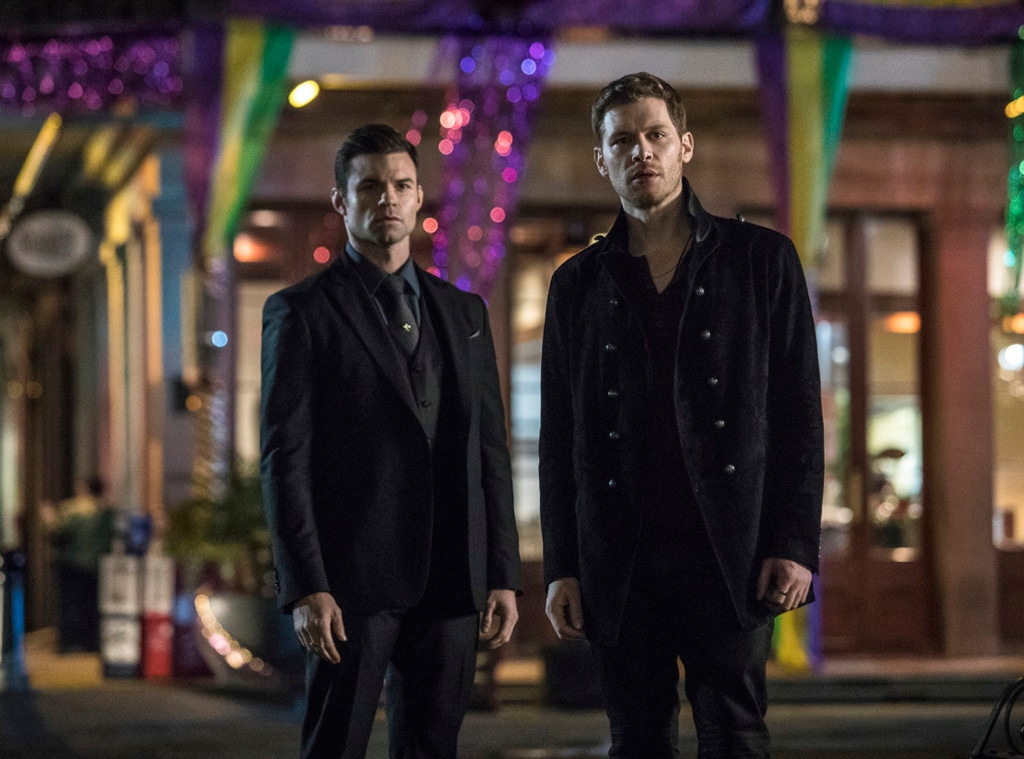 The CW
Always and forever no more. 
The Originals just signed off for good, and while that world will be back in the upcoming spinoff Legacies, there are a couple of brothers who definitely will not be making an appearance. 
Most of tonight's finale was a goodbye to Klaus (Joseph Morgan), who knew he had to die in order to get rid of the dark magic that had been destroying Hope (Danielle Rose Russell) and was now camped out inside him. He got his entire family back together for a sort of funeral, and everyone was essentially having a better time than they've ever had on this show while giving us a few perfect closing moments. 
Rebekah (Claire Holt) plans to use Klaus' secret store of cure and become human, while also marrying Marcel (Charles Michael Davis). Freya (Riley Voelkel) and Keelin (Christina Moses) plan to have kids with the help of Vincent (Yusuf Gatewood). Even Klaus and Caroline (Candice King) had a moment, with Caroline giving him a kiss after advising him that he absolutely needed to say goodbye to his daughter. And then when he did have the moment with his future spinoff star Hope, it was essentially the perfect way to send her off into her own show. 
Then, it came time for Klaus to actually kill himself, and he found that he wasn't alone. Elijah (Daniel Gillies) had decided it was also his time to go, and he said his goodbyes to the family as well before breaking the white oak stake into two pieces so the two brothers could use them to kill each other, which they did. 
Back at the beginning of the season, we asked both Morgan and Gillies to reflect on their time as the tortured Mikaelson brothers and what made them most proud when they looked back on the show, and their answers were as different as Klaus and Elijah. 
Daniel Gillies: 
"I never stopped caring. I'm someone who's not very pleased with any of his work. I don't watch the show. I don't like to watch the show, because I don't like seeing my work. I always think I could have done a scene better, and it's just like the—to sound pretentious for a moment here, I apologize—but that's the artist's condition and his or her disposition. ... We don't enjoy our work, and we ought to not. It comes with the territory. But I never quit trying to make it seem the best version of itself every single day I was there. ... I think a lot of actors, when they get into shows like this which are, let's be honest, heightened and theatrical and strange, and to be perfectly frank, often silly. People at that point become complacent and idle because they think I'm not going to grow from this because it's not particularly challenging, and nobody reputable is ever going to see the show and think that what I'm doing is good. ... I like reminding myself every day why I love to be an actor. … I know that I never stopped loving it." 
"It's almost like a relationship, like being in one of those destructive relationships. I had one in my early 20s. I broke up with this woman and one of the things I was proudest of was that I never stopped giving to the relationship and I never stopped loving it and loving her, even though it imploded horrifically. But that's sort of how I feel about Elijah. There were days where I didn't even feel that the show deserved what I was giving it. But I never stopped giving it love, and that might sound tremendously self-aggrandizing, but it was very very difficult. I was away from my family for most of that time. I had two babies that I never saw. I was living in a sort of state like, look, I know I live a wonderful, very very privileged life thanks to this show, and for that I'm tremendously grateful, but there were sacrifices. So I guess my incredibly long-winded answer is that I never stopped loving Elijah throughout all of that." 
Joseph Morgan: 
"Maybe I'm being presumptuous and sort of speaking out of turn, but I feel most proud of being a part of a show and more specifically creating a character that I think that fans of the show, of the character, were a part of building. A lot of that came from interacting on social media with fans early on, talking about horror films and books that we all liked, and then a lot of it came from seeing what people responded to as the show went on, and finding out what people want, and then not quite giving it to them. Just giving them a tiny taste of it so they want more, you know. I think we did that really well, and they felt included in the journey of Klaus."
"I never felt like it got tired, or we had explored it all," he continued. "Even to the end of the journey, I feel like Klaus will go off and have a life in other people's imaginations, and in mine now, even if he won't be on our screens. So it's sort of the idea that we're all a part of the legacy of this vampire being a thousand years old. I'm incredibly proud to have played a character that people connected with on so many levels, even though he turned up as a villain. But maybe that's a part of it, you know, showing up like that and twisting everything on its head from the beginning." 
The Originals Series Finale
The Originals aired on the CW. 
Legacies premieres October 25 at 9 p.m. on the CW.