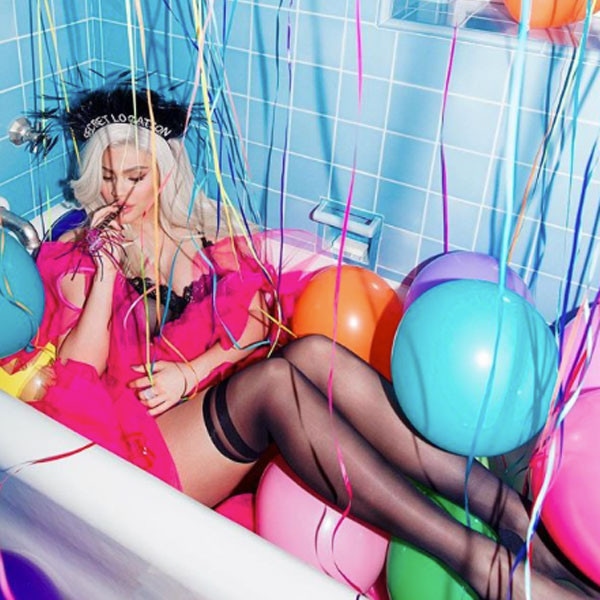 Brendan Forbes for Brendan Forbes photography / KGM Entertainment Inc
There's a birthday party in the bathroom and it has Kylie Jenner's name on it. 
While the makeup mogul's official birthday on August 10 is still a little more than a week away, Jenner appears to be getting the party started early thanks in part to a themed photo shoot. 
In honor of her upcoming new collection launch, the Kylie Cosmetics maven hopped into a bathtub filled with balloons for her closeup, sporting what appears to be a black bra, matching knee-high stockings with a pink ruffled garment layered on top. 
"bday mood all month long," she wrote of the shot on Instagram. The image, shot by Brendan Forbes, appears on the packaging for the upcoming birthday-themed collection. "Thank you @brendanforbes for these bomb pics for all my packaging!" Jenner penned in the caption. 
With her milestone around the corner, Jenner has plenty to be happy about in her life—including a booming business, her 6-month-old daughter Stormi Webster and her beau Travis Scott. 
This time last year, the star rang in her 20th birthday with several celebrations. First, she got a special surprise from her famous sisters, mom Kris Jenner and boyfriend with one party and then enjoyed a family gathering including the youngest members of the Kardashian bunch. 
Unbeknownst to fans at the time, the star was expecting her first little one and now she gets to blow out the candles with baby Stormi in her arms a year later. 
Guess we'll just have to stay tuned for what the star has planned for her big day!