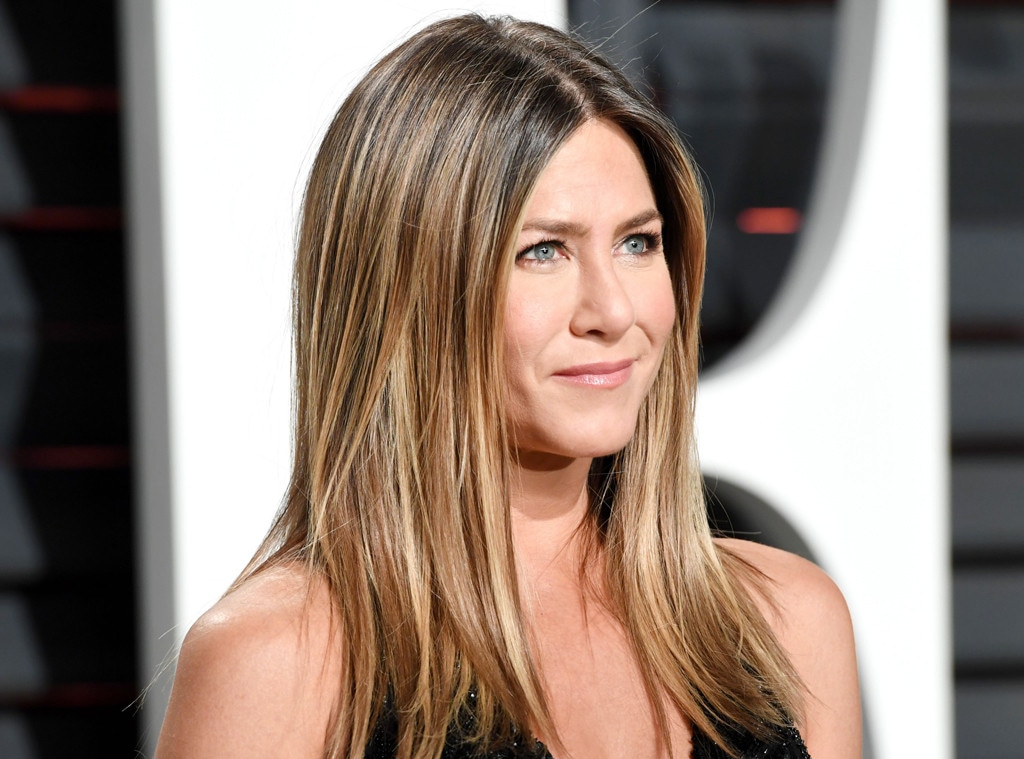 Tyler Boye/WWD/REX/Shutterstock
Jennifer Aniston is just fine. Unsinkable, really. 
That's not so much our opinion as the message she delivered to Vanity Fair, in her 2005 post-Brad Pitt confessional, to Vogue in 2008, The Hollywood Reporter in 2015 and again in her InStyle cover that just dropped today. 
Yes, divorce sucks and any reasonable human would be upset about ending a relationship with a partner they assumed was the forever kind. But please stop with the whole Jen Aniston sad sack narrative. And for the love of everything, if you're going to ask why she can't "hold onto" a significant other, you better direct that same query toward her estranged husband Justin Theroux. Toward Pitt. Toward any single adult male in Hollywood, really. 
If there's one takeaway from her recent chat with good friend Molly McNearney—a producer, writer and wife of talk show host Jimmy Kimmel—it should be just how tired that storyline is. "When a couple breaks up in Hollywood, it's the woman who is scorned," the 49-year-old Dumplin' star griped to InStyle. "The woman is left sad and alone. She's the failure. F that. When was the last time you read about a divorced childless man referred to as a spinster?" Because if one were reaching for a label to bestow upon Aniston, there are more than a few: actress, producer, business owner, multi-millionaire and person totally content with their lot in life. 
It's a tune she's been whistling since 2008, two years after her first big post-Pitt romance with Vince Vaughn ended and mere months after John Mayer detailed their breakup to a group or trailing photographers. "This whole 'Poor lonely Jen' thing, this idea that I'm so unlucky in love? I actually feel I've been unbelievably lucky in love," she insisted to Vogue. "Just because at this stage my life doesn't have the traditional framework to it—the husband and the two kids and the house in Connecticut—it's mine. It's my experience. And if you don't like the way it looks, then stop looking at it!"
But it was a sentiment she felt needed repeating now that she's single once again. "With all due respect," she noted to McNearney, "I'm not heartbroken." 
Even at her lowest points back in 2005, a time when she was understandably feeling a bit bruised by the unraveling of her marriage and her former spouse's ensuing romance with the woman he claimed was just a costar, she adamantly refused to play victim. 
Yes, there were times when she felt down, like she was navigating uncharted territory without a buddy ("It's sort of like Bambi—like you're trying to learn to walk," she admitted in the bombshell Vanity Fair piece), but she was able to find the glass-half-full viewpoint, to see it as an opportunity for personal growth. 
"Am I lonely? Yes. Am I upset? Yes. Am I confused? Yes. Do I have my days when I've thrown a little pity party for myself? Absolutely," she reasoned. "But I'm also doing really well. I've got an unbelievable support team, and I'm a tough cookie." 
With the help of therapy, she insisted, she was feeling not only strong, but hopeful about what was lying ahead, just off in the distance. "You can't let the devastation of a divorce take over and win—let it make you this bitter, closed-off, angry, skeptical person," she explained. "Then you're just falling victim to it. You don't want to shut your heart down. You don't want to feel that when a marriage ends, your life is over. You can survive anything."
Globe Photos/ZUMAPRESS.com
And while she admittedly wished she didn't have to chart her personal survival course in front of an audience of millions, she had already landed on the perfect coping strategy. Abandoning the Beverly Hills spread she once shared with Pitt, she had retreated to a serenely outfitted Malibu bungalow "in an effort to take care of myself and my heart." It was a spot where she could scream into the abyss of the Pacific Ocean ("Not too loudly," she cautioned. "You don't want people to think that you're crazy") and lean on her dearest friends.
And she could do so while sitting on the most cushy, the most enveloping of sofas. 
Because while she kept quiet on the more unsavory details of her Pitt split and his decision to subsequently flaunt his romance with Angelina Jolie, only murmuring about a missing "sensitivity chip," she did manage a few relatively harmless swipes. There was his new platinum coif to make fun of, after all ("Billy Idol called—he wants his look back,") and his penchant for filling their 12,000-square-foot Beverly Hills mansion with uncomfortable museum pieces. ("He definitely had his sense of style, and I definitely have my sense of style, and sometimes they clashed. I wasn't so much into modern.")
Asked if there's anything she had embraced post split, á la Nicole Kidman and her high heels, she responded, "I can have a comfortable couch." 
But while she permitted herself those few digs, she simply refused to get into the whole Jolie saga beyond noting she was "shocked," the whole world was shocked, when pictures emerged of the couple who would become Brangelina traipsing around a Kenyan beach with then 3-year-old Maddox. "I can't say it was one of the highlights of my year," she admitted. "Who would deal with that and say, 'Isn't that sweet! That looks like fun!'? But s--t happens. You joke and say, 'What doesn't kill you makes you stronger.'"
It wasn't that she was protecting him, per se, it just felt somewhat undignified to lay all their troubles bare. "I'm not interested in taking public potshots," she explained. "It's not my concern anymore. What happened to him after the separation—it's his life now. I've made a conscious effort not to add to the toxicity of this situation. I haven't retaliated. I don't want to be a part of it. I don't have a halo that I'm polishing here; everyone has their personal thoughts. But I would much rather everyone move on." 
She, in particular, was interested in doing the moving. "I am not defined by this relationship," she insisted. "I am not defined by the part they're making me play in the triangle. It's maddening to me. But I had a mom who was very angry about her divorce, and made shots, and I don't want to play that out. If people are frustrated that I don't want to do that, I'm sorry. I'm figuring this out as I go along. This is my first time at this particular picnic."
Gregg DeGuire/Getty Images
She wasn't there to indulge, but she also wasn't going to stop her friends from pointing out his bad behavior. Just a little. 
"It was extremely hurtful to Jen that he was seen with another woman so quickly after they were separated," said close pal and actress Andrea Bendewald, while producing partner Kristin Hahn spoke of Pitt's perhaps-too-early infatuation with his Mr. & Mrs. Smith costar. "She wasn't naïve. She's not suggesting she didn't know there was an enchantment, and a friendship. But Brad was saying, 'This is not about another woman.'" 
Even BFF Courteney Cox spoke out, saying that while she didn't think "he started an affair physically" with Jolie, "There was a connection, and he was honest about that with Jen. Most of the time, when people are attracted to other people, they don't tell. At least he was honest about it. It was an attraction that he fought for a period of time."
Mostly, though, while her friends talked about how impressed they were with her strength, they worried about what bombshell might land next. "My worst fear is that Jen will have to face them having a baby together soon," revealed Hahn, "because that would be beyond, beyond painful." Jolie would welcome daughter Shiloh seven months later.
It was a dream Aniston had held for herself, despite the narrative that had blazed through Hollywood. It was a rumor that seemed to cut deeper than all of the others.  
"A man divorcing would never be accused of choosing career over children," she detailed in one of the more standout quotes from the 6,500-word piece. "That really pissed me off. I've never in my life said I didn't want to have children. I did and I do and I will! The women that inspire me are the ones who have careers and children; why would I want to limit myself? I've always wanted to have children, and I would never give up that experience for a career. I want to have it all." 
And the idea that she'd been holding up the process—the oft-repeated sentiment that Pitt had ended things because his wife of four years refused to have his baby—was something one unnamed pal simply wouldn't stand for. "When Brad and Jen were in the marriage, having a baby was not his priority—ever," the source, a mutual friend of both actors, told the mag. "It was an abstract desire for him, whereas for Jen it was much more immediate. So is there a part of Brad that's diabolical? Did he think, I need to get out of this marriage, but I want to come out smelling like a rose, so I'm going to let Jen be cast as the ultra-feminist and I'm going to get cast as the poor husband who couldn't get a baby and so had to move on?"
Jason Merritt/Getty Images
No matter the origin, the misogynist rumor is one that's still kicking on more than a full decade later forcing Aniston to address its validity time and time again, most recently in reference to her February split from Theroux.  
With this divorce she resisted saying anything untoward about Theroux. (Though, of course, it helped that The Leftovers actor didn't immediately start squiring around a new leading lady or agree to pose with her for a 60-page W spread.) But she did, once again, attack the idea that her decision to have children had any impact on her relationship status. 
"The misconceptions are 'Jen can't keep a man,' and 'Jen refuses to have a baby because she's selfish and committed to her career,' Or that I'm sad and heartbroken," she griped to McNearney. And beyond being untrue, such assumptions are simply "reckless," she said, because when you actually step back and think about it, isn't it more than a touch callous to question what may or may not be happening in a woman's womb?
"No one knows what's going on behind closed doors," noted Aniston. "No one considers how sensitive that might be for my partner and me. They don't know what I've been through medically or emotionally. There is a pressure on women to be mothers, and if they are not, then they're deemed damaged goods. Maybe my purpose on this planet isn't to procreate. Maybe I have other things I'm supposed to do?"
As for any other chatter, she's well practiced at dismissing it, a talking point that's appeared in many of her interviews. Years after she labeled tabloid reports "toxic", admitting she read one article in which Kimberly Stewart labeled her "homely" and "it literally ruined my life," she joked with McNearney about the increasingly wild headlines, even Googling herself to discover she was planning a $100,000 revenge makeover. 
"For the most part I can sit back and laugh at the ridiculous headlines because they have gotten more and more absurd," she said. "I guess they're feeding into some sort of need the public has, but I focus on my work, my friends, my animals, and how we can make the world a better place."
Perhaps that's why in this sit down, some 13 years after she gamely discussed her ongoing divorce with Pitt, she's offering up fewer details for readers to obsessively parse. 
She doesn't intimate that her spouse gave up on the marriage ("My goal is to try and achieve a very deep, committed relationship. That's what I'm interested in," she told Vanity Fair, "but it's someone's prerogative to be or not to be in or out of a relationship,") or suggest that believing everything will last forever is "setting your hopes too high," as she opined to Vogue. Nor did she once reference Jolie, a person who's actions she's labeled as "really uncool."
But she doesn't leave fans totally empty-handed in this, her most recent breakup interview. She opens up about a new-found love of boxing. "You get a mental release of all this crap you're taking into your ears and eyes every day and have little fantasy moments imagining who you're actually punching," she shared. "I'm just grateful it's not actually the person, even though there's one person. You know what I mean. It's all good." (A reference to any lingering anger with Theroux, maybe?) 
She divulges, that, like Pitt, she has a love for sculpting. ("Twelve years ago I had a beautiful art studio, and that was my dream then,") and once again she forecasts where she might land in the future.  
Stefanie Keenan/WireImage
Back in 2005 she rightly predicted she'd find love once more: "I would hope to be married and have a kid. I still believe in marriage 100 percent." But now her soundbite isn't quite so neat and tidy. 
"I've never been someone who knows how to answer, 'Where do you see yourself in five years?' she admitted to McNearney. "I do know that lately I've had moments. The world we're in is so challenging right now, the scrutiny, the way people interact. There's just bad behavior around us a lot. There have been moments when I would just love to get out of Dodge and move to Switzerland—or somewhere—and start anew. Just have this s--t behind me."
And while that might simply be unfathomable, for a women like Aniston to really go off-grid, she does make it a point to routinely reevaluate her purpose. "Every seven years," she said, "I try to sum up what I am doing and what I want to make my focus. I'm trying to make better choices."
In perhaps her most stunning of admissions, she indicates that one of those projects could just be a Friends revival. At a time when literally every other costar has said no way, not going to happen, she's taking another tack. As she recently joked to Ellen DeGeneres, now that George Clooney is no longer a bachelor, anything is possible. 
"I fantasize about it," she revealed to InStyle. "It really was the greatest job I ever had. I don't know what it would look like today, but you never know. So many shows are being successfully rebooted. I know Matt LeBlanc doesn't want to be asked that question anymore. But maybe we could talk him into it. Or we just give it some time and then Lisa [Kudrow], Courteney, and I could reboot The Golden Girls and spend our last years together on wicker furniture."
And should that be the case, well, you know, that would be just fine. She will be just fine.