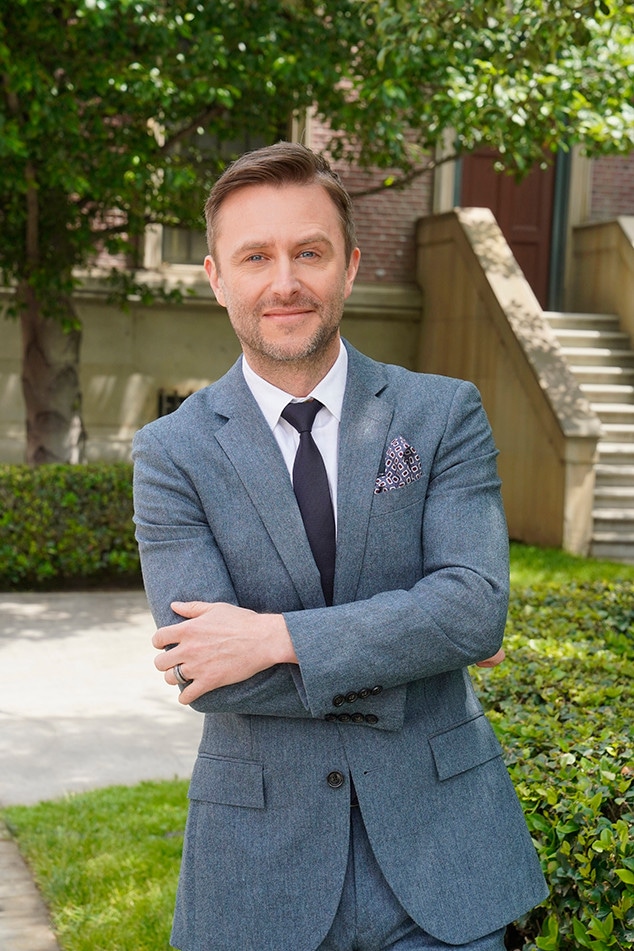 Paul Drinkwater/NBCUniversal
Chris Hardwick will return to NBC.  
According to multiple reports, the multi-hyphenate will appear as a guest judge on America's Got Talent on August 7. NBC has also reportedly confirmed that he will resume as host of The Wall for the third season, which is slated to start production in the fall. Hardwick is also an executive producer on the game show. 
In June, Chloe Dykstra penned an essay in which she described an allegedly abusive relationship with an unnamed ex-boyfriend that she had in her early '20s. She claimed she suffered "long-term abuse," sexual assault and career blacklisting. Though Dykstra did not specify, the piece was widely interpreted to be about the 46-year-old host and podcaster, whom she dated for three years before they announced their split in 2014. 
Following the essay, Hardwick responded in a statement to Deadline, denying Dykstra's allegations. 
"These are very serious allegations and not to be taken lightly which is why I've taken the day to consider how to respond," Hardwick said in the statement. "I was heartbroken to read Chloe's post. Our three-year relationship was not perfect—we were ultimately not a good match and argued—even shouted at each other—but I loved her, and did my best to uplift and support her as a partner and companion in any way and at no time did I sexually assault her."
"I'm devastated to read that she is now accusing me of conduct that did not occur," his statement concluded. "l was blindsided by her post and always wanted the best for her. As a husband, a son, and future father, I do not condone any kind of mistreatment of women."
Shortly after Dykstra's essay was published, AMC announced that it would not air his show Talking With Chris while they assessed the situation. At the time, Hardwick also stepped aside from moderating planned AMC and BBC America panels at Comic-Con in San Diego in July. Additionally, KAABOO Del Mar Festival organizers announced he had been pulled from the 2018 Humor Me comedy show. 
In mid-July, AMC had conducted an internal investigation and announced that Hardwick would return to host Talking Dead and Talking With Chris Hardwick. 
"Following a comprehensive assessment by AMC, working with Ivy Kagan Bierman of the firm Loeb & Loeb, who has considerable experience in this area, Chris Hardwick will return to AMC as the host of Talking Dead and Talking With Chris Hardwick," a statement provided to E! News read. "We take these matters very seriously and given the information available to us after a very careful review, including interviews with numerous individuals, we believe returning Chris to work is the appropriate step."
Following his reinstatement, Dykstra tweeted, "I originally wrote my essay so I could move on with my life, and now I intend to do so. Thank you, again, to those who have supported me during this."
E! News has reached out to Hardwick's manager and NBC for comment. 
(E! and NBC are both part of the NBCUniversal family.)