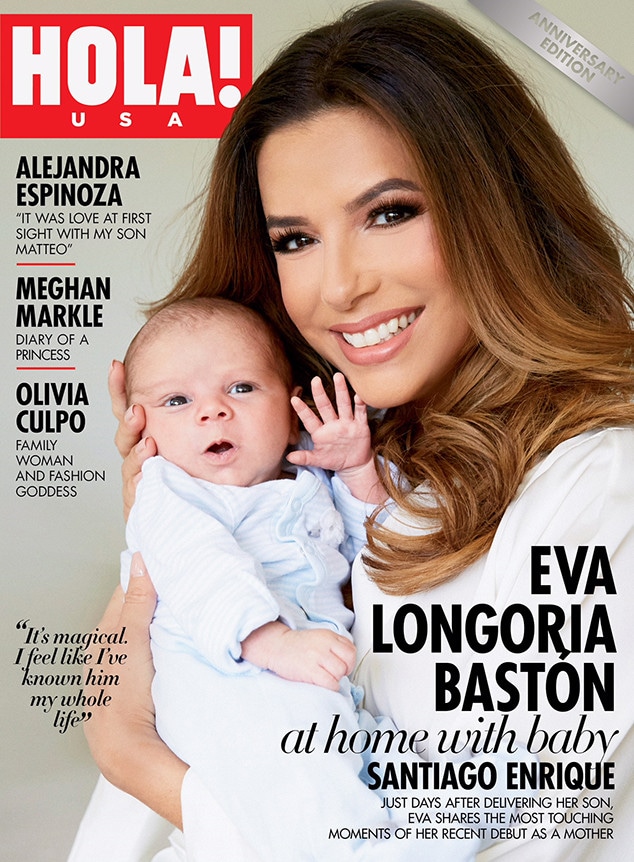 Bernardo Doral / HOLA
Ladies and gentlemen, it's time to meet Eva Longoria's baby boy.
Less than two months after welcoming her first child into the world, the Hollywood actress and activist decided to introduce her son on the cover of HOLA! USA's latest issue.
"Here he is! Santiago Enrique Bastón is waving hello at the whole world! Couldn't wait to share this picture with y'all!" the proud mom shared on Instagram. "Thanks to @usahola and @bernardodoral for capturing these beautiful moments with my newborn son! #BabyBaston #HOLAUSA."
In the cover image, Eva smiles from ear to ear as she cradles her son. As for her glam look, the actress was happy to give credit where credit is due for those who helped make the shoot so beautiful.
Ken Paves helped with hair, Elan Bongiorno assisted with makeup and Charlene Roxborough handled all things fashion.
"So beautiful!!! X So many kisses from us all! XXXX," close friend Victoria Beckham shared in the comments section. Holly Robinson Peete added, "Omgggggg Santiago."
Additional photos from the September 2018 issue are expected to be released early next week.
Since welcoming her first child with husband Jose Bastón on June 19, Eva has tried to enjoy the first weeks of motherhood in private. At the same time, the Telenovela star has hinted that a special reveal was in the works.
"The gang is back together! I'm technically still on maternity leave and this is the only work I had scheduled during this time," she previously wrote on Instagram. "But so happy to see my crew again!! Ken and Elan you make it all so fun and easy! #WorkingMama #3WeeksPostPregnancy."
And in between asking Chrissy Teigen for some mommy advice on social media, Eva found some time to enjoy the summer sun at an undisclosed location.
"It's magical. I feel like I've known him my whole life," Eva shared about her son in HOLA! USA's upcoming issue.
Congratulations again Eva on your exciting family news.