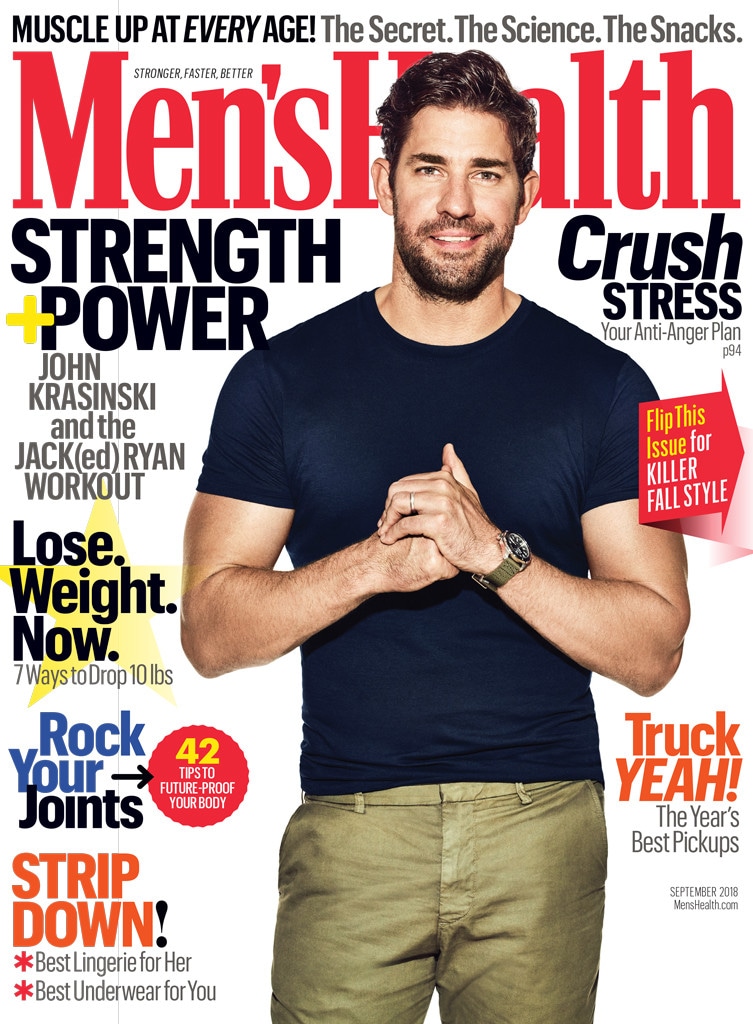 Eric Ray Davidson/Men's Health
John Krasinski is getting personal.
The Jack Ryan actor is opening up about his success, staying fit and propositioning wife Emily Blunt in the September edition of Men's Health. It's been a very successful year for Krasinski and Blunt, who co-starred together in the mega-hit film A Quiet Place. But Krasinski, who also directed and helped write the movie's screenplay, is very aware that that kind of success might not come around again.
"I said to Emily, 'There's no greater gift that the universe could have given me than to go through the biggest success of my career and I don't have to explain to you how it felt.' We were both in the boat," he tells the magazine. "I said to her 'I don't know if it can ever be like this again.'"
"And—again, leave it to Emily, who is better at everything than me—she goes, 'It can't.' She just so perfectly encapsulated it," he continues. "'It can't be like this again, and it shouldn't. So take this and put it on a mantel, this really special treasure that we experienced together. And now go out and do something else.' I know I'll never do another movie that's this successful, this original, this underdog-y, and then on top of it have it be with my wife every step of the way."
The couple started dating in 2008 after being introduced at a restaurant. Two years later, the duo tied the knot in a private ceremony in Como, Italy. They've since had two kids together and recently celebrated their eighth wedding anniversary.
When asked his euphemism for sex, Krasinski tells Men's Health, "Oh, man. I don't know. I can't go back that far. I think I call it 'sex' now, which makes me really sad. I think I actually propositioned my wife by saying, 'Would you like to have sex tonight?'"
Eric Ray Davidson/Men's Health
So what's next for Krasinski? His new Amazon series, Jack Ryan, is set to premiere at the end of August.
"I remember feeling really connected to him because he seemed like a regular person who by his own volition became heroic," he tells the magazine. The role, like his previous part in 13 Hours, requires Krasinski to be very physically fit.
"On 13 Hours, I did it for the role, and then I definitely got addicted to it," he explains. "I take periods off. I remember my trainer saying, 'Try to stay within three weeks, so that whatever part you get, within three weeks we can get you down.' That's the goal, to be able to shift back and forth. I think that's better than saying, 'Stay ripped your whole life.' Because that's really annoying, and the people who do it really easily annoy me. Yes, I'm talking to you Chris Hemsworth."
For more with Krasinski, check out Men's Health, on newsstands Aug. 7.