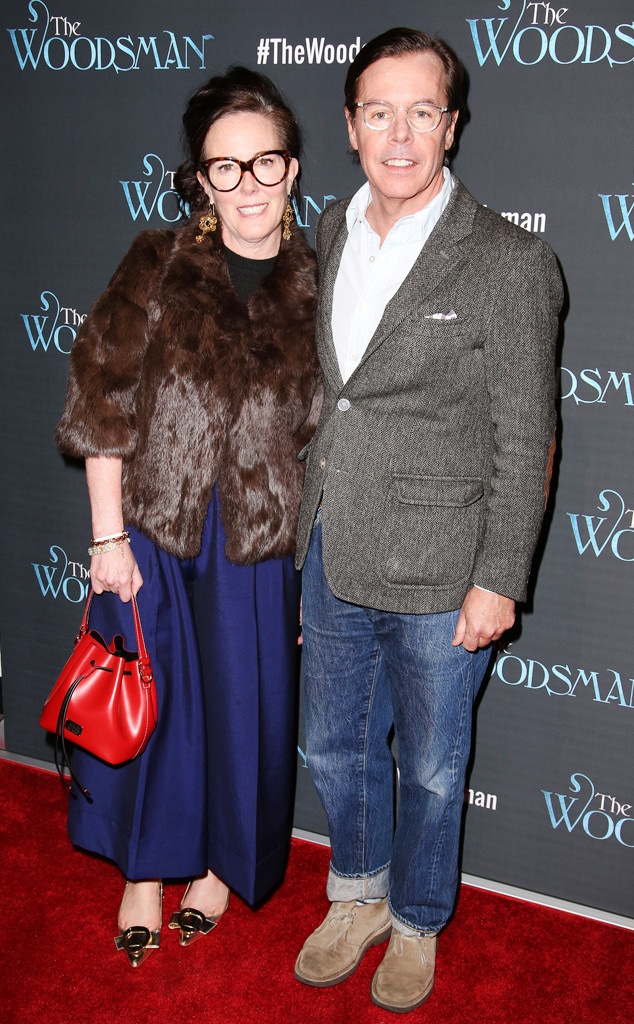 Walter McBride/Getty Images
Kate Spade's husband, Andy Spade, took to Instagram on Monday to pay tribute to the late designer.
Sharing a picture of a Christmas tree, he told the story of how he and his daughter Bea honored the fashion icon less than two months after her tragic death. 
"She was born Christmas Eve, 1962. She loved the Midwest, the desert, and the city," he wrote. "I was lucky enough to have dear friends let my daughter…stay at their home through a difficult time. This tree was standing alone beside the house so we ordered those multicolored, old fashioned lights from Amazon or Target and another dear personal friend gave me a really long extension cord and Bea and I cut a star out of the cardboard box the lights came on and wrapped it in Reynolds wrap (TM) like we do every Christmas."
Kate was found dead of an apparent suicide by hanging on June 5. She was 55 years old.
In a statement to E! News, Andy said Kate had "suffered from anxiety and depression for many years" and had been "actively seeking help and working closely with her doctors to treat her disease." He also described her death as a "complete shock."
Even though Andy admitted the two spouses had lived separately for 10 months, he said they saw or spoke to each other every day and regularly enjoyed family meals and vacations together. He described their relationship as "best friends trying to work through our problems" and said they "loved each other very much."
"Kate was the most beautiful woman in the world," he said at the beginning of the statement. "She was the kindest person I've ever known and my best friend for 35 years. My daughter and I are devastated by her loss, and can't even begin to fathom life without her. We are deeply heartbroken and miss her already."
Kate was laid to rest in her hometown of Kansas City, Mo. Her father, Earl F. Brosnahan Jr., died the night before her funeral. 
After her death, Kate's eponymous brand, which she confounded with Andy and later sold, pledged to donate more than $1 million to suicide prevention and mental health causes. Her brother-in-law, David Spade, also made a $100,000 donation to the National Alliance on Mental Illness (NAMI).
David recently remembered his sister-in-law during an interview with Good Morning America.
"She was such a beautiful, lovely great spirit that will obviously be missed," he said.