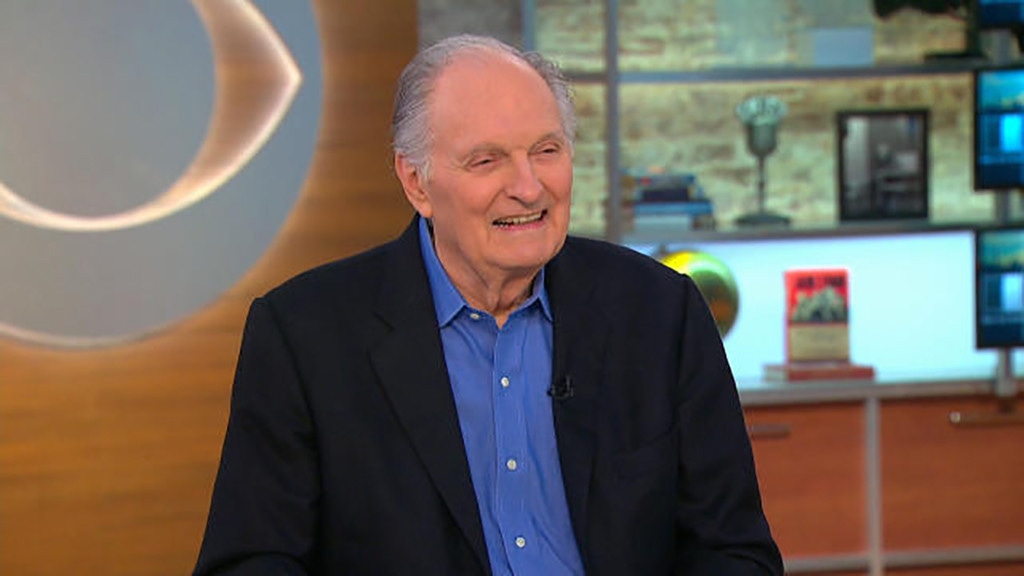 Courtesy of CBS
Alan Alda revealed he has Parkinson's disease in an appearance on CBS This Morning Tuesday. The M*A*S*H star revealed he had been diagnosed with the disease three and a half years ago.
"I'm doing great," he told co-hosts Anthony Mason, Norah O'Donnell and Alex Wagner. "And You might be surprised to hear that. I haven't said in public until now that I've been diagnosed with Parkinson's disease." Smiling and upbeat, the Emmy- and Golden Globe-winning actor insisted he's "had a full life" since his diagnosis. "I've acted, I've given talks, I help at the Alda Center for Communicating Science at Stony Brook, I started this new podcast. I noticed that I had been on television a lot in the last couple of weeks talking about the new podcast, and I could see my thumb twitch in some shots. And I thought, 'It's probably only a matter of time before somebody does a story about this from a sad point of view. But that's not where I am."
Alda wanted to get a scan after reading an article in The New York Times. "It indicated if you act out your dreams, there's a good chance that might be a very early symptom, where nothing else shows," he said. "By acting out your dreams, I mean I was having a dream that someone was attacking me and I threw a sack of potatoes at them. But what I was really doing was throwing a pillow at my wife!" The 82-year-old actor didn't show any other signs. "The doctor said, 'Why do you want a scan? You don't have any symptoms.' I said, 'If there's anything I can do, I want to do it before things start to show up. Months later—a little twitch in my thumb."
"The thing I want folks to know, and this is not to shortchange people who are suffering with really severe symptoms...but in the very beginning, to be immobilized by fear and think the worst thing has happened to you hasn't happened to you. You still have things you can do. I'm taking boxing lessons three times a week. I do singles tennis a couple of times a week," Alda continued. "I march to Souza music, because marching to march music is good for Parkinson's."
After his initial diagnosis, Alda said he didn't spend any time feeling sorry for himself. "I was mainly helping my family not be worried, because it's common for us all to go to the worst thought," the actor said. "But what's interesting is this is a disease that's different for almost everybody who has it. There are some common symptoms, but mostly everybody's different."
"Each day is different from the next. One day you wake up and you think, 'Oh, it's over! It's gone!' The next day it's back a little worse. You don't know what it's going to be," he said.  The main thing is there's stuff you can do. You know how I look at it? It's like a puzzle to be solved. What do I have to adapt to to carry on a normal life? And I enjoy solving puzzles. It's really fun."