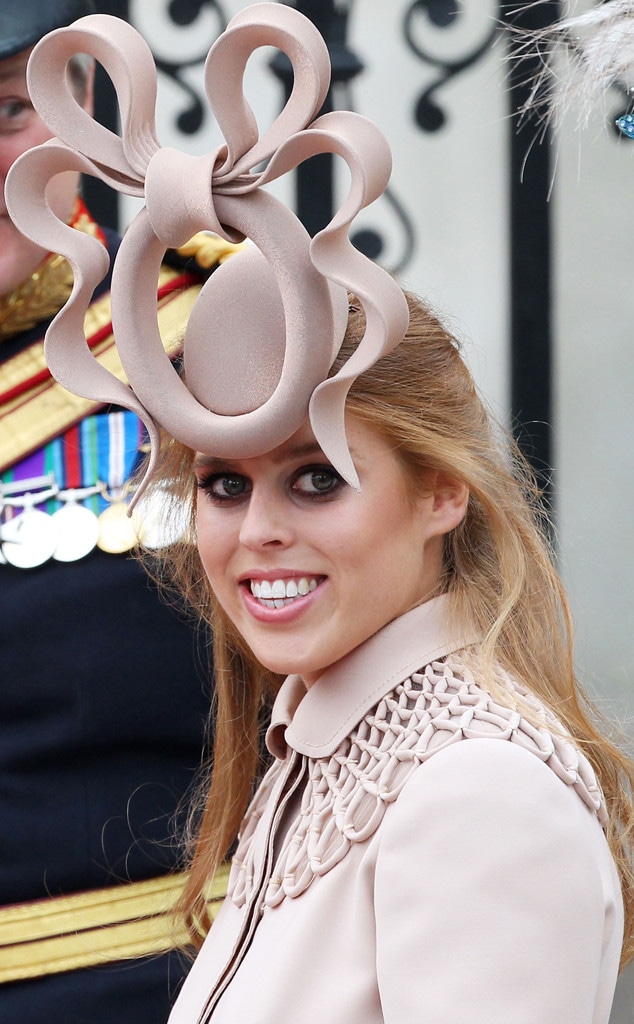 Chris Jackson/Getty Images
Princess Beatrice isn't your average royal—she's a cool aristocrat.
The go-getter princess turns 30 today, and her avant-garde approach to everything from fashion to friends over the past decade proves that she is one progressive princess.
During her twenties, the Princess of York ran marathons, co-founded a nonprofit and spoke up about her personal struggles with dyslexia and bullying. And even though she does not receive all of the same perks as her higher-up royal peers like Kate Middleton or Meghan Markle, the princess has certainly spent the last few years making a name for herself.
As the blooming businesswoman celebrates three decades, let's take a look at how she approaches royalty differently.
1. She's Not Afraid to Be the First: In the royal family, this princess is quite a trailblazer. Back in 2010, she became the first royal to run the London Marathon (while tied to 36 friends in matching neon tutus no less) and continues to compete in races while raising money for charities today.
Then, in 2016, Beatrice collaborated with her sister, Princess Eugenie, her mother and contemporary artist Teddy M to create Royal Love, the first-ever royal graffiti, which sold at a private auction for five figures. All proceeds went to Children in Crisis, a nonprofit dedicated to improving the lives of third-world mothers and children, which Beatrice also raised money for during her iconic 2010 run.
2. She Hangs With a Star-Studded Crowd: A-list alert! The famous Brit has more than a few celeb names in her contacts list.
Before the princess and Uber exec Dave Clark parted ways, the two were known to pair up with power couple Ashton Kutcher and Mila Kunis for double dates. Then, during a trip to Jordan's Wadi Rum Desert in April, Beatrice was pictured spending some quality time with supermodel Karlie Kloss, the model's new fiancé Joshua Kushner, singer Ellie Goulding and fashion designer Misha Nonoo.
In fact, she and the Victoria's Secret angel are so close that Karlie accidentally revealed the princess's secret Instagram handle while sharing her engagement news… oops! At least we know one special person to expect on the wedding guest list.
Andreas Rentz/Getty Images for Conde' Nast International Luxury Conference
3. She's a Working Businesswoman: The Princesses of York are working gals. Neither receives money through the royal family, so by necessity, they must build careers of their own: Eugenie pursues art, and Beatrice takes on business.
In 2011, Princess Beatrice graduated from Goldsmiths College with a BA in History and History of Ideas, and soon after, she interned at Sony Pictures for an annual salary of $30,000. Currently, Beatrice is the Vice President of Partnerships and Strategy at Afiniti, and she also co-founded Big Change, a nonprofit organization that promotes youth projects and ideas. She may not be receiving a royal paycheck, but from what we can tell, this princess is doing just fine.
4. She Empowers Others By Speaking Up About Her Own Struggles: In grade school, the princess struggled with reading before being diagnosed with dyslexia.
Last year, Beatrice spoke up about her learning disorder in an interview with The Evening Standard, saying, "I could not understand why I was still reading behind my classmates… I was lucky my mother, with her great imagination, took the time to work on these with me. By the time I read Harry Potter, aged 11, I tore through the pages."
Helping others clearly became a lesson that stuck with the princess, and in March, she spoke out at an event through WE Movement, a charity that brings together children from around the world to empower them.
During the event, Beatrice candidly discussed the struggle of growing up in the public eye. Referring to the support she receives from her sister, the 29-year-old gushed, "When stones are being thrown, we reassure each other that people don't often understand how hurtful they can be - especially in the world we live in today."
Courtesy Teddy M (teddym.com)
5. She Stands By the Women in Her Life: Princess Beatrice has been surrounded by powerful women all her life, and she stands by them every step of the way. When her sister, Eugenie, was diagnosed with scoliosis, the famous royal supported and encouraged her no matter what.
Eugenie told her older sis in a touching speech at the WE Movement event, "You [Princess Beatrice] encouraged me not to get disheartened. Not to give up. To live fearlessly. Today, I am so lucky to get to work with and support other young women who are going through the same thing... To encourage them to not let their diagnosis win. To live fearlessly too."
Beyond the tight relationship with her sister, Beatrice is open about the major respect she has for her duchess mother and her royal grandmother. In an interview with Hello!, the princess said, "They are both formidable women… I find my grandmother inspiring every day because her overwhelming sense of duty is linked with an overwhelming curiosity."
Beatrice then gushed about her mother, saying, "We've been through some incredibly stressful times together as a family, and every single minute [my mother] created joy… My mother is just remarkable."
As the Princess of York rings in 30, we have a feeling this royal lady will continue leading a remarkable life herself.