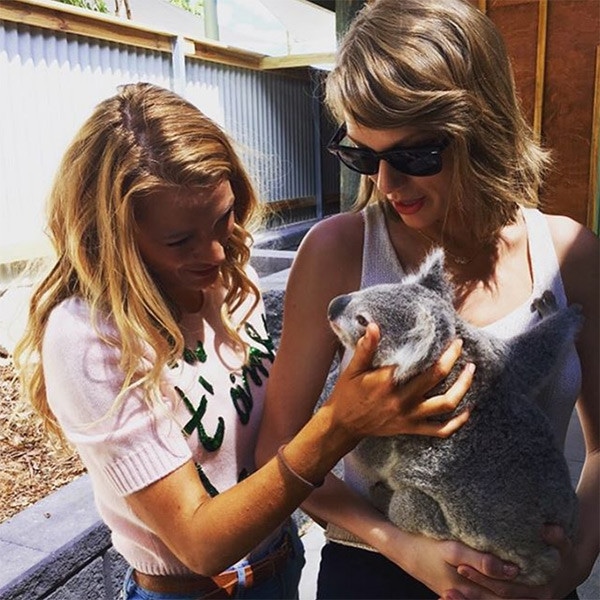 Instagram
Did you know that Taylor Swift is BFFs with Blake Lively and Ryan Reynolds?
That's right! The Grammy winner has actually been close pals with the couple for a few years now, and the duo's eldest daughter, James Reynolds, can even be heard on Swift's song "Gorgeous." Over the weekend, the Simple Favor actress and Deadpool actor were spotted attending Swift's concert in Boston alongside Gigi Hadid. Fans at the show even captured the moment the proud parents cheered after hearing their daughter's voice played in the show.
Let's take a closer look at Swift's friendship with the couple over the years with the BFF timeline below!
December 2015: While on tour in Australia, the "Shake It Off" singer spends time at Warner Bros. Movie World theme park with Lively, who is also there filming The Shallows.
"Yesterday was such an amazing day off—roller coasters, kangaroos and LOLs with @blakelively," Swift wrote on Instagram at the time. Lively is later spotted attending Swift's 1989 World Tour concert in Adelaide.
This first sighting of the duo hanging out came just three months after Lively was accused of throwing shade at Swift's "Bad Blood" music video on Instagram. Lively put the feud rumors to rest by telling her social media followers, "Umm whoever thought I was throwin shade clearly doesn't know I have a 'Taylor Swift Please Be My Wife Voo Doo Doll.'"
Lively also shared a backstage photo of a few family members with Swift on tour. "Look how rad she is here making my niece Heather feel like a rock star," Lively wrote. "Love my Canadian family almost as much as I love Taylor Lively. I mean Swift. Ok, FIIINE we can hyphenate our last names. Xo Blake Swift-Lively 4eva."
December 2015: Days later, Swift receives a birthday surprise from Lively, a cat pie! In a since-deleted Instagram post, Swift shared a photo of the pie (featuring her cats Meredith and Olivia), with a message on it that reads "Happy Thanksgiving Birthday."
Swift captioned the post, "Blake wins at birthday pies. @blakelively I honestly can't stop laughing rn."
July 2016: Reynolds and Lively attend Swift's Fourth of July party alongside celeb guests Hadid, Tom Hiddleston, Cara Delevingne, Ruby Rose, Uzo Aduba, HAIM and Karlie Kloss.
August 2016: Swift is in attendance at Lively's baby shower at the Bedford Post Inn in Bedford, New York.
September 2016: Swift reportedly visits Lively and Reynolds in the hospital after the couple welcomed their second child, Ines.
October 2016: Swift secretly visits the couple in Upstate New York. A source tells E! News the "Style" singer traveled to Pound Ridge, New York, and spent three or four days with the couple. Days later, Swift wears Reynolds' Deadpool costume for Halloween with her pals and thanks him on Instagram for lending it to her.
December 2016: Lively wishes Swift a happy birthday with a selfie on Instagram, telling her "you know how I feel."
November 2017: After much speculation from fans, Swift confirms that James Reynolds can be heard on the intro to her song "Gorgeous."
July 2018: Lively and Reynolds support Swift at her Reputation tour concert in Boston. Twitter user @ktperkins13 spotted the couple enjoying the show with Hadid and Swift's parents.