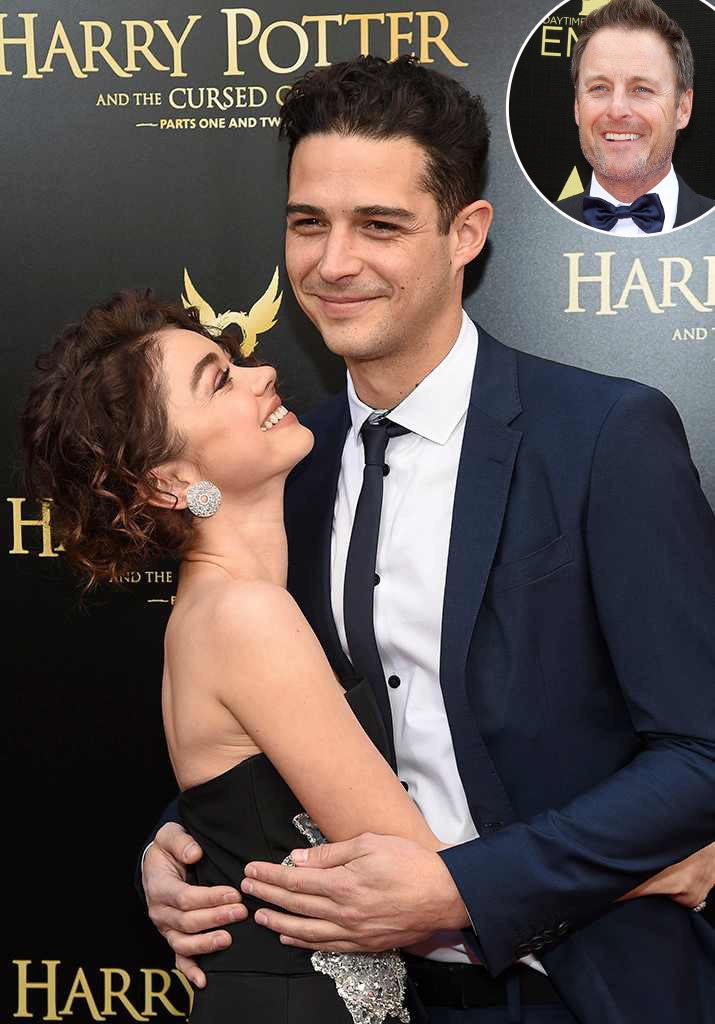 Evan Agostini/Invision/AP, Inset: Michael Tran/FilmMagic
Forget about a rose. Chris Harrison wants one member of Bachelor Nation to get a ring!
It's no secret that the host of ABC's popular franchise has seen his share of wonderful couples.
But with Becca Kufrin's season coming to an end and Bachelor in Paradise kicking off next month, there's one famous pair that Chris can't get enough of. Any guesses?
He's for sure Team Sarah Hyland and Wells Adams.
"They are an amazing couple and are crazy in love with each other. They are both quirky, goofy and funny," Chris shared with E! News exclusively at the City of Hope poker tournament inside The Forum in Inglewood, Calif. "I don't know when this [engagement] is going to happen, but it will happen. If there is a couple I root for, it's them."
While Wells hasn't revealed any top-secret details to the host about his relationship plans, Chris admitted that he 100 percent would love to officiate their wedding if offered.
And if a special ceremony does occur down the line, he knows it's going to be one unforgettable party.
"The only think I do know is that if and when they do get married—and again, I hope they do—it will be the best party ever because they are both awesome. They both are a good time in a can. They both are so anything goes with them," he shared. "I got to know Wells more this summer than previous summers. We got to hangout and talk and he is a really good guy."
Chris added, "I just love that relationship. I just think they are oddly perfect together. With Wells and Sarah, they just seem to fit and seem to mix and they complement each other and are a good couple."
Listen, we weren't playing when we said "biggest fan."
Earlier this month, Wells revealed on his podcast that he will be moving to Los Angeles. "I'm not concerned about us living together or us getting along or whatever," he joked on an episode of Your Favorite Thing. "I'm most concerned about my dogs and her dogs."
As for Sarah's closest pals, they appear to be big supporters of the former Bachelorette contestant who first competed for JoJo Fletcher's heart several years ago.
"Sarah's friends love and accept Wells and say he treats Sarah very well," a source shared with us. "Her friends believe that Wells is very serious already about a long-term commitment and is moving to LA to build a future together."
Bachelor in Paradise premieres Tuesday, August 7 at 8 p.m. only on ABC.