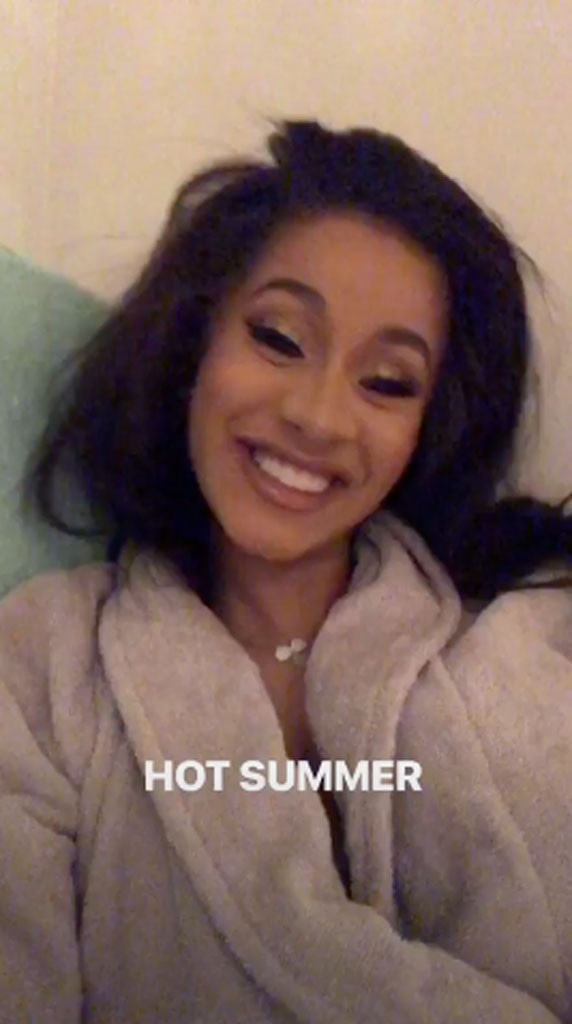 Instagram
Cardi B respects mothers more than ever before.
On Thursday, the "Bodak Yellow" rapper did an Instagram Live after announcing she would no longer be joining Bruno Mars on the last leg of his 24k Magic Tour.
In the video, the artist explains that there were multiple reasons for leaving the tour, but the birth of her daughter, Kulture Kiari Cephus, was the biggest factor. "I can't leave my baby, like not for one second," the new mom said.
And while some people have suggested the performer hires a nanny, Cardi B isn't hearing any of it. She explained, "It's so hard, because I want to be with my baby every second. Like even when I be doing my hair in the other room I just gotta be around her."
The Bronx native added that she thought six weeks would be enough time for her to heal, but her baby girl's birth "took all the strength from my body." She continued, "Going on tour with Bruno Mars, you know, in like the biggest arenas… and I don't want to go on tour and I won't be able to dance or perform properly."
So in the meantime, the star is working on balancing her career with being a mom, which she admits is more difficult than she expected, especially since she says she has "met my match."
And despite all the books she read and the people she asked for advice, nothing could have prepared her for motherhood. "You just really have to have a baby to see. I just want to say I respect mothers more than ever now," she shared.
The 25-year-old finished by telling her fans to look forward to a few songs she is featured in, in addition to her own album. "I know I have a project coming out in the fall that I am working on right now," she announced.
"I'm going to work. Like, my life is not over, you know, I just have to take my time to do some things," the "Ring" singer promised.
We can't wait to see what the musician has in the works!