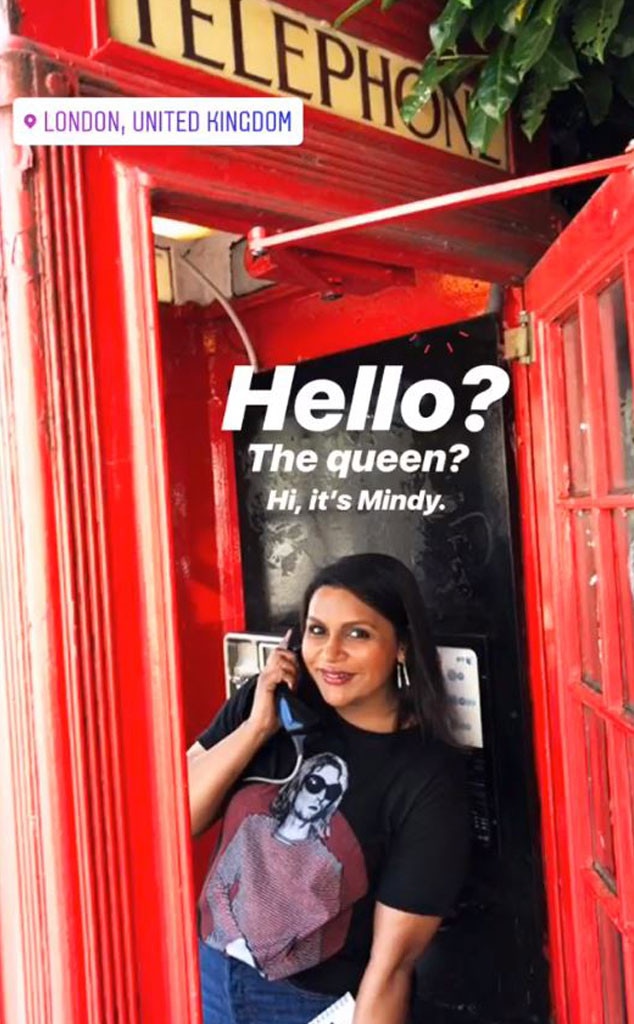 Instagram
Mindy Kaling touched down in Londontown this week and we are officially jealous we didn't stowaway in her luggage.
The Mindy Project creator is technically in London for work—she's scouting locations for her new miniseries Four Weddings and a Funeral—but one of her best friends and fellow TV writers Tracey Wigfield is along for the trip, so it's basically a vacation.
Yes, she did do actual work, but these two looked like they were having a blast wandering and exploring all week and we want to know where our invite went?
Throughout her time across the pond, the actress and comedy writer has given her fans a little peek into her trip on Instagram Stories and we've definitely been paying attention.
Based on her videos, photos and silly moments with the Great News creator, Kaling isn't exactly having a "hard week" at the office.
After being a little jet-lagged, Kaling got right to work and had a jam-packed day scouting for her upcoming miniseries.
According to her Instagram Stories, she stopped in Covent Garden, Hyde Park, Prince Albert Hall and many more neighborhoods all while documenting her adventures in each location.
"Where Billy Shears? We ready," Kaling captioned her welcome to London post on Tuesday. 
"Good morning, London!," Wigfield wrote on the same BFF shot making us even more envious we aren't there right now as well.
As a lover of romantic comedies—if you've ever watched The Mindy Project you know this to be true—Kaling made sure to stop in Notting Hill and look for Hugh Grant as well.
Sadly, he was not there nor was the Duke at her stop in Syon Park. 
Both of the ladies then made sure to soak up all that London has to offer, despite the crazy high temperatures, as they strolled through Syon Park, Portobello Road—where they found the store Paddington found his aunt Lucy's present—and Little Venice.
The actress loved the doors in this area as well and finally settled on a set of yellow doors as her favorite confirming, "I'm happy here" on her Stories.
Hanging out across the pond with your friend and co-worker, while eating your way through the city and taking pictures in front of doors? Ya, we'd be happy too!
They also took a look at Hounslow, which is a neighborhood known for its British-Indian and Pakistani communities and Kaling even shared an Instagram post of the area's tube stop.
"It's always sunny in Hounslow," she wrote on Wednesday and based on her photo she isn't wrong.
Of course, no trip to London is complete (especially for a theater lover like Kaling) without a stop at Shakespeare's Globe Theatre.
The comedy duo took in a showing of Othello and got to take a look backstage while at the theater and we're a little jealous.
"I think Othello is actually the sexiest play," Kaling said in one of her Instagram Stories. "So, I'm really excited to see it."
After adventuring all over this wonderful city with her longtime friend—they worked together on The Mindy Project—Kaling is even more excited about her next TV project.
"This city is so freaking incredible, and I cannot wait to write this whole series," she said on Instagram after walking around to look at possible filming locations. 
We are just as excited as Kaling and Wigfield are about Four Weddings and a Funeral (it'll be on Hulu), but next time these two travel for "work" we want in on the adventure!
PS: Check out more fun Instagram Stories from Kaling's London shenanigans below.