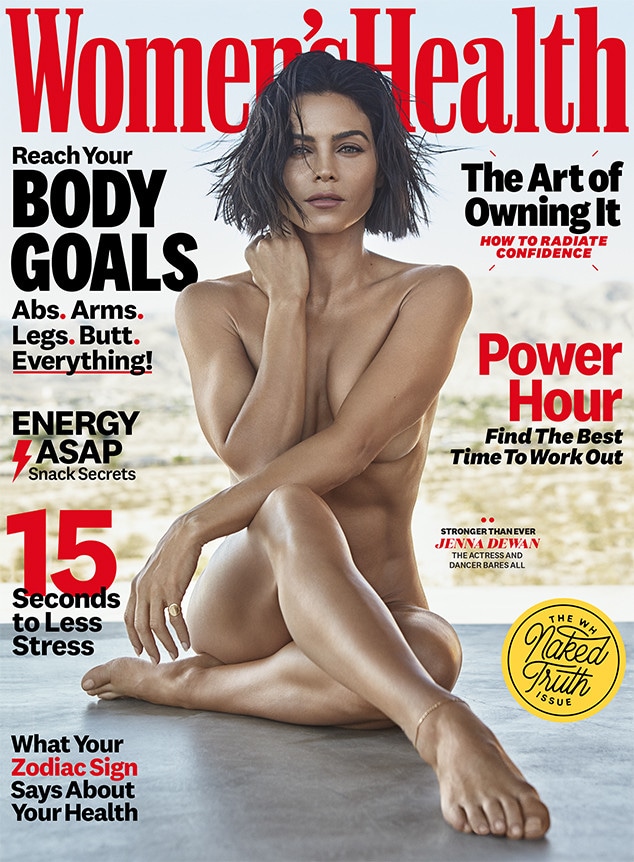 Dennis Leupold/Women's Health
Skin is in!
Jenna Dewan bares all, literally and figuratively, in the September issue of Women's Health (on newsstands Aug. 7). Gracing the cover of the magazine's annual Naked Issue, a confident Dewan posed fully nude for photographer Dennis Leupold. "I've been a dancer my entire life, so I'm used to little clothing," the World of Dance host, 37, says. "You lose a sense of modesty."
The risqué photo shoot was important to Dewan, who has a 5-year-old daughter. "Apparently, when you become a mother, you're supposed to leave your sexuality at the door, and I never understood that," Dewan gripes. "I think there's nothing sexier than becoming a mother. You give life. It's everything. And you don't change who you are inside just because you have a kid."
Preemptively defending her photo shoot from the internet's mom shamers, she adds, "I want my daughter to see that and be like, 'Wow, my mother was a fully actualized, sensual woman."
Dennis Leupold/Women's Health
Dennis Leupold/Women's Health
Dewan also touches on her recent split from Channing Tatum, her husband of nine years. "It's been a journey, and it's been a transformation of myself—my needs and wants as a woman. I think everyone wants to hold on to what's in front of them, but when you open your mind saying, 'I want what's best for myself and my daughter,' you have to be OK with however that looks. I feel like I've been on a wave of growth," says Dewan, who announced her split a few months ago. "It does look different; it's a new normal, and I really think we'll get used to that."
Having a high-profile breakup hasn't been easy, especially considering some fans declared "love is dead" in the aftermath. "It's always challenging to go through a big change and have the whole world have an opinion about it. It's OK for a relationship to change into a new form that is actually better for both people involved, and I think maybe that's what shocked everyone so much—that it can be a positive thing," she says. "That was ultimately what happened with us."
As her marriage was ending, Dewan did a lot of soul searching to figure out who she is and what she wants out of life. "I did a lot of work healing from the inside out, becoming more in touch with my womanly power. It was always, 'I'm a dancer,' or 'I'm married,' or 'I'm an actress,'" she says in Women's Health. "Over the last couple of years, it became about learning about myself."