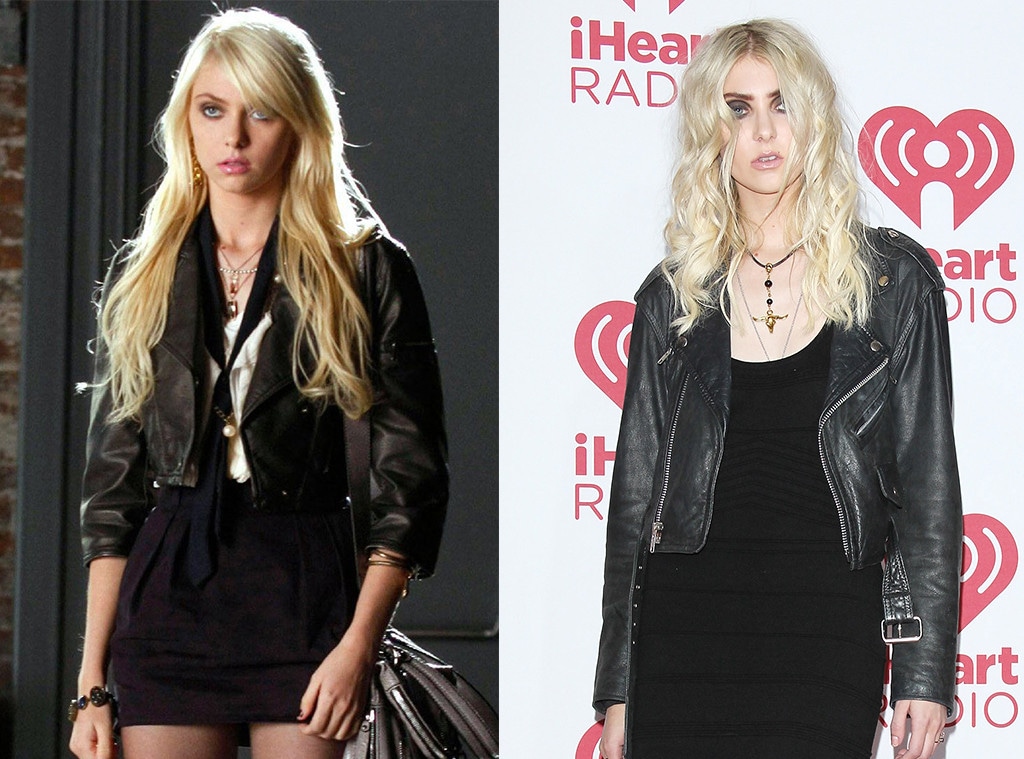 17th Street Productions, Michael Tran/FilmMagic
Hey, Upper East Siders. It looks like Little J isn't so little anymore.
Taylor Momsen, who played Jenny Humphrey on the hit series Gossip Girl, turned 25 years old on Thursday. And just like her character, she's evolved over the years. 
Momsen started modeling at age 2 and landed her first big commercial—a Shake 'N Bake ad—at age 3. She continued to act throughout her childhood and starred as Cindy Lou Who in the 2000 film How the Grinch Stole Christmas.
It wasn't until her early teenage years that Momsen started appearing on Gossip Girl. Over the years, fans watched her character pursue the title of Queen Bee, a career in fashion and a few of the show's leading men. But in real life, Momsen was pursuing something else—a career in music.
In 2009, the CW star formed the rock band The Pretty Reckless. As Momsen's style changed, so did her character's. Jenny quickly traded in her headbands and blouses for leather jackets and black tights.
"The show definitely tries to incorporate elements of reality—the actor's image, for example—and inject it into the character they play—it makes it more relatable," she told Interview Magazine back in 2010. "So, for me, I just began dressing more like myself, and doing my makeup myself, and so Jenny's style followed suit."
In 2011, news broke that Momsen was leaving Gossip Girl to focus on her music full-time. However, she did make an appearance in 2012 for the show's series finale.
"I started modeling at 2, and then acting at 3, and then Gossip Girl when I was 12, so I wasn't really making my own decisions," Momsen told The Daily Beast in 2014. "When I got to a place where I realized I was in control of my own life, and had found the right band, and everything was coming to fruition, it wasn't even a question: I was going to quit my day job. I came to set every day with a f-ckin' guitar. But I'm very lucky that the producers were nice enough to write me out, allow me to tour, and pursue my passion, because they very easily could have told me to go f-ck myself and keep me on the show."
ZAKARIA ABDELKAFI/AFP/Getty Images
Still, fans started to wonder if Momsen's career move was real or if it was just a phase—similar to one of Jenny's short-lived rebellious acts.
"I think the biggest misconception with that is people thought that that was gonna help because I had some sort of fan base from acting. In reality, it really worked against me and the band because I think I had to work harder than if I had just been a chick in a band from the get-go," she told People in 2015. "People had a lot of misconceptions and a lot of doubts—if it was real, if it was just going to be a fling."
However, Momsen argued she grew up playing and listening to music. She told Interview Magazine she wrote her first song when she was 5 and that becoming a rock star was "always the plan." 
With three studio albums, several chart-topping hits and a worldwide tour, it looks like Momsen has proven her commitment (and her talent) to the rock world. Still, fans haven't forgotten about her Gossip Girl roots.
"It's less frustrating if someone recognizes me for it; it's more frustrating that I still get asked about it," she told People in 2016. "It feels like someone asking you about junior high. It literally was my junior high, so that's what it feels like to me. It's such a past life that it's a strange question to continue to get asked." 
But would she ever consider returning to acting or reuniting with her Gossip Girl co-stars? 
"I'm not looking to go back to it," she told Riverfront Times in 2014. "Gossip Girl was a great experience, and it helped in one way and hurt in another, but it feels like forever ago. I've been around the world seven billion times since then, and when we go to shows, the fans don't give a f-ck about the TV show. They're there for the music, for the songs and the records and what we've created as a band."