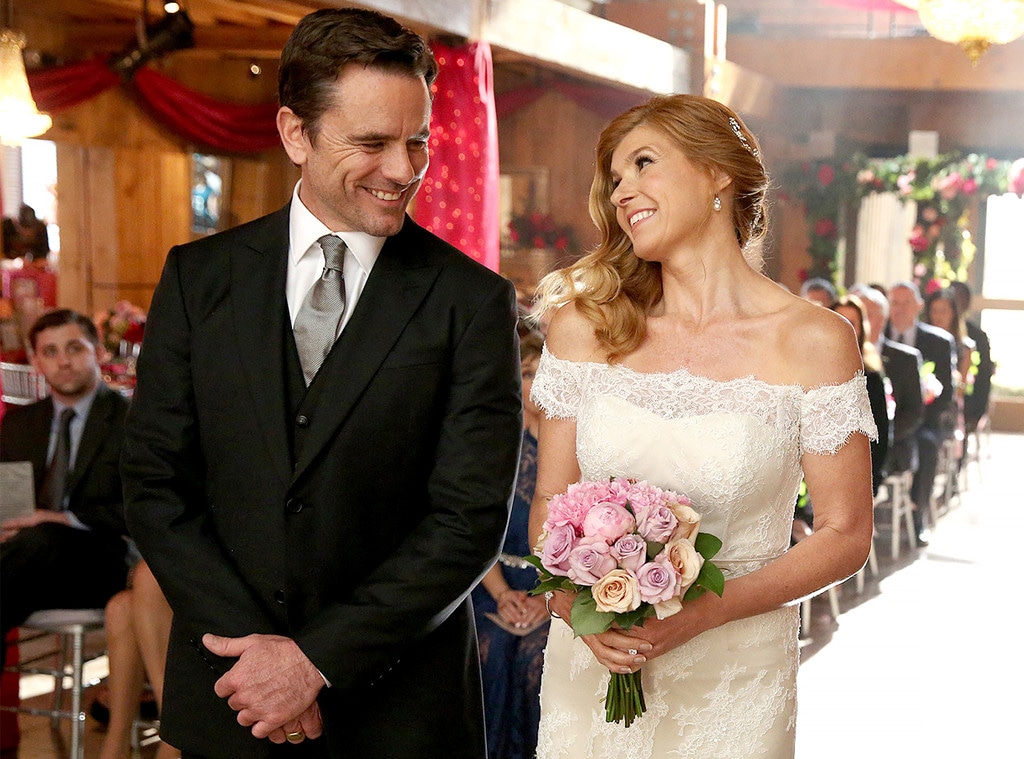 ABC
The time has come y'all, the Nashville series finale airs tonight.
While we are already sad about having to say goodbye to the country-music based series there have been so many good episodes and moments that we can be happy about. 
The best part about the ABC and then CMT series are the characters. There are so many amazing characters like Rayna James (Connie Britton), Deacon Claybourne (Charles Esten), Scarlett O'Connor (Clare Bowen) and Juliette Barnes (Hayden Panettiere).
Those wonderful characters and the actors who brought them to life are only the tip of the iceberg of things we will miss when the Nashville, Tennessee-based show goes off the air for good.
One of the things we aren't exactly ready to move on from is all of the perfect couples that Nashville has had over the past six seasons. 
ABC/KATHERINE BOMBOY-THORNTON
There are so many ah-mazing couples on Nashville and even though most of them aren't still together they will always be in our hearts.
Take Deacon and Rayna for example, they were the perfect couple. They had their ups and downs but their love was pure and when they sang together our hearts skipped a beat.
Oh, and when Britton left the show and Rayna was no more we cried...a lot.
Another epic couple would obviously be Deacon's niece Scarlett and her on-again, off-again boyfriend Gunnar Scott (Sam Palladio). These two fell in love while writing songs and making music magic and when they are together all is right in the world.
Will (Chris Carmack) has had a few intense relationships throughout his time on the show but his first real love Kevin Bicks (Kyle Dean Massey) was probably the greatest.
They bonded over songwriting and even though they struggled to navigate being public about their romance, they really understood one another.
Juliette and Avery Barkley (Jonathan Jackson) are another couple who have had some issues, but deep down they've always loved each other.
When they had their daughter and were supporting each other's careers they were our favorite couple on the series. Now, they've gone through a lot of bumps and lows, but they are still a strong unit we always root for.
What about when Rayna and Luke Wheeler (Will Chase) were a thing?
They almost got married and were so cute together, but in the end Rayna's true love won out. That doesn't mean however that we we're fans of this country music power couple at the time.
One couple people might not have loved at first would be Layla (Aubrey Peeples) and Jeff Fordham (Oliver Hudson).
At first they were the worst, but in the end they were perfect together and despite all their heartaches and scheming they found love and that's all we really wanted for Layla.
New couples like Maddie (Lennon Stella) and Twig (Dylan Arnold) deserve a little love too.
Throughout the series, Maddie has had her fair share of romances, like the adorable Colt Wheeler (Keean Johnson), but her current bae Twig is a really good match for her. We're not sure what will happen to them when the series wraps, but we like how close they've grown this season.
Lastly, fans might've been quick to judge Deacon moving on from Rayna with Jessie Cain (Kaitlin Doubleday), but it wasn't fair for him not to find some happiness once Rayna was gone. 
Sure, this duo will never be on the level of Deacon and Rayna, but they have come a long way since first meeting in season five and we just want Deacon to be OK.
Now that you've heard us talk about our top Nashville couples it's time to cast your vote for the best duo on the series before it ends forever!
Nashville's series finale airs Thursday, July 26 at 9 p.m. on CMT.