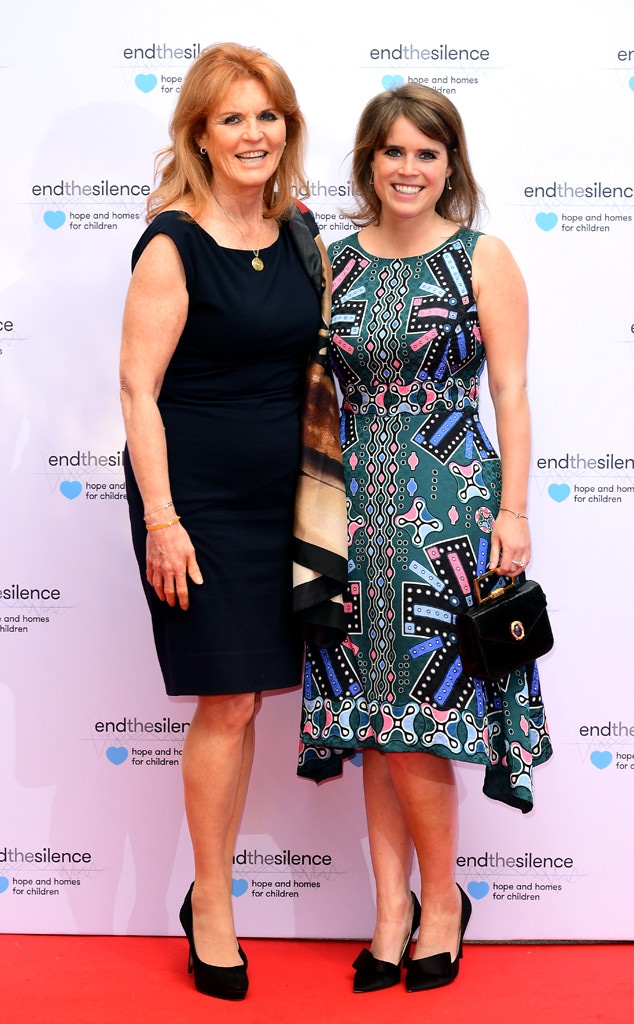 Ian West/PA Images via Getty Images
Sarah Ferguson has come to her daughter's defense. 
It seems Fergie caught wind of a searing article about her younger daughter, Princess Eugenie of York, who is scheduled to marry longtime beau Jack Brooksbank in October at St. George's Chapel—most recently the site of Prince Harry and Meghan Markle's nuptials. 
New announcements regarding the couple's special day—such as inviting members of the public to the grounds of Windsor Castle and having a brief carriage procession after the ceremony—incited backlash from The Daily Mail's Jan Moir.
The columnist penned a disparaging piece published on Monday, which criticized the 28-year-old and argued that her status as ninth in line to the throne does not warrant a wedding as grand as that of the new Duke and Duchess of Sussex's. Moir also took aim at Eugenie's work—or what she considered a lack thereof—and wrote that the future bride has done "almost nothing of note." Comparing Eugenie to a seagull, Moir wrote the royal drifts "along in the richly foaming wake of the Queen, picking off what she can from the royal catch."
"But won't an awful lot of people, even while once more being dazzled by the pomp and pageantry in Windsor town, be asking themselves this once more—Eugenie who?" Moir concluded the piece. 
Well, mama Ferguson was having none of it. The Duchess of York shared a letter to her social media accounts penned by colleague Sarah Wade, the CEO of Sarah's Humanitas charity. 
 "I am appalled at the vitriol that is expressed in the piece," Wade began in her letter before questioning what the purpose of the article was.
"Is it to make a young couple feel embarrassed or ashamed of the choices they have made for their wedding day or it is to invite anger and hatred towards them? Either way, the outcome is negative and tantamount to bullying," Wade wrote. 
Calling the piece "inflammatory and divisive," Wade also asked whether Moir has ever met her subject "or whether the source of her malicious contempt for a 28 year old [woman] is the result of years of unfounded and hurtful abuse that has been directed toward the Princess and her family by the Daily Mail." 
As Wade concluded, "It is imperative that we support freedom of expression, but not when the intended outcome is to inflict pain on another person or incite others to do so, and Jan Moir's article does just that."