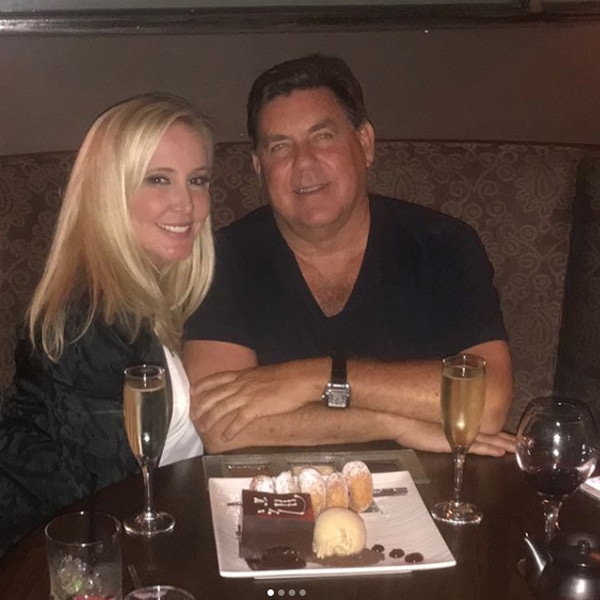 Instagram
Shannon Beador is ready to dip her feet in the dating pool.
As the Real Housewives of Orange County star continues adjusting to life as a single mom, a source tells E! News that the Bravo star is dating Scot Matteson.
"Shannon and Scot are pretty serious. She just took him to New York on a trip and they spend a lot of time together," a source shared with us. "They have both met each other's children and everyone gets along. They love to go out together and have a great time."
"Shannon was set up with Scot through a friend and instantly hit it off," our insider continued. "They are a really good match and everyone is excited that she is finally healing from the divorce with David. She is in a really good place right now."
So who is this new guy that is making Shannon one happy lady? For starters, we're told he's a huge family-man and is a nice "normal" guy. But we know how Real Housewives fans think: The more information, the better. With that in mind, take a look at five fun facts about the new guy in Shanon's life.
1. Book Smarts: The Southern California resident is a graduate of the University of Colorado at Boulder with a degree in economics. He is a licensed State of California Broker and a member of ULI, ICSC and NAIOP. Currently, his occupation is a real estate developer with offices located in Newport Beach—or conveniently located in the middle of Orange County.
2. The Co-Stars Approve: While the relationship is still new, Kelly Dodd couldn't help but express her approval at the pairing. "Scot's really nice, he's a great guy. I like him," she told Us Weekly earlier this week. "They both have things in common. They're both the same age…They like to travel."
3. He's a Do-Gooder: In pictures posted on social media, Scot appears to be a supporter of City of Hope. The not-for-profit research center is a leader in the fight to conquer cancer, diabetes, HIV/AIDS and other life-threatening diseases. He was photographed attending an event for the organization at Balboa Bay Resort last year.
4. Good Signs: It's no secret that Shannon loves her Feng shui. Does nine lemons in a bowl sound familiar? But was about horoscopes and astrology? Scot is 58 years old and was born in early May meaning he's a Taurus. As for Shannon, she was born in late March meaning she's an Aries. When these two come together romantically, the partnership is natural union of love. In other words, the signs give two thumbs up.
5. New York Life: While fans are just learning about this romance, there were some warning signs that Shannon had found a special guy thanks to Instagram. While in New York City for Watch What Happens Live this month, the Bravo star posted multiple photos in the city with Scot by her side. "Having a ball in NYC with new and old friends!" she shared while posing next to her new man. In fact, they were able to enjoy time with friends on the rooftop of Dream Hotels Downtown and The Plaza Hotel.
Real Housewives of Orange County airs Monday nights at 9 p.m. only on Bravo.
(E! and Bravo are part of the NBCUniversal family)