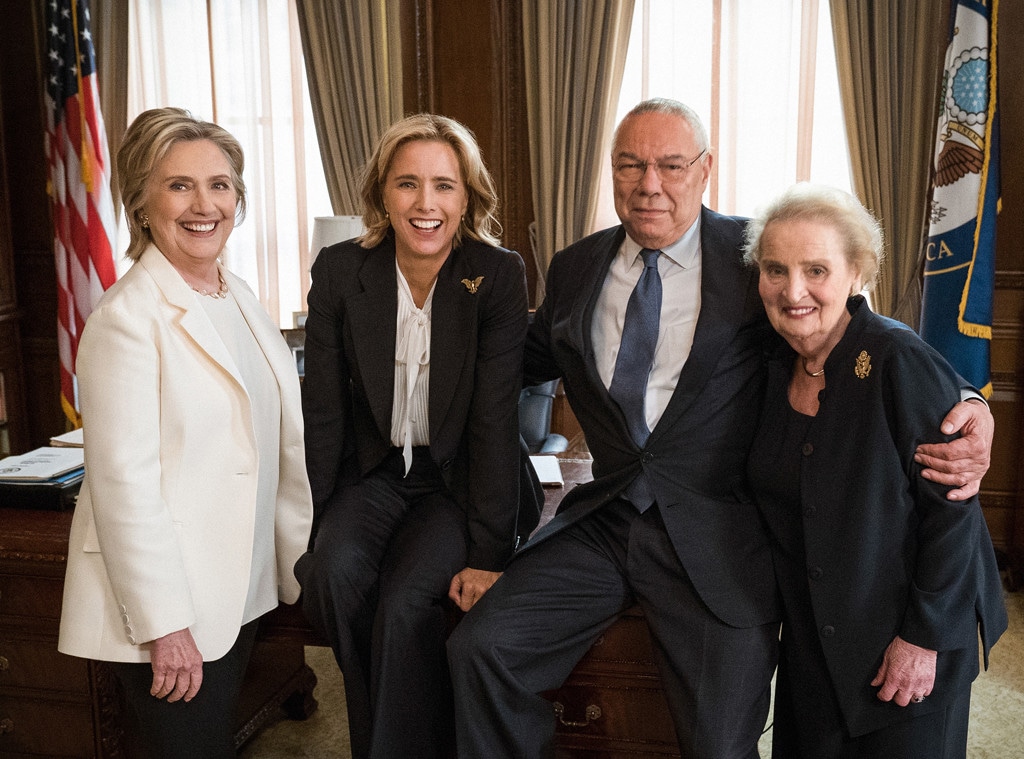 CBS
Secretaries of State, assemble! Madam Secretary put out the call and Hillary Clinton, General Colin Powell and Madeleine Albright answered.
Powell, Clinton and Albright will guest star as themselves in the season five premiere of Madam Secretary airing Sunday, Oct. 7 at 10 p.m. on CBS.
The trio filmed their scenes on Wednesday, July 11 with series star Téa Leoni. In the episode, Leoni's Secretary of State Elizabeth McCord turns to the former secretaries if state to ask their advice on how to respond to a delicate situation, CBS said in a press release.
"We're delighted to have these three former secretaries of state be part of our season premiere," Barbara Hall, executive producer and series creator, said in a statement. "It was a privilege to experience their perspectives and discourse both in and behind the scenes."
"Having three powerhouses of diplomacy agree to come on our show is awe-inspiring and humbling. And that we were able to find a time in their busy schedules when they were all available is a miracle," executive producer Lori McCreary said in a statement. "We welcome Secretary Albright, Secretary Clinton and General Powell to the Madam Secretary family!"
Madam Secretary also stars Tim Daly, Sara Ramirez, Željko Ivanek, Keith Carradine, Sebastian Arcelus, Patina Miller, Geoffrey Arend, Erich Bergen, Kathrine Herzer, Wallis Currie-Wood and Evan Roe.
Madam Secretary returns Sunday, Oct. 7 at 10 p.m. on CBS.