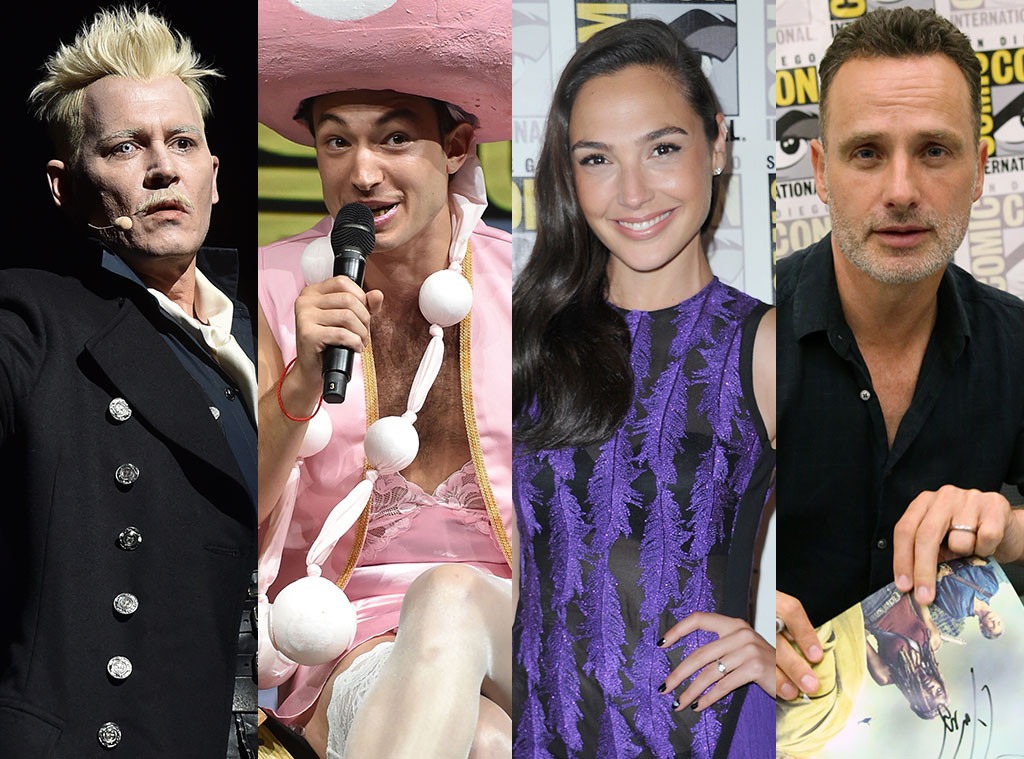 CHRIS DELMAS/AFP/Getty Images, Albert L. Ortega/Getty Images, Jesse Grant/Getty Images for AMC
Comic-Con 2018 is officially over. Five days (including the preview nights of Wednesday and Thursday) full of pop culture merriment, new trailers, casting news and parties have officially come to a close. In case you weren't glued to the convention floor or your computer screens, we're here to help. Sit back, relax and enjoy the biggest surprises of Comic-Con 2018.
American Horror Story's big reveal.
As per usual, details about the upcoming season of American Horror Story are being kept under wraps. We know it's a crossover of sorts with season one, Murder House, and season three, Coven, but who's playing characters from which season, who's all-new characters, etc. is still up in the air as far as public knowledge is concerned. However, we do know the official title: American Horror Story: Apocalypse. And the art released with that title is 1. Creepy and 2. Looks an awful lot like the American Horror Story: Murder House art.
Breaking Bad promise.
While we knew the cast of Breaking Bad would assemble for an anniversary panel, we weren't expecting creator Vince Gilligan to say Bryan Cranston and Aaron Paul would appear on the prequel spinoff Better Call Saul before the series comes to an end. Viewers will likely see more Breaking Bad characters in Better Call Saul season four.
The first transgender superhero.
Supergirl made headlines when Warner Bros. announced it cast transgender actor and activist Nicole Maines. Maines will play Nia Nal, a new addition to the CatCo reporting team. She's a "soulful young transgender woman with a fierce drive to protect others, Nia's journey this season means fulfilling her destiny as the superhero Dreamer (much like Kara came into her own as Supergirl," Warner Bros. said in a press release.
Chris Delmas / AFP/ Getty Images
Here's Johnny.
Johnny Depp surprised the crow at San Diego Comic-Con when he appeared in character from Fantastic Beasts: The Crimes of Grindelwald.  
Where's WW?
Wonder Woman 1984 stars Gal Gadot, Chris Pine and director Patty Jenkins took Hall H at Comic-Con…but the footage they showed—Wonder Woman rescuing a girl in a very 1980s mall—wasn't released!
Goodbye Rick!
The Walking Dead released an action-packed trailer for the upcoming ninth season and directly confirmed the news fans had been dreading: Andrew Lincoln is leaving the series. "I love this show. It means everything to me. My relationship with Mr. Grimes is far from over," Lincoln said. As for what happens to Lincoln's Rick Grimes? You'll have to watch to find out.
CHRIS DELMAS/AFP/Getty Images
Toadette.
Just when you think Justice League and Fantastic Beasts star Ezra Miller couldn't surprise you anymore…he showed up at Comic-Con dressed as the Super Mario Brothers character Toadette.
https://www.instagram.com/p/BljIN-eA8T7/?hl=en&taken-by=sonsofanillustriousfather
"F—k Batman!"
Get the Bat-soap out, Robin has a potty mouth! The trailer for the new DC Universe series Titans was released and it features Brenton Thwaites as Robin. He's taking down goons and dropping f-bombs. This isn't the Boy Wonder your parents remember.
"Aren't you a little short for a Stormtrooper?"
Star Wars star Mark Hamill took to the Comic-Con floor and Brooklyn Nine-Nine panel in disguise. For the floor, he dressed as a Stormtrooper, a nod to Carrie Fisher's line in Star Wars: A New Hope, and for Brooklyn Nine-Nine he donned sunglasses, an NYPD jacket and a Batman: The Animated Series baseball cap. Hamill voiced the Joker on Batman.