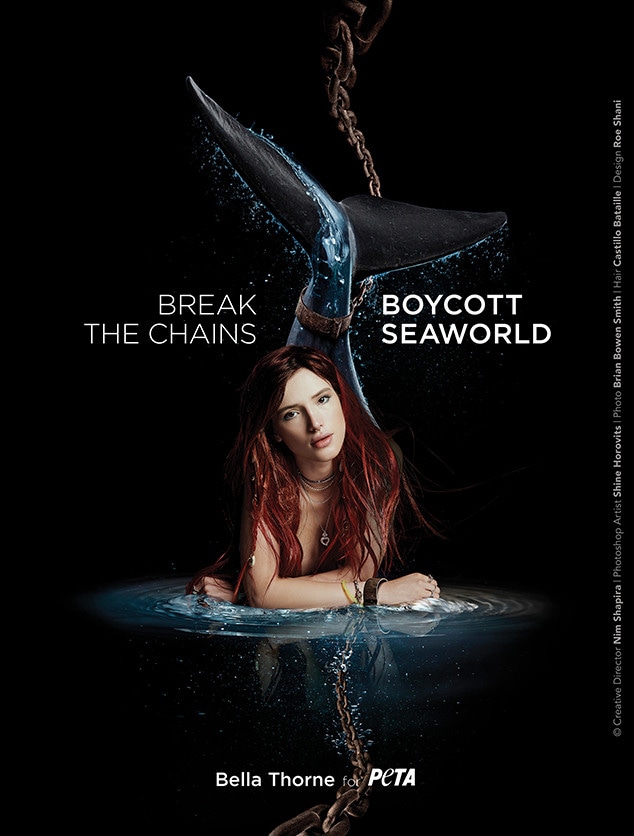 Brian Bowen Smith / PETA
Bella Thorne channels a suffering killer whale in a PETA ad for the annual Boycott SeaWorld Day, which is on Tuesday.
In the photo, the 20-year-old actress appears as an orca mermaid, with her tail and wrists chained up. "Break the Chains: Boycott SeaWorld," the ad states.]
The SeaWorld Parks & Entertainment company has long come under fire from animal rights activists and supporters, including celebs, over its alleged mistreatment of captive mammals at its theme parks. The group has denied any wrongdoing. In 2016, SeaWorld announced it would stop breeding killer whales in captivity.
In a PETA video, Thorne says she starred in a SeaWorld commercial when she was a child and even then "knew there wasn't something right."
"If you looked it up, you wouldn't ever want to go to SeaWorld. These beautiful animals are in so much pain," she says. "They're taken away from their community, their homes, their mothers, and they don't have a choice—they're locked in there!"
"F--k SeaWorld!" she says. "I think definitely a way to help would be boycotting SeaWorld, protesting SeaWorld. Don't be afraid to show up with your signs and make your point."
Public opinion of SeaWorld decreased further after the release of the 2013 documentary Blackfish, which focused on the SeaWorld killer whale Tilikum and depicted the captivity and exhibition of his kind to be cruel.
In 2015, SeaWorld launched a "SeaWorld Cares" PR campaign to set the "record straight" on the "false accusations" made against them.
In 2016, in addition to announcing the end to its killer whale breeding program, SeaWorld also said it would phase out its signature killer whale theatrical stunt shows and replace them with "new, inspiring, natural orca encounters" that will focus on "orca enrichment, exercise, and overall health."
"There will be no more new orcas," SeaWorld CEO Joel Manby said on the Today show at the time, adding that he "would never admit that the care of our animals was poor." 
In 2017, Tilikum, who lived in captivity for more than 30 years, died in 2017 after a long illness. That year, the first Boycott SeaWorld Day was promoted online by PETA.