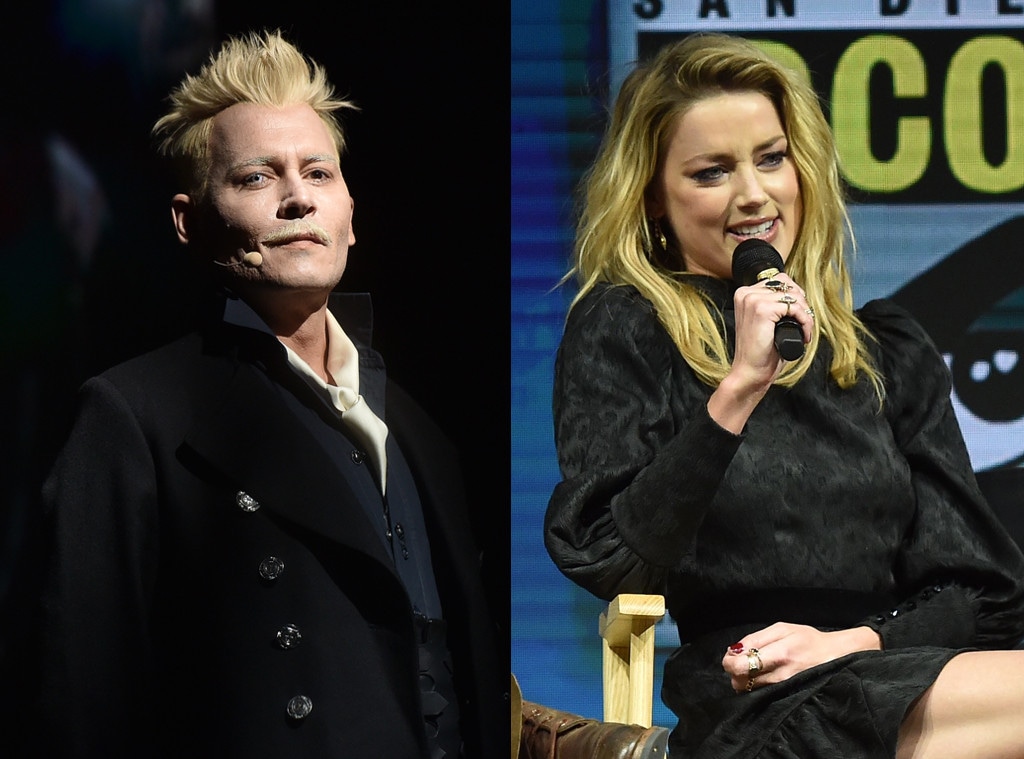 CHRIS DELMAS/AFP/Getty Images
Johnny Depp drew both cheers and boos at Warner Bros. Pictures' 2018 Comic-Con presentation of Fantastic Beasts: The Crimes of Grindelwald on Saturday, an hour and a half before his ex-wife Amber Heard joined her Aquaman co-stars on the same stage.
It is unclear if the two, who divorced in 2017 after a turbulent marriage and breakup, interacted at the convention. They did, however, come within as little as 20 minutes of running into each other outside the San Diego Convention Center, E! News has learned.
Presentations for Warner Bros. Pictures' new films were held at Hall H. After Depp helped promote Fantastic Beasts, panel discussions for Warner Bros.' Lego Movie 2: The Second Part, Godzilla: King of all Monsters, Wonder Woman 1984 and Shazam! were held, after which Heard, Jason Momoa and several other of their fellow Aquaman cast members took the stage.
The actress and Depp have not been spotted together since before their 2016 split, following 15 months of marriage.
"I saw Amber down by the loading dock and she was talking to some security guards before her panel," an eyewitness told E! News. "Didn't see her and Johnny in the same place but Johnny did come out to the dock to smoke a cigarette before his panel. He was there about 20 to 30 minutes before I saw Amber."
"[Depp] left right after he was done on stage in a white car," a second eyewitness said. "I never saw them in the same place."
Both eyewitnesses said that Heard hung out in a room backstage before the Aquaman event and that Depp was not with her.
"It was a close call backstage though, but Johnny was done on stage before Amber got to that backstage area," the second source said.
Watch:
Is the Johnny Depp & Amber Heard Abuse Commentary Dangerous?
Depp did not join his cast mates during the panel discussion for Fantastic Beasts but made a surprise appearance at the end of the event dressed as the villain Gellert Grindelwald. A new trailer for the movie was screened and some audience members booed as his character was shown onscreen. Most of the crowd then cheered at the actor himself as he stood onstage.
"The great gift of your applause is not for me, but for yourselves," Depp said in Grindelwald's British accent, waving a wand over the audience. "Therefore, applaud yourselves."