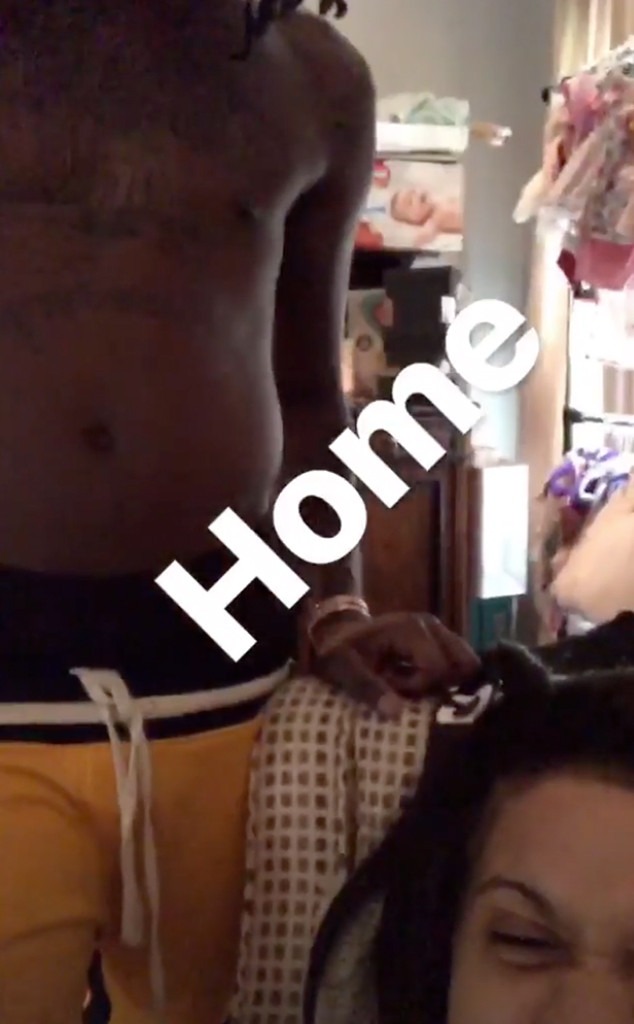 Instagram
Offset was released from a Georgia jail on Saturday morning and has returned home to Cardi B and their newborn daughter, Kulture after spending the night behind bars following his arrest on gun charges, while his lawyer says the rapper is innocent.
His wife posted a photo of the two on her Instagram Story, writing, "Home." 
Offset, 26, was pulled over on Friday evening while driving in a 2014 Porche 911 Carerra with his bodyguard outside of Atlanta after allegedly making an improper lane change. Police detected an odor of marijuana after approaching the vehicle and after a search, found three handguns, less than an ounce of marijuana and more than $107,000 in cash, the Atlanta Journal-Constitution reported.
Offset, whose real name is Kiari Kendrell Cephus, was arrested for alleged possession of a weapon during a crime and possession of a firearm by a felon, as well as possession of less than an ounce of marijuana and the alleged traffic violation, which are both misdemeanors, police records show. Offset was released from Clayton County Jail in Jonesboro, Georgia just after 10 a.m. after posting a $17,000 bond and has returned home to his wife and child. He is set to appear in court on Sunday.
"Offset is home with his wife and newborn daughter," the rapper's lawyer, Drew Findling, told E! News on Saturday. "His most important focus right now is to be with his wife, children and family."
"Having been educated on this case in the last 24 hours, he did not commit any traffic offenses besides being a young African-American man in a flashy car wearing nice jewelry," the attorney said. "He has a security team that have licenses to possess firearms and he did not physically have any firearms in his possession. We will have to deal with this in court and address these legal issues. I am confident in telling you he is 100 percent innocent."
Cardi gave birth to Kulture, her first child and Offset's fourth, on July 10. She has not commented on her husband's arrest.
Findling had previously told local reporters at the jail that Offset "didn't commit any traffic offense and more importantly, he wasn't in possession of any weapon whatsoever."
"And so, we're just gonna have to address these charges," he said. "I think it's completely unfortunate and really questionable the way this case has moved forward, but that's what I'm here for, to defend and stand in the way of what, to me, was obviously an improper arrest. So we shall forge forward but I believe in his innocence and we'll take care of that in court."
In 2015, Offset and fellow Migos rappers Quavo and Takeoff were arrested following a concert at Georgia Southern University. Offset was charged with felony possession of a narcotic and felony possession of firearms on school property. He was later charged with felony battery and inciting a riot after getting into an altercation in jail.
He ultimately spent almost eight months behind bars. Offset was given five years of probation after reaching a plea deal. In 2016, Offset was arrested for having a suspended license.
His lawyer told the Atlanta Journal-Constitution that the rapper is currently not on probation, as it was terminated early.