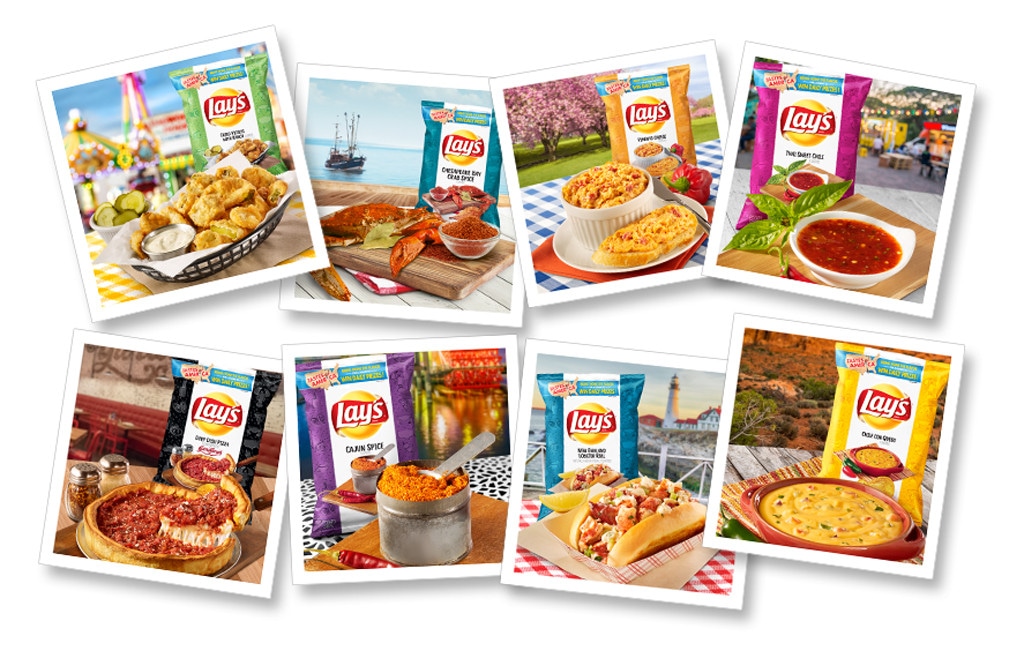 Lay's
Attention, foodies: Lay's is about to drop eight new potato chip flavors!
Yes, we said eight new flavors and boy, are they interesting.
On July 30, Frito-Lay is set to release a whole slew of new flavors that chip lovers and food daredevils are bound to enjoy. While some flavors are a little more mainstream like the Deep Dish Pizza, others are totally out there AKA the Fried Pickles with Ranch.
The coolest part however is that all of these new creations are a part of Lay's "Tastes of America" campaign, which means they are all tied to a popular regional dish from across the United States.
So what are all of these regional chip flavors you ask? 
Well, for starters there is the Cajun Spice, which is from the Central Gulf. If jambalaya and blackened Cajun chicken send your taste buds to flavor town then this is the bag of chips for you.
Next up is the Deep Dish Pizza from Heartland and Mid-America, which doesn't taste like any old dip dish pizza, instead it is inspired by Giordano's famous recipe.
If you're more of a Southwest cheese lover then you must try the Chile Con Queso from Texoma, Mountain and Southern California. It promises the tasty goodness of cheddar queso with a dash of spice.
The Pacific Northwest on the other hand brings you Thai Sweet Chili AKA the flavor of sweet chili sauce you'll find on the food truck scene in Seattle.
For fans of the Midwest there's Fried Pickles with Ranch AKA your favorite state fair food with a dash of ranch flavor to take it up a notch.
We also have Chesapeake Bay Crab Spice from the Mid-Atlantic region, which as you might've guessed will bring the crab shack flavors to you via chips.
Pimento Cheese from the Southeast will give you sharp cheddar and cayenne pepper for one Southern punch you won't soon forget.
Lastly, the New England Lobster Roll from the Northeast is inspired by the lobster shacks that east coasters love so much and man, are we intrigued.
In addition to these new creations Lay's will also be bringing back some of its past regional favorites...but only for a limited time. They will include Wavy West Coast Truffle Fries, Ketchup and Wavy Fried Green Tomato.
Which of the new flavor-packed bags would you be willing to try? Cast your vote for which of these outrageously genius taste bombs you'll be buying once they come out this month below.
PS: All eight flavors will be available beginning July 30 (in the region where the flavor originated) through Sept. 23 so get hunting chip addicts!
For those of you who don't live in the region of your ideal chip flavor choice, you can purchase a variety pack at lays.com.
Lay's Summer 2018 Chip Flavor Poll