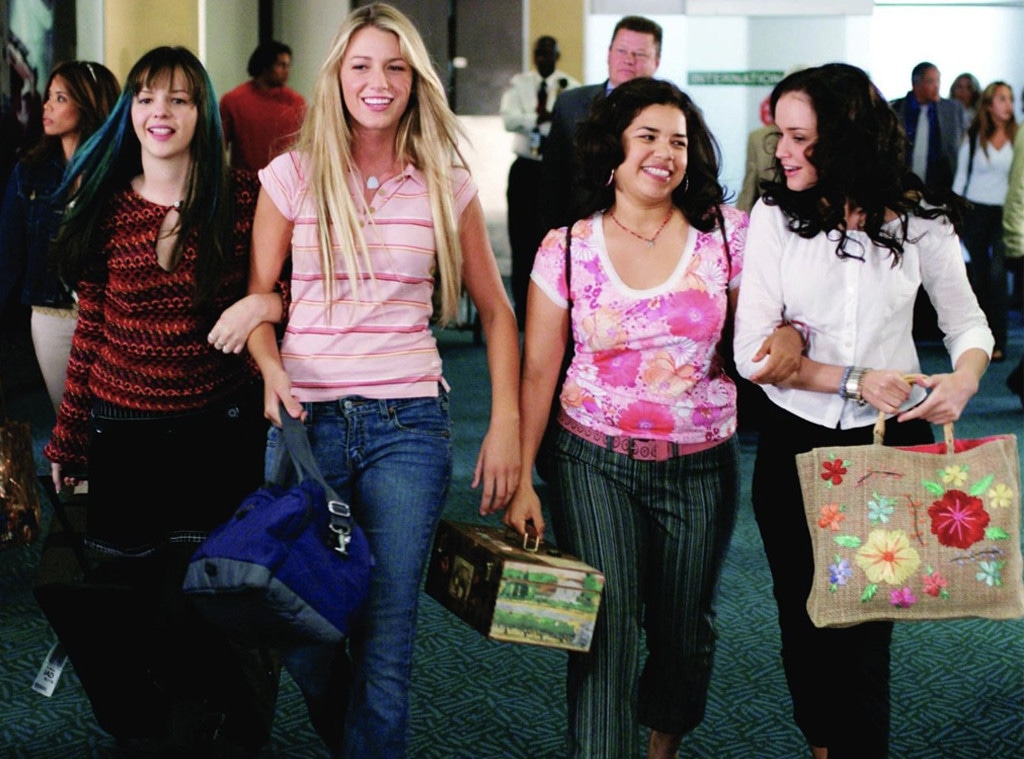 Warner Bros. Pictures
Our favorite girl squad movie is getting a musical makeover.
Sisterhood of the Traveling Pants is being developed into a stage musical, The Hollywood Reporter revealed earlier this week and we are officially freaking out.
In addition to the fab four ladies from the film franchise constantly talking about a possible third movie, now we have a musical to look forward to and this is wonderful news.
According to THR, Bruce Spruce Productions has acquired the live theatrical rights from Alcon Entertainment and Alloy Entertainment (the companies that co-produced the 2005 film) and it'll be an adaptation of the original movie that we all know and love.
Since this musical project is just in the early stages, we have a long way to go before it actually hits Broadway, but anything involving Tibby (Amber Tamblyn), Bridget (Blake Lively), Carmen (America Ferrera) and Lena (Alexis Bledel) and those amazing traveling pants sounds good to us.
Sure, the ladies who star in the two movies probably won't be hitting the Broadway stage, but they did bring to life the iconic characters we all remember from our teen years, so we love them just the same.
That being said, we want to know exactly which of the fierce females in the Sisterhood of the Traveling Pants franchise is your soul sister.
We know you are connected with one on a totally deeper level, so vote for the lady who is basically you now.
Diyah Pera/Alcon/Warner Bros/Kobal/Shutterstock
With four great leads in the Sisterhood films it's hard to pick the one you like most, so why not pick the one who is most like you instead?
Are you a Tibby, a Bridget, a Carmen or a Lena?
If you're a Tibby then you are edgy and complicated (but really, who isn't?). As we saw in the first film, Tibby's life is a little bit of a mess and kind of boring but in the end her creative drive and angsty spirit helps all of her friends get through their darker moments.
Plus, she is so witty and funny so we are major Tibby fans.
For those of you who identify with Bridget you're definitely athletic. Maybe sports are your thing, or perhaps just being outside at the beach is what you love to do. Either way you always seem to be outdoors and are one with nature whenever possible.
Oh, and of course Bridget is a little bit of a flirt. A strong, beautiful, determined flirt who you can't help but root for.
Forever in Blue/Phil Caruso
When it comes to Carmen we have a special place in our hearts. Anyone in your squad who is a Carmen is probably one of the nicest people you know.
In the first film especially, you see how big Carmen's heart is and how vulnerable she could be. She wants to be loved by her friends and family, because she loves them so fiercely. Is that too much to ask for?!
Last, but certainly not least, is Lena. Lena is sweet, soft spoken and a bit on the shy side.
She does however open up when she finds love in Greece or when she is with her best friends. She is passionate and compassionate therefore she's definitely a friend we'd want in our crew.
Now that you've taken a trip down Sisterhood lane, round up your own squad and vote for the character that you are most like below.
We know you love them all, but you can only have one Sisterhood soul sister...at least right now!
Sisterhood Character Poll