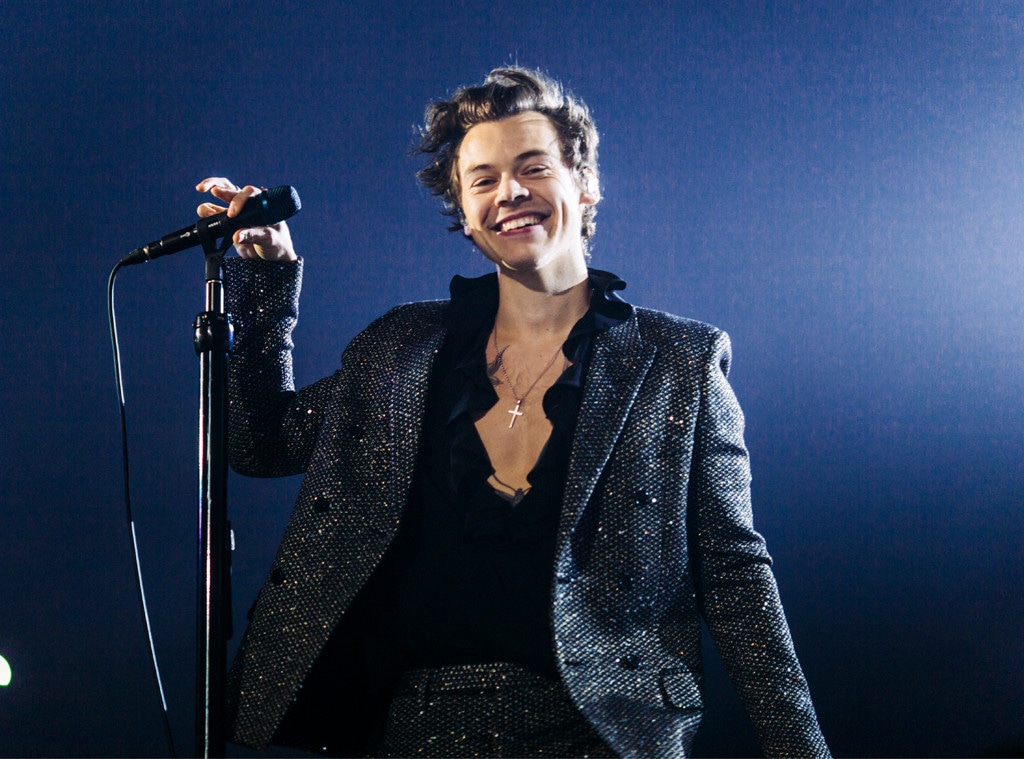 Handout/Helene Marie Pambrun via Getty Images
Harry Styles helped a fan come out to her mom in one unforgettable way.  
Last week, an 18-year-old fan named Grace attended one of the singer's final shows on his first headlining tour and brought along a sign that ended up catching his eye in a big way. 
"I'm gonna come out to my parents because of you!!!" the sign read. According to videos shared by Grace on social media, the star spotted the sign and read it out loud before asking where her mom was and what her name is. Grace's mother, Tina, was in a hotel nearby. 
"I hoped that he would at least read it to know he had made a positive impact on my life, but I have no idea that he would react to it in the way he did," Grace later told E! News. 
After asking the audience to quiet down, the singer screamed, "Tina—she's gay!"
When Grace got back to the hotel after the show, she shared the video with her mama. "SHE IS OVERJOYED AND SAYS THAT 'YES I DO LOVE YOU AND YOU CAN BE WHOEVER YOU WANT TO BE,'" Grace tweeted with a photo of her mom smiling and holding a thumb up. "SHE WANTS TO THANK HARRY FOR HELPING ME COME OUT and she has decided to come to LA Night 1 with me."
The fan, who ultimately attended 10 shows on the tour, later reflected on the unforgettable night online.
"I'm Bi," Grace wrote. "This year I've really become proud of who I am and I've slowly been coming out to my friends over the past couple of months. Harry's shows are an amazing environment where I have felt safe and accepted and last night Harry Styles himself helped me come out to my parents and it is something I will never ever forget."
As Grace continued, "WEST COAST HAS MY HEART I LOVE EVERY SINGLE PERSON WHO WAS WITH ME TO EXPERIENCE THIS ESPECIALLY @breannmayes AND @ella.rh. Thank you endlessly @harrystyles 'TINA SHE'S GAY'"
Grace elaborated to E! News on how the star creates a welcoming environment for his fans and concert attendees. "He very openly supports the LGBTQ+ community at his shows. He waves pride flags at every show and he says that during the shows that 'you can be whoever you want to be here,'" she explained. 
As the tour wrapped, Grace considered that show one of the "best nights" of her life. "I've struggled with my identity for so long and to come out and have support from that entire arena and from Harry himself was so incredible," she tweeted. "Hearing him say 'I'm happy for you' to me was so so so special."