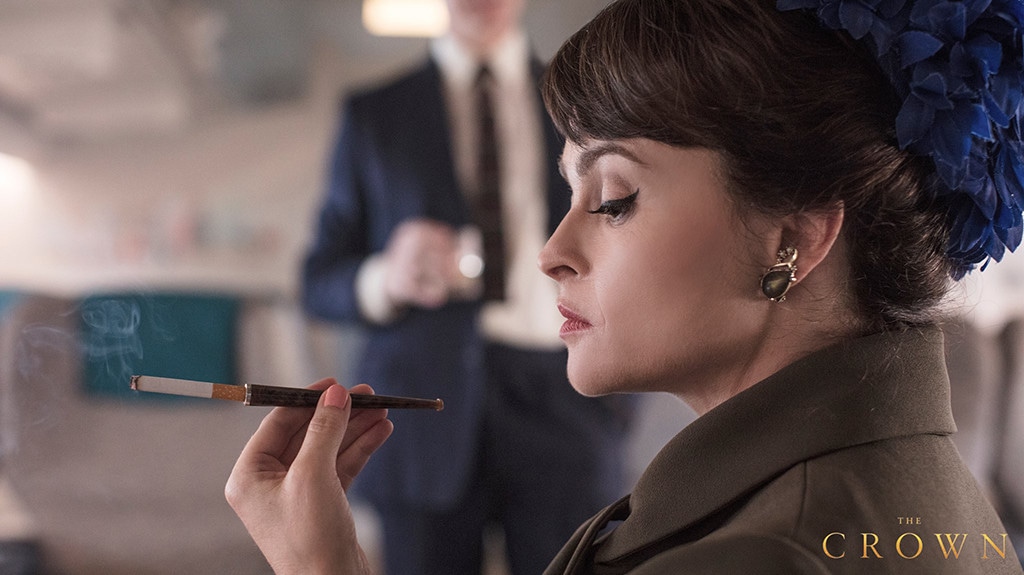 Netflix
Helena Bonham Carter is Netflix royalty now. The Oscar nominee is at work on Netflix's The Crown season three where she plays Princess Margaret, sister to Queen Elizabeth II (played by Olivia Colman in the upcoming season). Netflix released the first official look at Bonham Carter as Princess Margaret on Twitter with a simple caption: "Hope."
"I'm not sure which I'm more terrified about—doing justice to the real Princess Margaret or following in the shoes of Vanessa Kirby. The only thing I can guarantee is that I'll be shorter than Vanessa," Bonham Carter said in a statement when her casting was announced.
Netflix also released a photo of Jesus Christ Superstar Live in Concert and Rogue One: A Star Wars Story veteran Ben Daniels as Antony Armstrong-Jones, aka Lord Snowdon, husband to Princess Margaret. The Good Wife and Downton Abbey actor Matthew Goode played the character in season two.
"After being glued to the first two seasons of The Crown I am beyond thrilled to be joining the cast of this incredible piece of television. Snowdon was such a dynamic and complex man, I'm really looking forward to playing him," Daniels said in a statement when his casting was announced.
Daniels' photo came with the caption "Hurt." The two new photos come just days after production began on the third season. Netflix previously released a photo of Colman as Queen Elizabeth to mark the start of filming.
The recasting between seasons two and three has been planned. There will be a sizable time jump between the two seasons as The Crown follows the queen through her long reign.
The Crown season two received 13 Emmy nominations, including nominations for Kirby, Smith and Claire Foy as well as Outstanding Drama Series.
No official premiere date has been set for The Crown season three aside from sometime in 2019.