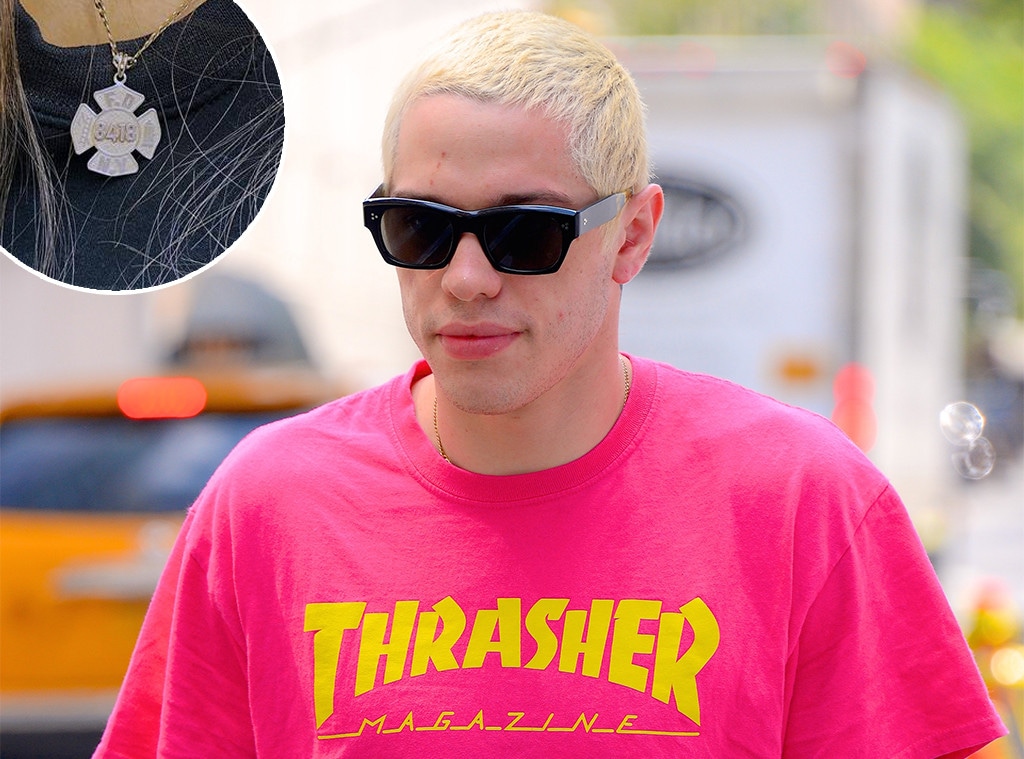 Robert Kamau/GC Images
Pete Davidson is shutting down any claims that he gave fiancé Ariana Grande and his ex, Cazzie David, the same necklace.
On Saturday, the comedian shared a photo to Instagram of Ariana wearing his late father's pendant. His father Scott Davidson was reportedly wearing the FDNY badge necklace when he died during the Sept. 11,  2001 terrorist attacks in New York.
Davidson told his followers, "She's the greatest person I know. I gave it to her because she has my heart and that is the most precious thing I own. My dad would be so happy and love her so much."
However, it didn't take long before some eagle-eyed fans pointed out that the Saturday Night Live star had given the very same necklace to his ex-girlfriend, Cazzie David.
One Instagram user commented, "It's so ridiculous that he gave it to his ex and said the same thing."
After seeing the comment, the 24-year-old was quick to defend his gift to Ariana and replied, "Actually, I didn't give that to my ex. Yes, she had one, but it was a replica."
He continued, "I had a bunch of replicas made. My sister and grandpa also have one. The one that Ari has is the one my dad actually died in and the one he wore his entire career and the one I've worn for over 17 years. I've actually never taken it off other than for SNL or for work. So it means a lot to me."
"Please learn to be nicer and not assume the worst in people. It's a terrible way to live," the actor finished.
This isn't the first time that Pete and Ariana have publicly shown their love for one another. The New Yorker and the "God is a Woman" singer have multiple tattoos dedicated to each other, with Grande recently getting his father's badge number inked on her foot.
And if that is not enough lovey-dovey behavior, the newly-engaged couple frequently comment on each other's social media about their undying affection, which is enough to have even Seth Rogen telling them, "Guys, seriously."