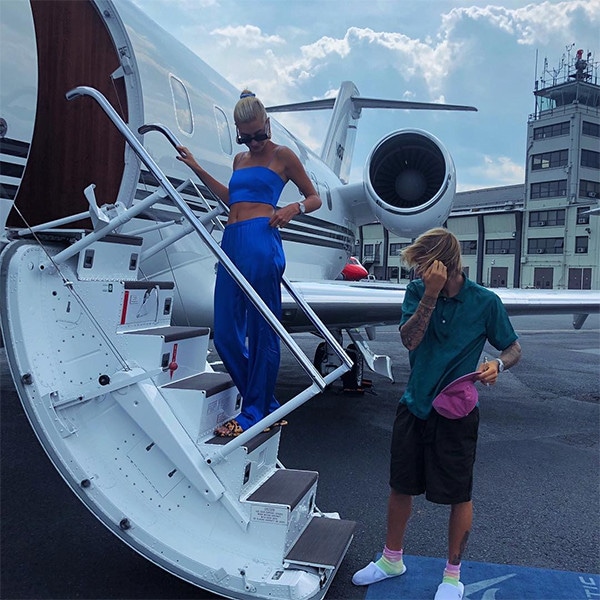 Instagram
Justin Bieber and Hailey Baldwin have brought their romance back to Miami, this time as an engaged couple.
A month ago, the two sparked rumors of a rekindled romance after they were spotted together in the coastal city. After weeks of more trips and some PDA in New York City, they got engaged in the Bahamas last weekend.
Justin, 24, and Hailey, 21, who first sparked romance rumors three years ago and had dated on and off since then, took a private jet to Florida on Friday, while sporting some new bling to go nicely with her engagement ring—matching diamond-encrusted watches. On Saturday afternoon, they lounged together by a pool at a hotel.
"Justin and Hailey hung out poolside at a cabana at SLS South Beach, just the two of them," a source told E! News exclusively on Saturday. "They seemed extremely happy and loving."
"They were steps away from the pool party at [the] Hyde Beach [lounge] with over a thousand people nearby, but no one could get near them," the source said. "They had one security guard with them. They had part of one the pools completely closed down for them and nobody could get into the area. Security was extremely tight and wasn't letting anyone even close to where they were."
Justin and Hailey were also spotted walking together in the cabana, holding hands, and earlier, were spotted at the Soho Beach House Hotel, E! News has learned.
Later in the day, Hailey co-hosted the ROXY's Miami Swim Soiree, pa Swim Week fashion event, as seen in a video posted by Miami Living Magazine Editor-in-Chief Vanessa Pascale.
On Friday, Justin and Hailey dined with David Grutman at his Komodo restaurant in Miami. Jaden Smith, who was in town for a DJ gig at Grutman's nightclub Liv, stopped by their table to chat, another source told E! News.