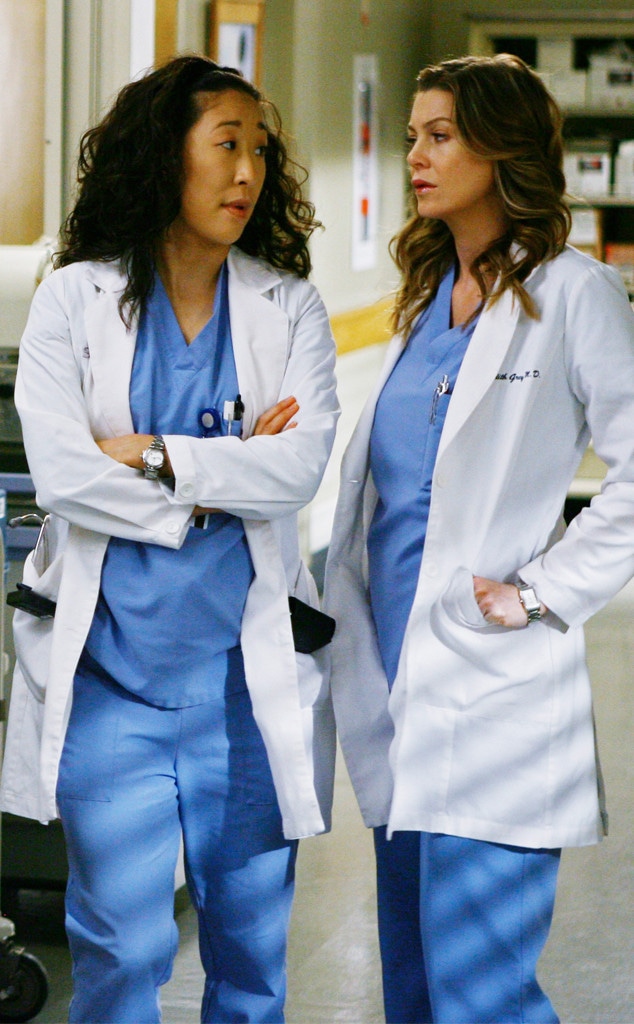 Scott Garfield/ABC via Getty Images
To say Ellen Pompeo is happy for Sandra Oh may be an understatement. The Grey's Anatomy star took to Twitter to celebrate Oh's historic Emmy nomination (a day late, but it was sure worth the wait).
Oh, who was nominated for five Emmys for her work on Grey's Anatomy, picked up an Outstanding Lead Actress in a Drama Series nomination for her performance in BBC America's Killing Eve. Oh is the first Asian American to ever be nominated in that category.
"I was not on my phone yesterday and clearly missed ALOT!!! Congratulations @IamSandraOh this is beyond well deserved and your history making is incredibly moving. Can't wait to hear your speech!! Which will have us in tears and laughing at the same time no I'm sure," Pomepo tweeted, punctuating the message with an emoji making a kissing face.
Pompeo also retweeted her Grey's person's tweet reacting to the news, and said nobody deserves the recognition more than Oh.
"No one can touch this girl's dedication to story telling or her talent," Pompeo tweeted.
See the tweets below. Pompeo and Oh played best friends and coworkers on Grey's Anatomy for 10 seasons.
"I feel tremendous gratitude and joy with this nomination. I am thrilled for Phoebe Waller Bridge's nomination and for the entire cast/crew of Killing Eve. I share this moment with my community," Oh said in a statement. "PS. I think my mother at this moment may actually be satisfied."
Oh will return for Killing Eve season two.
The Emmys will air live Monday, Sept. 18 at 8 p.m. on NBC.
(E! and NBC are both part of the NBCUniversal family.)