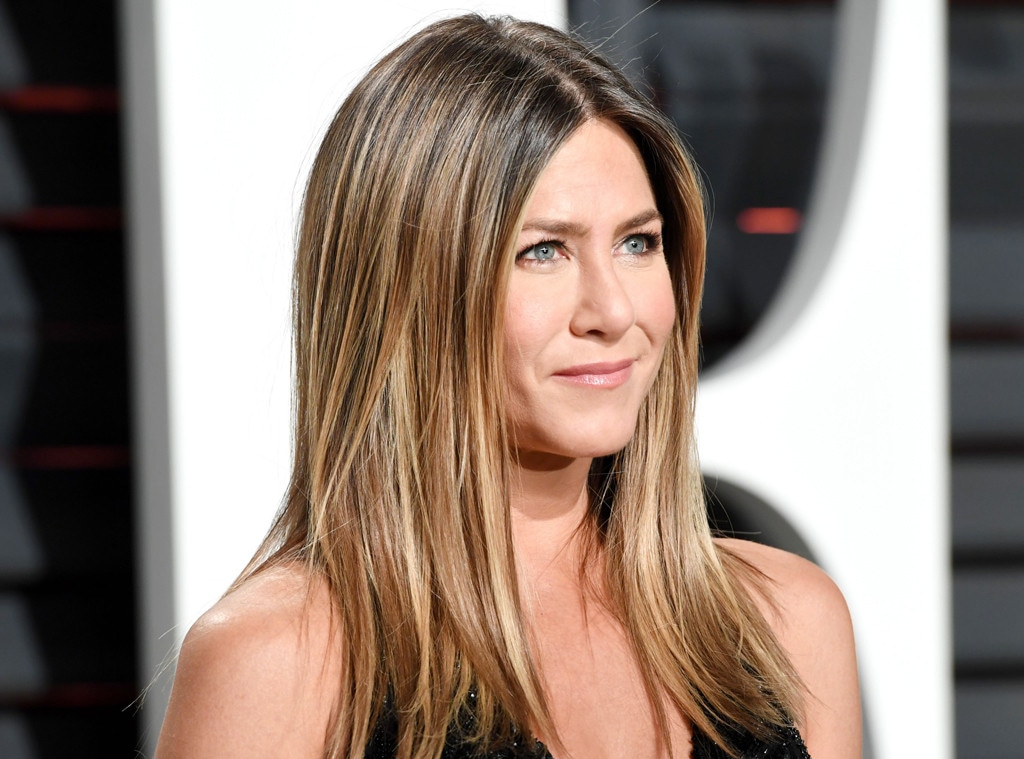 Tyler Boye/WWD/REX/Shutterstock
February wasn't the easiest of months for Jennifer Aniston. 
With her and Justin Theroux having lived separate lives for some time, she had grown used to rattling around their $21 million Bel-Air mansion alone. But after she and the Leftovers actor announced the official end of their two-year marriage this February, proclaiming their plan of "continuing our cherished friendship,," the permanence set in. As the Internet, and her fan base, collectively lost their minds "things got stirred up again," a confidante explained to E! News. "She knows in due time she will feel tremendously better, but is really going through the motions right now." 
Still, even in the earliest days of their break up, she was confident in her recovery. "Jen knows she is strong and knows things will smooth over in time," noted the source. "She's been through this before." 
Having lived and learned from her previous divorce from that other guy, Aniston is making an effort to ensure this is a more mellow separation. There will be no swipes at anyone's Billy Idol-style locks or remarks about a missing sensitivity chip. Though, of course, it helps that Theroux, 46, didn't immediately—and very publicly—move on with an attractive costar, posing as a happy family on the cover of a national magazine. So already things are looking up. And while there's no denying the end of any can be tough to bear, the Hollywood stalwart is tougher and she will be just fine, thanks. "She has her group of friends that are her family, and they have rallied around her," one insider told E! News in February. "She has a lot of love in her life." 
And she's open to letting just a little more in. Some five months after the split was revealed, the 49-year-old Friends alum is dipping her toe ring-clad foot back into the dating pool. "She isn't seeking out a relationship," explains a source, "but if it happens, she's open to it." 
Jason Merritt/Getty Images
While she's far from ready to tote a plus-one down the red carpet, Aniston is deep into the exploratory stage of dating. Us Weekly identified two potential suitors as a tech titan recently split from his wife and "an industry creative she met when they started working on a project together." Not on the list of possibilities: ex-husband Brad Pitt. To the dismay of those still shipping the early aughts pair, an insider insisted to E! News in February, "Rekindling is not even a conversation. She has always thought that chapter is sealed and so far in the past."
Up until now, her type could best be summarized as a fellow celebrity with looks, talent and drive to match her own (see: Theroux, Pitt, Vince Vaughn), but this time around she's trying to go off-script. Though the closest person to a Hollywood outsider that she's dated was model Paul Sculfor, her 2007 post-Vaughn fling who would go on to romance Cameron Diaz, "She would like to date a non-actor," says the source, "and see where it goes." 
No matter the pick, expect the romance to unfold slowly. "She's a bit wary of dating in general," notes the source, "and really wants to take her time getting to know people. Jen's all about hanging out with friends right now that she trusts and is comfortable with." 
Thankfully, she has a dedicated crew willing to weed out any paramours who aren't up to snuff. Her ride-or-dies include manager Aleen Keshishian, actress Andrea Bendewald, producing partner Kristin Hahn and longtime yoga instructor Mandy Ingber (all present and accounted for at the low-key birthday she enjoyed days before announcing the breakup) along with Jimmy Kimmel, Jason Bateman, Ellen DeGeneres, Portia de Rossi and, of course, BFF Courteney Cox. 
As one might expect the latter was truly there for her when it seemed her love life was D.O.A. (Sorry, not even a little bit sorry.) And, according to Aniston, she's the ideal person to have when you're going through the tough stuff, for instance, the end of a seven-year romance. "There's absolutely no judgment in Court," she explained to More in 2014 of her dearest friend. "You'll never feel scolded. She's extremely fair, ridiculously loyal and fiercely loving." 
Generous and inviting, too. "I've slept in her guest bedroom a lot," Aniston admitted. "Without giving away too much of my private stuff, all I can say is she's been there for me through thick and thin." 
A bed at Cox's oceanside Malibu home was at the ready in those early winter weeks, with the duo gathering for Sunday night dinners with pals whenever possible. Aniston has leaned on the Cougar Town alum "the most" following the split, an insider told E! News in February. "Courteney's been at her house many times, and has been by her side through all of it." 
Or just a quick few taps away. Cox recently revealed to Us Weekly that the two maintain a text chain with fellow Friends star Lisa Kudrow, though she shares it's primarily filled with quips. At times, she admitted, "It's too much pressure!" Even when she manages to come up with the perfect line for her comedy-adept pals, sometimes it falls flat: "You have something funny to say and you say it but then you send the text and they don't get it." 
In recent months, she's had the opportunity to try out her material on Aniston in person. When the Smartwater brand ambassador was ready to face the cameras, Cox was by her side, first at a June benefit dinner for NRDC Malibu and then at AFI's Lifetime Achievement Award gala honoring George Clooney. 
She was also on hand for a May outing to West Hollywood eatery Craig's, where they laughed with DeGeneres and de Rossi over glasses of wine. "She seemed really happy to be with Courteney and catch up," an onlooker said of Aniston. "Everyone was in good spirits."
The same could be said of a late March Tahitian vacation to mark the 40th birthday of Kimmel's wife, Molly McNearney. (Aniston also made an appearance at the comedy writer's L.A. bash.) "It was a relaxing week of yoga, paddle boarding, tanning on the beach and boat trips," says an insider, adding that throughout the getaway Aniston "seemed relaxed and at ease." 
That's a fair assessment of where the Emmy winner is at these days. With her untitled morning show drama series with Reese Witherspoon still in the pre-production stages (and her musical comedy Dumplin' set for a 2018 release), she's spending the bulk of her summer in Montreal filming Netflix's Murder Mystery with Adam Sandler. "She's happy to be back to work," says the source. 
Even more thrilled to be hunkering down in the Canadian city. Though much of her time is spent on set, "She really likes it there and has spent weekends in town getting to know the city and hanging out with friends." Stepping out for a cast dinner and catching a movie at a local theater has proved a welcome respite from her regular routine of at-home yoga sessions, dinners at West Hollywood's Sunset Tower and hanging with pooches Dolly, Sophie and Clyde at her Bel-Air spread. Says the source, "She's just enjoying the summer in a new city and taking a break from her L.A. life." 
And if news that Theroux has been exploring options of his own (he was seen lounging with self-described "Bffffff" and Maniac costar Emma Stone at France's famed Hotel du Cap Eden Roc in May and a confidante tells E! News he's "casual dating") have made their way north to her Canadian enclave, she remains unbothered. 
Save for a potential run in at an April birthday party for Kimmel and McNearney's 1-year-old son Billy Kimmel, the estranged spouses have had minimal contact, says an insider. Theroux has been filling his days back in New York (where he owns a Greenwich Village apartment) getting coffee with friends, climbing into the boxing ring at Gotham Gym and, much like his ex, "being social and meeting people from all walks of life," the confidante tells E! News. 
Whether any have piqued his interest remains of no consequence to Aniston. "They have completely moved on and are not looking back," the insider says, adding that the actors, worth a combined $240 million-plus, are quietly sorting out their financial affairs: "Jen and Justin are both moving on full speed ahead." 
For Aniston, that means diving into work, hanging out with her most trusted pals and entertaining the overtures of a few worthy suitors. Notes the original source, "She's very happy with where she is in her life."