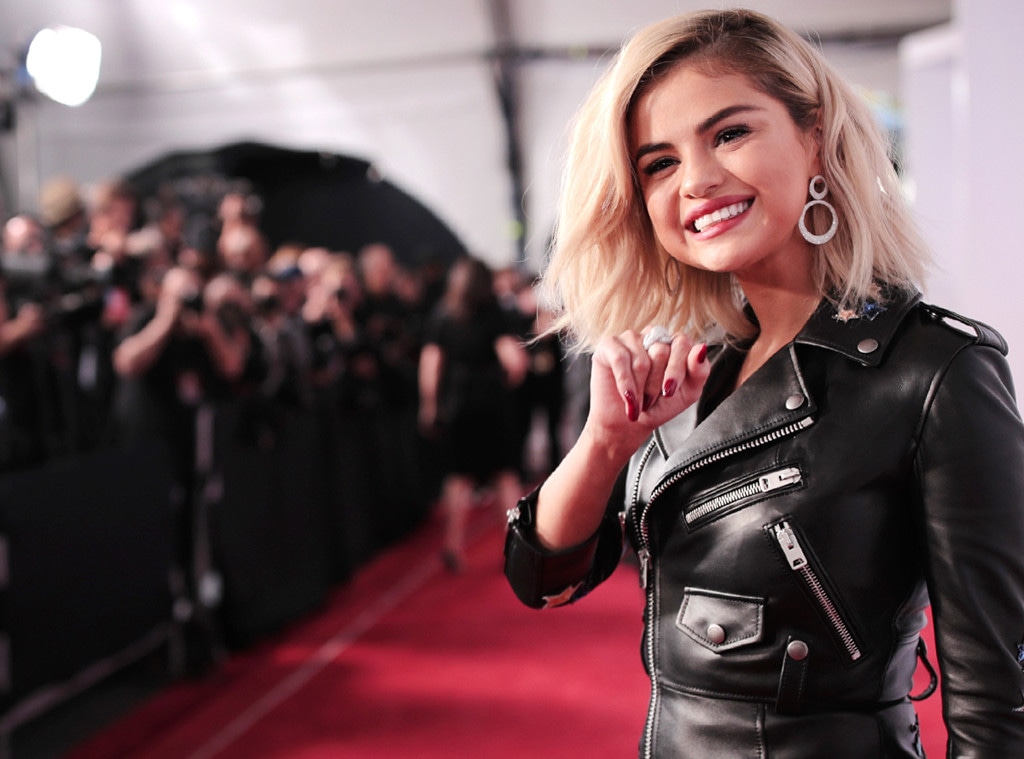 Chris Polk/AMA2017/Getty Images
Even out at sea, it'd be hard to escape this news. 
So we're going to assume at some point, while Selena Gomez was aboard a yacht sailing around outside of New York City Sunday, one of her pals clued her in that Justin Bieber, the guy she'd been calling her boyfriend just four months earlier, had upgraded his latest flame to fiancée status. 
"Selena was surprised to hear the news, like most people," one insider admits to E! News. "It caught her off guard and wasn't what she was expecting." But in no way did it tarnish her sunny day. "She has completely moved on and is putting their relationship in the past," reveals another source. And while she was "shocked" to hear Bieber proposed to 21-year-old model Hailey Baldwin in front of a crowd gathered at Baker's Bay, a private Bahamian resort, says the source, "She ultimately doesn't care."  
Days after the Fourth of July, the talented multi-hyphenate is still celebrating her independence. Most 25-year-olds wouldn't exactly be thrilled to hear their recent ex had moved on so seriously, so soon. Never mind the added salt in the wound of Bieber declaring the woman he dated in between his stints with Gomez to be "the love of my life." But pals insist the "Wolves" singer's last go round with the 24-year-old pop star fully removed the Bieber Fever from her system. "Selena is totally over him," says a third confidante. "She had tried again to make it work the last time and it didn't." 
With the knowledge that her same old love wasn't meant to be, adds the first insider, she feels ready to embrace whatever comes next: her upcoming album, a fresh slate of movies, perhaps even a new paramour? "At this point, she's just trying to focus on her own life and her own happiness," says the insider. "She's not going to get caught up in what he's doing. She's found her happy place and is focused on what's working for her." 
Aik Arshamian/INFphoto.com
In other words, she's not taking the bait this time. Locked in a date-fight-split-repeat cycle with the former YouTube sensation since they met as teens in 2009, her periods of separation from Bieber have been just as rife with drama as the actual relationship itself. Who can forget the time she tried to poke fun at his complaints of too much fan attention on his romance with Sofia Richie only to end up in a social media war that saw both sides flinging cheating accusations? 
This time, swear insiders, she's content to stay far removed. So while the potential spouses giddily discuss their future with their combined 200 million-plus social media followers ("I am so utterly grateful to God for giving me such an incredible person to share my life with!" Baldwin gushed on Twitter, while joking with producer Ryan Good that Bieber would remain clean shaven for the wedding), Gomez is pressing mute. Says the source, "Justin is no longer a topic of conversation in her life." 
The only time he comes up is when pals commiserate about his tendency to make impulsive choices. This is the same guys whose annus horribilis in 2014 saw him egging a neighbor's house, drag racing in Miami and hot-boxing his private jet all in the span of three-and-a-half weeks. 
"Selena knows that Justin makes rash decisions," says the source, "but wishes them both the best." Should they decide to rush down the aisle before the end of 2018 or tease out every step of a long engagement on Instagram, it makes no difference. Says the source, "She is truly focused on herself." 
Four months in, doing her own thing feels pretty good. In the wake of her, presumably final, split with Bieber in March—at the time an insider told E! News, they were having disagreements about lifestyle "and how to handle their relationship in the public eye"—she seemed content to blow off steam. 
As Bieber squired around Instagram model Baskin Champion, Gomez visited family in Texas, traveled to Australia to attend sessions at the Hillsong Colour Conference for women (and cruise around the Sydney Harbour) hit up a roller-skating rink with pals and tooled around West Hollywood in a Tom Petty and the Heartbreakers tee. (A possible message to Bieber? Or just an homage to the late rocker? Unclear.) 
And while Bieber's tactic of being photographed with a new woman may have left her infuriated in the past, this time she felt indifferent to the whole situation. Says an insider, "She thinks it's childish, but ultimately isn't fazed."
She has more important matters to expend her energy on. While she's made time for pleasure—logging a June trip to Italy with pals—in recent weeks she's been mostly business. 
Days after she released her new track "Back to You" May 10, what she called "a special project" in honor of the season two release of her Netflix hit 13 Reasons Why (Gomez serves as one of the series' executive producers), she took the stage with her "best friend of about 12 years," Taylor Swift. In the middle of Swift's sold-out set in Pasadena, Calif., Gomez came out to sing her hit "Hands to Myself" and pay tribute to the Reputation artist. 
"This person has never, ever judged a single decision I've made," Gomez shared with the audience. "She's always met me where I've been. She's encouraged me when I've had nothing to be encouraged about. And I don't know if I would be as strong as I am if I didn't have you and your family because you changed my life."
Filled with gratitude, the singer—whose longtime battle with Lupus forced her to endure a kidney transplant last summer—made a guest appearance at Children's Hospital Orange County's oncology prom event June 23. (She also participated in April's WE Day California, spending time with Nellie Mainor, a fan intent on spreading awareness about kidney disease.) 
Perhaps those kids were still on her mind days later when she started doing press for her latest projected, the animated Hotel Transylvania 3: Summer Vacation. Because while chatting with E! News' Jason Kennedy, the Texas native speculated on her future as a parent, saying, "I think I'm gonna either be the best or the worst mother, just because I will protect my children like no one's business." 
That's an issue for a future Gomez to tackle, though. Single for the first time since she started dating The Weeknd in early 2017, the brand ambassador for Coach and Puma isn't even on the lookout for potential suitors. While she's open to dating, says one insider, "She's learning to appreciate the alone time." 
Or, at least, time spent with her more platonic pals. "She's just really focusing on herself," the confidante tells E! News. "She's happy right now just spending time with her girlfriends and going to church." 
Her other holy place: The recording studio. Having vowed to release her third studio album "so soon," Gomez is intent on coming through on her promise. "Selena is putting a lot of her effort into her new music," says a source. "She really wants to finish an album this year and is focused solely on making hits and keeping herself healthy." 
That means regular appointments to keep her Lupus in check, plenty of exercise and a diet high in nutrients and low in social media trolling. 
PapCulture / SplashNews.com
These days any subliminal messages are focused decidedly on her. Take the statement tee she picked for a stroll through New York City Tuesday. Look close at the pocket of the seemingly plain black shirt and you'll find the relevant takeaway: "Only the strong survive." 
If anyone would know, we're betting on Gomez.