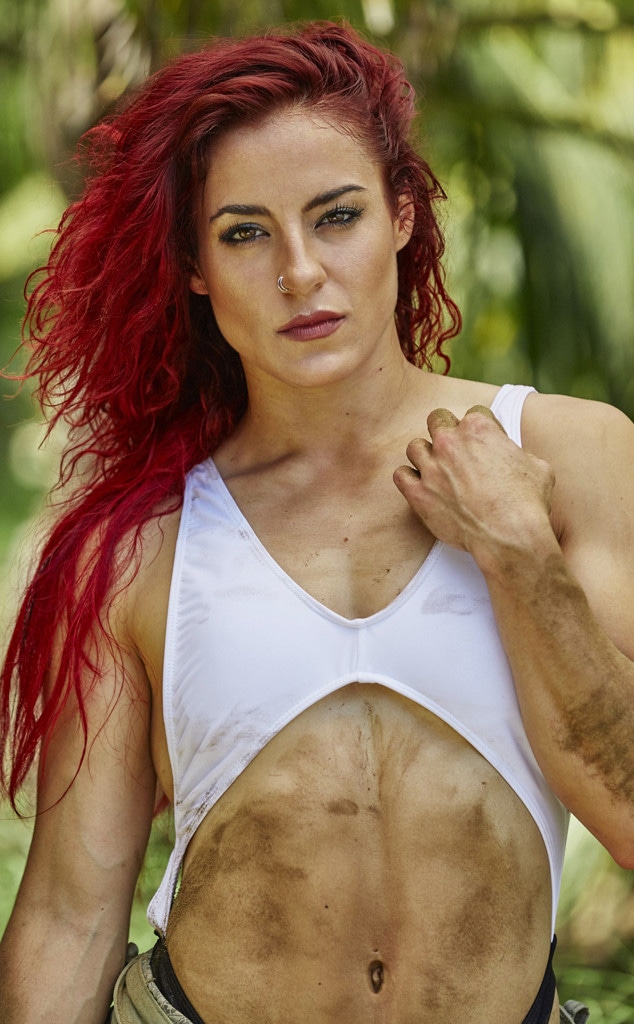 MTV
Cara Maria Sorbello is opening up about her relationship status with Paul Calafiore.
Ahead of tonight's The Challenge: Final Reckoning premiere, the reality star is dishing to E! News about the show and her romance with castmember Paulie. Back in June, rumors started flying that Paulie was cheating on his girlfriend, Bachelor in Paradise alum Danielle Maltby, with Cara Maria.
Paulie addressed the cheating scandal with E! News, telling us at the time, "I am not proud of my actions these past weeks. I know they speak louder than these words. I have destroyed the one person that has believed in and brought out the best in me. I have many things I need to work on and repair internally. I want to be better. I know I haven't earned it, but I ask for patience and privacy while I work on repairing myself."
Now, Cara Maria is giving us an update on her relationship with Paulie and sharing what fans can expect to see of their romance this season.
E! News: How did everything get started with Paulie?

Cara Maria: Before the challenge starts we all meet at the airport. We all spend a couple of nights at a hotel before we get going into the actual challenge because they have to set things up, they have to get things ready for us...Me and Paulie, just in terms of being at the airport together, I was instantly drawn to him, I connected to him! We just kept joking with each other. He would be off by himself and I am always kind of off by myself and so we found ourselves off by ourselves together. We just clicked. He's just easy to talk to and he made me laugh. Everything that I threw at him, like everything that I would do to make him feel uncomfortable and weird, he would literally take it and one up me and throw it over in left field. He just understood my humor, he made me laugh and it was just an easy connection and I felt really comfortable being around him.
CM: So that translated into the house when we got into the house and Kyle, from whatever me and Kyle had been through in the past, he was a real dick to me. He didn't even treat me as a friend...So, in the house, I just kept gravitating back to Paulie because, well number one I knew he had a girlfriend, which is bad. But in a way it made me feel safe that we actually weren't going to do anything, that he would not try anything with me but I could joke with him because it was, to me, funny and something to do. But I didn't think anything would go further than that, but I just feel comfortable with him. And when I was upset and angry and hurt by Kyle, and hammered, Paulie would just take me and spin me around the floor and dance with me and make me laugh, and just make me forget about why I was angry. I could not be angry around him. And then obviously him and Natalie are partners and I love Natalie so it was just like a team and two people who I was very comfortable with and then...I'm still very comfortable with Paulie.
Instagram, Lars Niki/Getty Images for MTV
E! News: At what point did things turn romantic? And at what point did Danielle factor into it?

CM: I can't exactly tell you when because I don't want to spoil anything that happened on the season and that's part of it. But what I can say is Paulie has always said really, really good things about Danielle. He's never said a bad word about her, he thinks the world of her. But I think that he found himself attracted to me and didn't expect that and I think that, I really can't go into details on anything. I guess if you really wanted to know you'd have to talk to him. He definitely cares about Danielle a lot and everything that he's doing, even on social media, he tries not to post anything or engage in anything because he doesn't want to disrespect her and what he had with her, just because she was always good to him and he loved what they had but I think he wanted something else. Which was me, the hamburger.
E! News: So you're not really labeling anything now but you're not seeing other people?
CM: Yeah. It's not just like, we're not seeing other people – we haven't had that talk. We just kind of enjoy what we have when we have it. And we have a respect, respect in the way that if he wants to be with someone else he'll just tell me. At least we're in the same country, he couldn't do that with Danielle. He actually told me after the fact, he goes, in an ideal world after I met you and connected with you, he goes, I wanted so bad to be able to call Danielle and tell her everything and then break up with her and then be with you so I could've avoided all this. That's what I wanted to do. But the situation we were in did not allow that and we did not have the self-control to wait until we got a phone so...
E! News: So given the circumstances about how you two came together, is there still trust between you guys?
CM: Yeah, I have no reason not to trust him. The thing to me is, if someone wants to be with someone else then they're going to be. If he wants to be with someone else then he will. The mistrust would be if he wanted to continue to hook up with me and be with Danielle at the same time, that'd be like what are you doing dude? But the fact is, he wanted to come my way and he wanted to just tell Danielle everything and just end that. He wasn't trying to carry on two things at once. So, for me, the trust is one hundred percent there. If someone doesn't want to be with me they're not going to be and that's not my problem, or my fault, it just means they want to be with someone else and I have to accept that.
E! News: Have you connected with Danielle at all or heard from her?
CM: No, what am I going to say to Danielle honestly? The biggest mistake that I made was I was in my own little la de da world. I didn't know anything about Danielle, I didn't know who she was, I didn't know anything about her. And so I only knew [Paulie] told me really good things about her. And obviously then he was attracted to me...so my biggest thing was I was just like, oh he's single now so I'm with him. It wasn't meant to rub anything in her face, I didn't want to disrespect her like that. I just was not thinking. I was in my own little happy little world like, oh I'm single, he's single, this is fun! I was forgetting there was a party that was hurt. Paulie did not forget that, because everything he did in terms of Instagram, social media, he doesn't want to post anything because he goes, it's still fresh, she's still hurt, I don't want to do anything to remind her or feel bad. He goes, the fans are doing that enough on their own tagging her in everything. He's very well aware of her and I feel bad. But at the end of the day all I can say is that he was honest with her, he told her everything and I'm sorry. I'm sorry but I really like him! It wasn't meant to try to sabotage anything, I just felt a real good connection with him and that's hard for me. I know I was just with Kyle but I don't usually just connect with people like I have with Paulie.
E! News: So what's next for you and for you guys?
CM: What's next is whatever comes my way! I've already sold my soul to reality TV so I will do anything. I'm just living! We are going to do the premiere tonight, I'm going to go back to Montana, I've got events, I've got to do Challenge Throwdown, I'm going to have to make a trip to Florida. I'm just constantly traveling, my life is crazy, which is why I don't want to be in a relationship. I like being free, I travel, I do a million things but Paulie is just kind of fitting into my life right now and when we see each other we'll see each other.
E! News: What are you most looking forward to fans seeing this season of The Final Reckoning?
CM: With this season coming up, I'm excited to see myself. I am seriously ready to eat every single episode alive. I've explained this before but you literally cannot write what you are about to see. And it all happened, it's all reality, it's all real. There are multiple hookups, there is karma coming into play, there's progressions and evolutions with teams that genuinely hate each other that like each other and then hate each other again. At what point are you going to stand up for somebody that you hated before, but now you find yourself in the same corner and now you have to fight with them. It's just like, at what point does that come into play and causes that? There's so much that's happening this season more than any other season I've ever done. This season is going to be huge.
This interview has been condescend for clarity.
The Challenge: Final Reckoning premieres tonight at 9 p.m. on MTV.