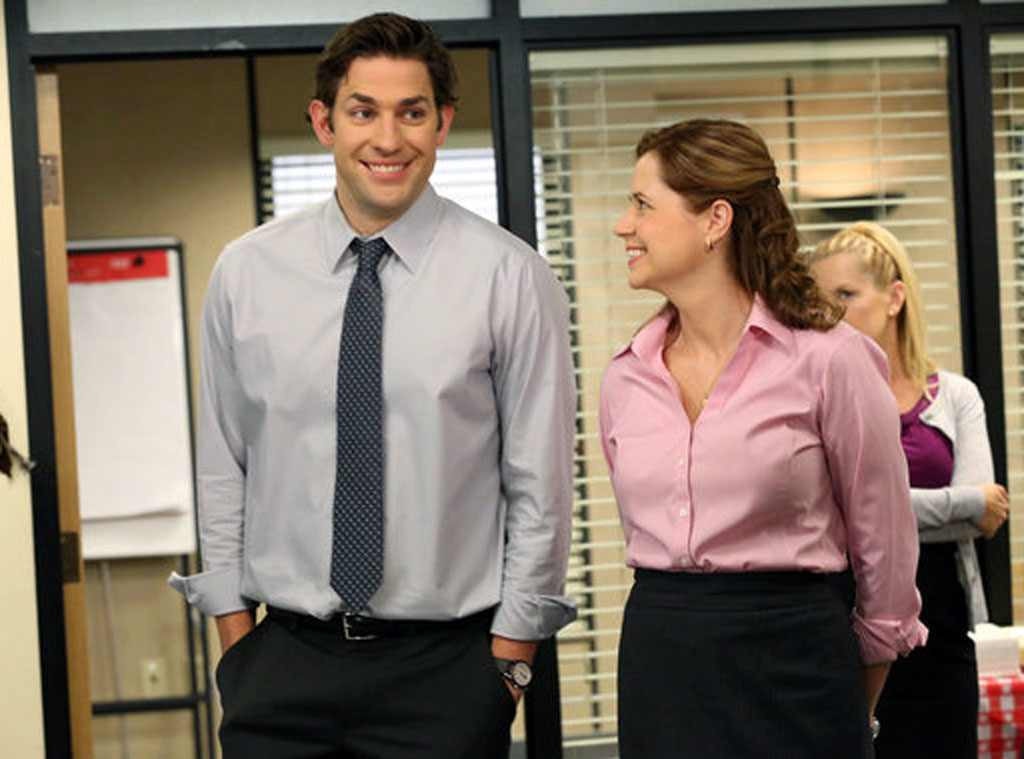 NBC
Happy anniversary to John Krasinski and Emily Blunt, but sorry, this article is not about you. 
While that couple has become known as one of Hollywood's best in many different ways, it's not the only goal-worthy relationship John Krasinski has played a part in. As one of the stars of NBC's The Office, Krasinski played the Jim half of Jim and Pam, the quietly sarcastic couple whose bumpy love story spanned the entire series.
It's a fictional romance that has transcended its TV comedy world to become something more, something lusted after by fans who it as their ideal relationship, and something that, for a while, made it a little bit hard to love John and Emily as much as we loved Jim and Pam. 
Over the years, the love for John and Emily has grown to be almost equal if not more intense. They pulled elaborate pranks on their own real-life Dwight Schrute, Jimmy Kimmel, and had two daughters named Hazel and Violet, and collaborated on a critically acclaimed horror movie. They're one hot, funny, talented, and very in love (practically obsessed with each other) movie star couple. 
The thing about Jim and Pam, though, is that they were maybe the exact opposite of a movie star couple. They worked in a small office selling paper and making faces at each other across the room. Their love was a classic story: Jim was in love with his best work friend Pam, but Pam always had a boyfriend. By the time Pam was single and loved Jim, Jim had a girlfriend. 
Then, the timing was suddenly right. Jim had just dumped Karen (Rashida Jones) and the prospect of a big promotion at the same time that Pam trying and failing to make the best of Jim leaving. Then, he showed up right in the middle of her attempt at making the best, interrupting her talking head and finally asking her out to dinner. 
They dated, got engaged, got pregnant, and then in October 2008, just a month before Krasinski and Blunt started dating in real life, Jim and Pam got married. With her veil torn and his tie cut in half (adorably on purpose), they first got married on a boat in the mist of Niagara Falls, and then they had a regular wedding in a small church with their coworkers making fools of themselves. 
Their marriage wasn't perfect, but no real life marriage is. They struggled with fulfilling their dreams beyond a paper company while also raising two kids and keeping their love alive, and while their problems weren't necessarily something to strive for, they were reassurance that even when you're one of TV's most iconic couples and also you're totally fictional, relationships need work in order to work. 
John Krasinski and Emily Blunt and their popular movies and insane talent and money for wild pranks and their boring meet cute involving Justin Theroux are great. Really, they are, and we could talk about how great they are for long periods of time. But for those of us who aren't movie stars meeting while out to dinner with Justin Theroux, we'll always also have Jim and Pam. 
E! and NBC are both part of the NBC Universal family.