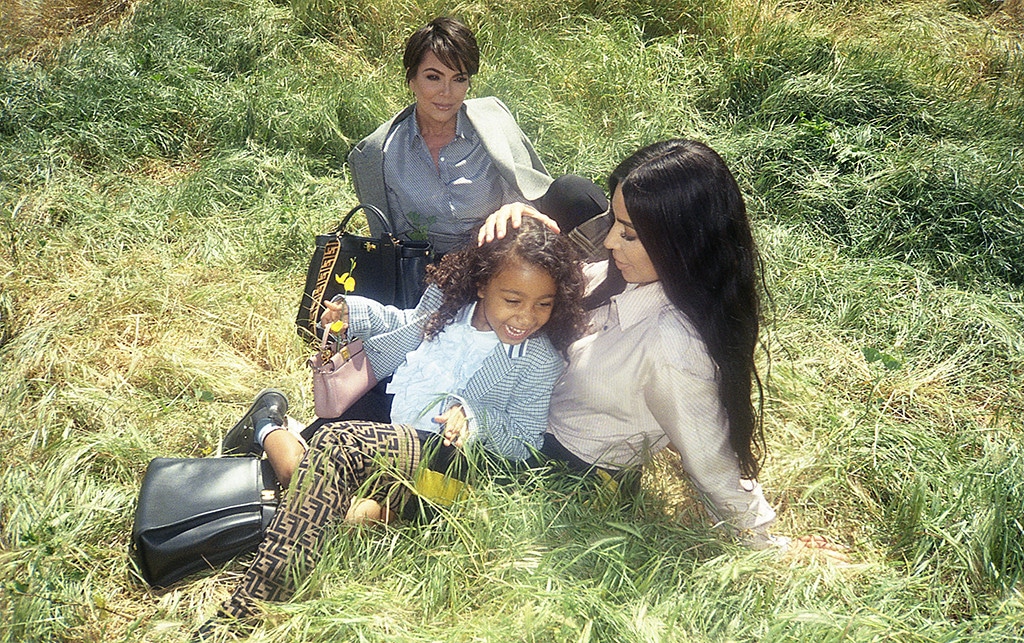 Courtesy of Fendi
North West is ready for her close up!
While she may be five years old, Kim Kardashian and Kanye West's eldest child is ready to follow mom and dad's footsteps by exploring the world of modeling and photo shoots.
In new photos obtained by E! News, North participates in a shoot for Fendi's #MeAndMyPeekaboo campaign in honor of the brand's 10-year anniversary of the Peekaboo bag.
Joined by Kim and Kris Jenner, North looks totally stylish as she is photographed in a field with her mom and grandma.
In another pic, she hangs out in the backyard of a Los Angeles home where a giant pool and gorgeous views await.
The campaign hopes to capture their authentic and intimate personalities while the frames create a sort of family album.
Perhaps North's taste of the modeling world shouldn't be a big surprise to Keeping Up With the Kardashians fans. Besides, Kim has been open about what interests her daughter in the fashion space.
"The other day, it was so funny. My daughter watches so many YouTube tutorials and videos," Kim recalled to WWD. "She was unboxing the My Little Pony Colourpop collection and I thought to myself, 'I wish I was recording this' because her reaction was so funny."
Kim continued, "And then she did makeup on the My Little Pony that they gave and she said, 'Mom, I want to do a YouTube video.'"
As for North's love for makeup and beauty, let's just say Saint West and Chicago West's older sibling already has her hands in the field—literally.
"Every night we play, after her bath, in bed, and you know my purse is always kind of by my nightstand, so she always says 'purse!' So she grabs my purse, and that means she wants my makeup bag, so I give her my makeup bag and it's empty. And if I just turn around for one second, she has my lipstick like all over her face," Kim previously recalled to Elle. "So I have to give her her own little makeup bag. She's obsessed with makeup and watching me get ready and getting ready herself. She just loves the process, she could not be more ultimately girly-girl."