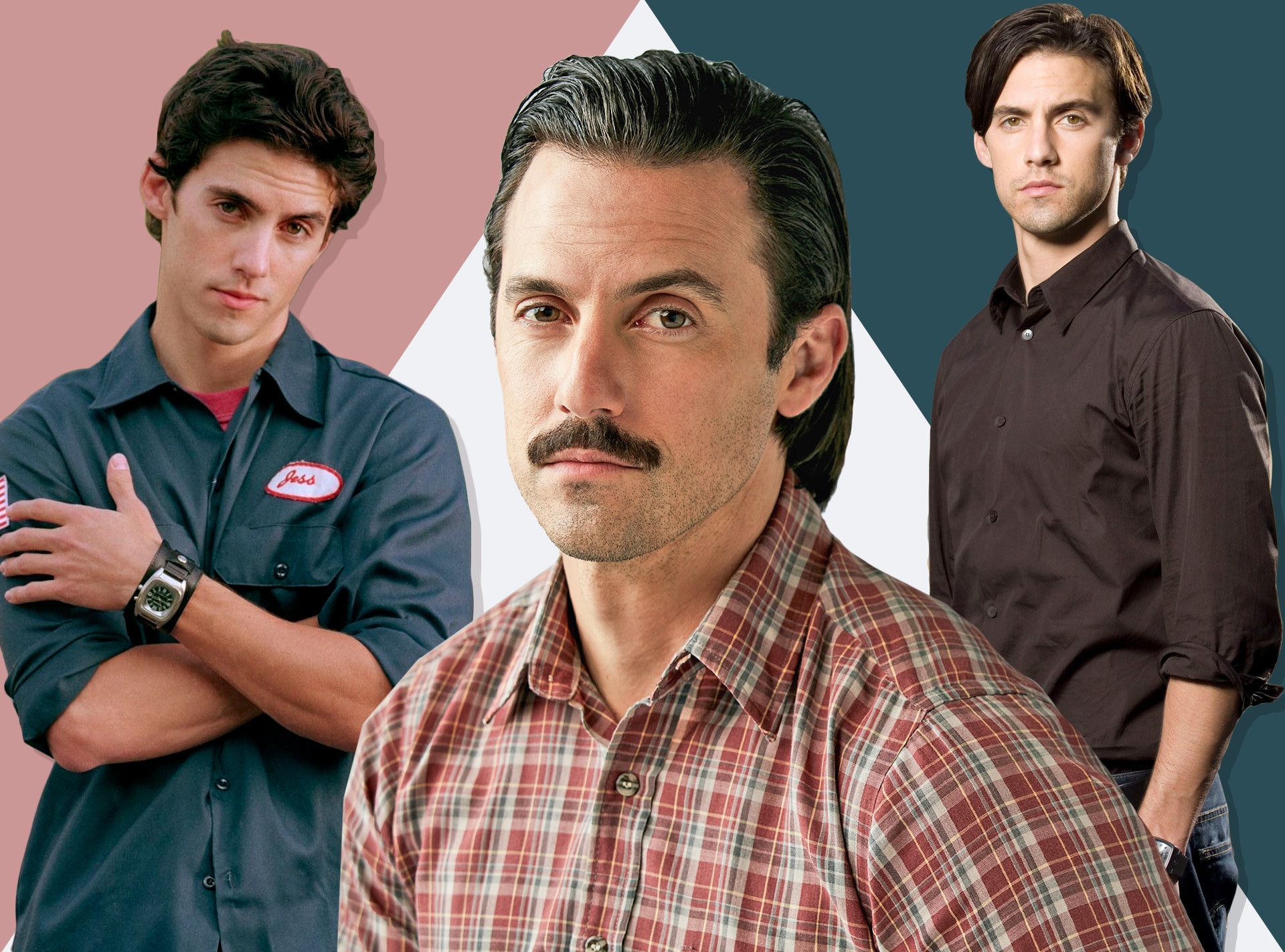 Melissa Herwitt / E! Illustration
Despite what This Is Us' success may make it seem, Milo Ventimiglia hasn't always been America's TV dad.
With two seasons as the NBC hit's imperfectly perfect patriarch Jack Pearson under his belt, the actor, who just turned 41, has firmly planted himself in the pantheon of all-time great fictional fathers. But when audiences first met the hunky Ventimiglia, he was playing a decidedly different sort of character—one that Papa Pearson might have some issues with if teenage Kate brought him home in an episode of This Is Us.
After guest-star spots in shows as varied as Fresh Prince of Bel-Air and Saved by the Bell: The New Class, fans got their first real taste of Ventimiglia in 2001 when he arrived on the scene in the second season of The WB's beloved Gilmore Girls. As bad boy Jess Mariano, Ventimiglia's presence on the series kicked off one of TV's most enduring love triangles, pitting fans into Team Jess or Team Dean (Jared Padalecki) camps as they argued over who was best for Rory (Alexis Bledel). (Of course, this was before a third camp popped up with the introduction of Matt Czuchry's Logan—though if anyone is still Team Logan, they're tripping.)
The role became an instant and enduring fan-favorite, which may seem surprising when you consider how relatively brief his tenure on the series was—after appearing as a series regular in seasons two and three, a failed attempt at a Jess-centric spinoff meant the character had to be written out, with Ventimiglia only returning in a recurring capacity in season four and as a guest in season six—but the actor has a theory on why fans fell in love with the character, and, by extension, himself, the way that they did.
"He had good hair. He had that pompadour thing going, and he had dope jackets, and he always had a book in his back pocket," he told W Magazine in 2017. "And I feel like, well, if you got that hair and you got a cool jacket and you got a book in your pocket, you must be good for a girl."
Ventimiglia remains fond of the series that put him on the map, having stayed close friends with creator Amy Sherman-Palladino and jumping at the opportunity to return to the role for Netflix's highly-anticipated 2016 revival Gilmore Girls: A Year in the Life, and fond of the role, as well. "I think the journey from being angry to being content and smiling through life was something that was always fun for me to discover and play and get into," he revealed to InStyle in 2016, adding that the show was a great place for a young actor with his first major TV gig to get his start.
"Talking fast was just fun," he said of rat-a-tat pacing that Palladino's dense scripts don't just suggest but require. "It was challenging, but it kind of felt like you were cutting your teeth the right way. It was great to learn a certain pace and quip, and get to put some heart and soul into it—especially on an early job when I was young."
What came after Gilmore, however, is a different story altogether. After the Jess spinoff failed to lift off, followed by a few more pilots that suffered the same fate, Ventimiglia was about ready to walk away from the industry—for the second time. "I was just fed up," he said during a 2017 episode of The Jess Cagle Interview podcast. "I couldn't catch a break to lock on to some work and be creative."
Unsure why he "wasn't there yet in other people's eyes...I was basically like, 'I'm gonna go,'" he admitted. His back-up plan? "I was going to go be an auto mechanic," he said. "In Southern California there's this auto school and it's advertised 'Everybody needs mechanics, because they need those cars fixed' and I'm like, 'That's a job that's going to be in demand, so why don't I learn more than I already know about cars and professionally fix cars.'"
Luckily, fate—and some wise casting directors—intervened before Ventimiglia did anything too drastic and he found himself landing roles in both Rocky Balboa (starring opposite Sylvester Stallone as Rocky's son) and new NBC series Heroes, which "kind of sent me on the next six, seven years," he said on the podcast. 
In the role of Peter Petrelli, a hospice nurse with the ability to mimic the abilities of others, Ventimiglia starred for all four seasons of the show's embattled run. The series shot out of the gate as one of the most popular things on television, but it soon began to collapse under the weight of its increasingly convoluted mythology and the experience took a toll. In fact, it nearly pushed Ventimiglia out of the industry for a third time.
After the show was cancelled, Ventimiglia struggled with the fact that people only saw him as Peter and not as an actor capable of, you know, acting. "It broke my spirit," he told Cagle. "Because that show itself, toward the end, it felt like the world-ending engine was more important than the human experience of it, which is what the show started as. It kind of just broke me inside and I thought to myself 'Do I really want to do this? Do I want to continue acting? Because it may just be disappointment after disappointment after disappointment.'"
And this time, he wasn't just considering auto repair school. "I have dual citizenship with Italy," he admitted. "I was like, 'I'm gonna sell everything, I'm going to fly to Rome, I'm gonna buy a motorcycle, I'm going to ride around until I can find a farm I can work on. I'm going to shave my head, I'm gonna grow a beard and I'm going to work on a farm … just lead a very different life very far away."
For whatever reason, Ventimiglia stuck with this crazy business of show with a handful of start-and-stop turns in blink-and-you'll-miss-them shows like 2013's Mob City and Chosen, followed by 2015's one-and-done The Whispers. With the actor approaching his 40s, he was again reassessing what he wanted "as an actor, as a man," he told the Los Angeles Times in February. "I pulled my foot off the gas a little bit and backed off and re-engaged with life."
And then it arrived: The script for Dan Fogelman's This Is Us. 
Though Ventimiglia has no kids of his own—the actor is notoriously tight-lipped about his personal life, though he did attend the Emmys last year with girlfriend Kelly Egarian—the minute he walked in the door, he was exactly what Fogelman had been looking for to fill the central role of the Pearson family patriarch, the lynchpin of the series. "When Milo first came in to meet with us, I knew instantly that that was the guy," the producer told the L.A. Times. "It just made perfect sense that, 'Oh, yes, he is the patriarch of this family.' This young man who would grow into an adult man who would bring a certain kind of masculinity and old-school dad to the part, but in a fresh and exciting new way. And look, there's no mystery if you don't care about this guy. And people do."
The connection that fans have made with Ventimiglia's Jack, especially after season two's reveal of his cause of death, is something that continues to take the actor by surprise. "Everyone assumes that I am Jack," he told E! News last December. "I thought Mr. Cunningham [of Happy Days] was America's dad, and I'm not even a father, you know. I guess the words that I'm so fortunate to speak and the character that I get to embody, I'm very grateful."
It's a role that finally finds the actor in the sweet spot he's been longing for his entire career, perhaps. "Again, I go back to just being grateful to be a part of it, being a part of something that promotes good and kindness, and inclusion, amongst our differences," he told us. "So it's something that—I don't miss the stunt work on other shows I've done. I don't miss the wire flying, or the wry jokes of adolescence."
As Ventimiglia has matured into a man, so too has his career. And we've got to say—it's a good look.