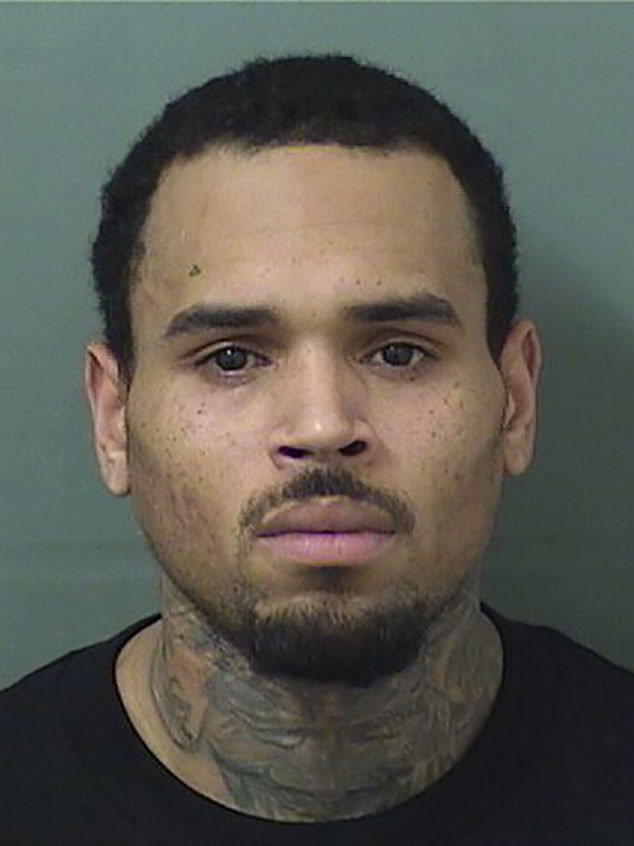 Courtesy of the Palm Beach County Sheriff's Office
Chris Brown was arrested Thursday night in Florida, E! News has confirmed.
The 29-year-old "All the Lights" singer was in West Palm Beach to perform at the Coral Sky Amphitheatre as part of his nationwide Heartbreak on a Full Moon Tour. He was apprehended by police, who were waiting in the wings of the venue. E! News has reached out to his attorney.
Brown was booked at 11 p.m. and released 52 minutes later, after he posted $2,000 bail.
The singer was arrested on an outstanding out-of-county warrant from last year, according to the Palm Beach County Sheriff's Office. WPTV reported Brown was booked on felony battery warrant from the Hilllsborough County Sheriff's Office, stemming from an incident last spring; at the time, police alleged Brown had punched a photographer during a paid club appearance.
After his arrest, Brown shared a photo from the stage on Instagram and wrote, "What's NEW????? Show tomorrow!!!!" He included the eye roll and red heart emojis in his caption. The R&B singer's next tour date is scheduled for July 15 at the Prudential Center in Newark, N.J.
Over the years, Brown has had several run-ins with the law, beginning with physical assault charges from an incident with Rihanna in 2009; he was later charged with felony assault and making criminal threats, and was sentenced to five years of probation and community service.
In 2013, Brown's probation was revoked after he was involved in an alleged hit-and-run in L.A. The charges were later dropped, but he was given 1,000 additional hours of community service. Later that fall, Brown and his bodyguard were arrested and charged with felony assault after an alleged altercation outside a hotel in Washington, D.C. The charge was reduced to a misdemeanor, and he was released from jail without bail. Soon afterward, Brown voluntarily entered rehab, but he was kicked out after smashing his mother's car window during a family session; days later, he was order to serve three months at an anger management facility. However, Brown violated the treatment facility's rules and was kicked out. As a result, a judge sentenced the singer to spend 131 days in jail for violating the terms of his probation. Brown was given early release from jail, but remained on probation and was ordered to finish his remaining community service hours and see a psychiatrist twice a week.
But, in early 2015, Brown's probation was revoked after a judge learned he'd traveled outside Los Angeles County without prior consent. In 2016, Brown was arrested and charged with assault with a deadly weapon following a nine-hour standoff of sorts at his L.A. mansion. Police had responded to a call from former beauty queen Baylee Curran, who claimed the musician had threatened her with a gun during a party at his home. At the time, Brown addressed the incident on Instagram, calling the police "idiots" and "the worst gang in the world." (He later deleted the posts.) At the time, Brown's lawyer, Mark Geragos, denied there was a standoff; regarding the search warrant, he said, "Nothing was found to corroborate her statement." In 2017, a judge granted Karrueche Tran a restraining order against the singer for the next five years. She alleged in court that he'd texted her violent threats and assaulted her. Initially, after Tran was granted a temporary restraining order against Brown, the singer told his fans, "Make sure ya'll don't be listening to all this bulls--t, man. What all them other people on the outside doing, let them do what they doing. I don't know what the f--k they talking about."
Brown has not commented further on his latest arrest.
—Reporting by Holly Passalaqua