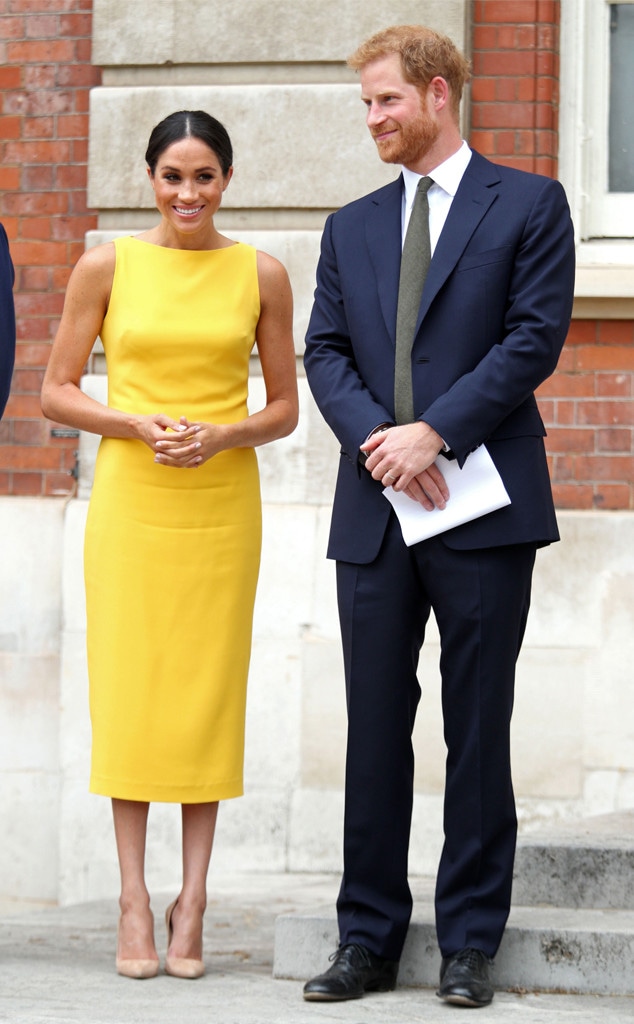 YUI MOK/AFP/Getty Images
Meghan Markle looked sunny and chic on Thursday when she attended a reception for the Your Commonwealth Youth Challenge in London with Prince Harry.
The Duchess of Sussex wore a bright yellow, sleeveless dress by American designer Brandon Maxwell, which could be considered a timely choice given the recent U.S. holiday.
"We love that she gave a nod to an American designer on the day after the 4th of July celebrations, and love even more that she chose such a brightly colored frock to do so in," said Amanda Dishaw, editorial director of the fashion blog Meghan's Mirror.
The royal accessorized her look with earrings and nude heels. She also tucked her hair into a neat little bun.
The ensemble is a stark contrast to the more muted tones Meghan has been wearing since becoming a royal. However, Meghan's wardrobe choices are likely intentional. After all, the duchess has attended many events with Queen Elizabeth, and Dishaw suspected Meghan "aligned her fashion choices for these events to not overshadow the importance of those events or the other members of her new family that were with her."
"Many were nervous about Meghan's style becoming 'boring' as her recent engagements as a Duchess have been neutral pinks or beiges," Dishaw told E! News, "but we actually think it's a great nod to the amount of coaching she's receiving and amount of time and effort she's putting into the sartorial messages she conveys through her clothing."
However, Meghan isn't the first royal to wear the bright color. Kate Middleton has worn yellow to many occasions, including her 2014 trip to Sydney and Princess Charlotte's 2015 debut. Princess Diana also wore yellow to several events.
"Perhaps the meaning of the color itself—freshness, happiness, clarity and energy—symbolize how excited Meghan is about truly getting down to the business of being a Duchess," Dishaw said.
Chris Jackson/Getty Images, Tim Graham/Getty Images
As for the Duke of Sussex, Harry looked snazzy in a blue suit.
Held at the Marlborough House, the event invited young leaders from across the Commonwealth to discuss how they hope to shape the future of their states by the year 2040. The leaders focus on a number of topics, including human rights, health climate change, peace and democracy. 
Her Majesty appointed Harry Commonwealth Youth Ambassador in April 2018, so the event was a significant one for the Duke of Sussex. He expressed his excitement during a speech at the event.
"Meghan and I are incredibly excited to meet so many of you representing the future of the Commonwealth," he said.