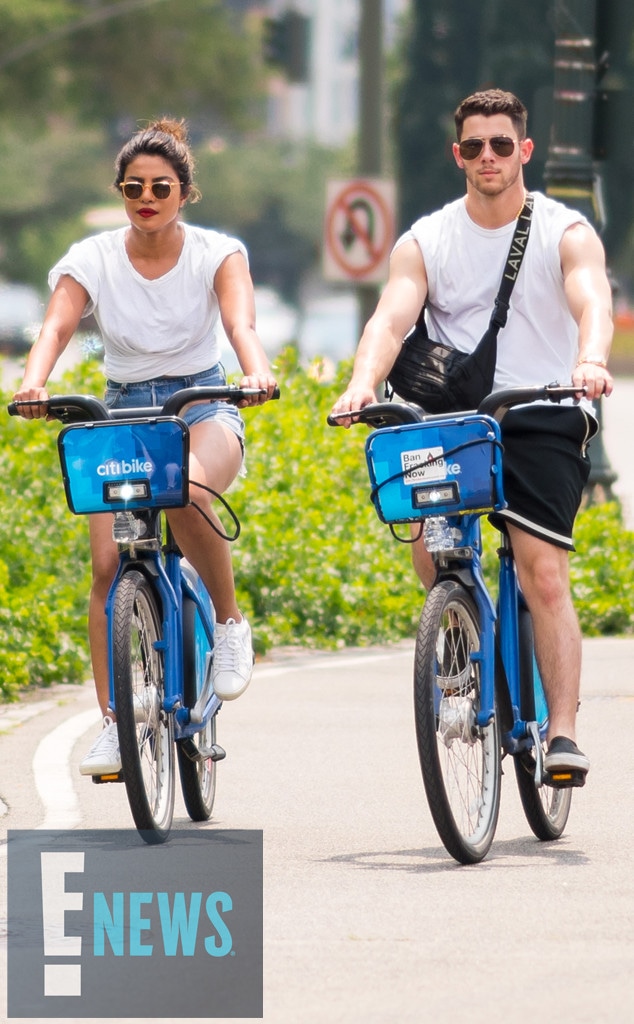 Peter Parker / SplashNews.com
Priyanka Chopra is basically like family!
To celebrate the Fourth of July, the Quantico actress joined her boyfriend Nick Jonas and his brother in New York City Wednesday. E! News has obtained exclusive pictures of the hot new couple riding Citi Bikes on the Upper West Side with Joe Jonas and his fiancée, Sophie Turner. According to a source, the group traveled north from Soho, via the West Side Highway, before peddling through Central Park. "Joe and Sophia rode faster with a pack of friends, while Nick and Priyanka were in the back," the source says, adding that the couple seemed "touchy feely."
Later that evening, Priyanka joined Nick's entire family—including his brother Kevin Jonas, sister-in-law Danielle Jonas, and nieces Alena Jonas and Valentina Jonas—on a private roof terrace to watch the fireworks. Nick posed for a picture with his elder brothers ("The tradition continues," he wrote on Instagram) and younger brother Frankie Jonas, a.k.a. The Bonus Jonas.
Peter Parker / SplashNews.com
Peter Parker / SplashNews.com
Peter Parker / SplashNews.com
Though Nick didn't post any pictures with Priyanka, she uploaded a video to her Instagram Stories that was undoubtedly from the same location. "Happy 4th of July America!" she wrote. Meanwhile, he took a photo with Alena. "As you can see this little angel makes me very happy," he said. "Happy Fourth of July everyone. I hope you've had a great day with the ones you love."
Nick and Priyanka, who met as Ralph Lauren's guests at the 2017 Met Gala, have rarely left each other's sides since they took their romance public in June—and yesterday wasn't the first time she met his family members, either. Last month, she joined the Jonas clan at his cousin Rachel Tamburelli's wedding in New Jersey. Weeks later, the 35-year-old actress whisked the 25-year-old "Anywhere" singer off to India, where he met her mom and they attended Aksha Ambani and Shloka Mehta's pre-wedding celebration. After their week-long stay in Priyanka's home country, the couple then traveled to Brazil, where he performed at the VillaMix Festival.
Peter Parker / SplashNews.com
Peter Parker / SplashNews.com
Peter Parker / SplashNews.com
"He's crazy about her and is excited about where things are going," a source recently told E! News. To Nick, the actress "is different from anyone else he's dated. She's very mature and sophisticated," the source added. "It's been a breath of fresh air and he's very happy with her."
Suffice to say, Priyanka feels the same way. "The relationship picked up steam over the last month and now they are doing everything together and don't want to be apart," the source revealed. "They are planning more fun getaways this summer and hope to do more traveling."
Priyanka will soon return to India to start filming Bharat with Salman Khan.